« Back
Timothy N. Ghattas, M.D.
Book Online
Locations / Appointments
Physician Extenders
Piedmont Orthopedics | OrthoAtlanta continues to follow CDC guidelines to provide the safest environment possible. Please click here for additional information.

The Marietta location is now open 7 days a week! Monday through Friday 8:00 am - 9:00 pm and Saturday and Sunday 9:00 am - 9:00 pm. For more info, click here.

Sports Medicine Fellowship
Biography
Timothy Ghattas, M.D. is board certified by the American Board of Orthopaedic Surgery. Dr. Ghattas is fellowship trained in sports medicine. His practice includes general orthopaedics with specialty training in sports medicine, knee, shoulder, ankle, fracture care, total joint replacement and work injuries. Dr. Ghattas has a special interest in treating athletes, sports medicine, knee injuries, ACL reconstruction, shoulder instability, rotator cuff tears, ankle sports injuries, shoulder and ankle arthroscopy, and shoulder arthroplasty. Dr. Ghattas has been published twice in the Journal of Bone and Joint Surgery and twice in the American Journal of Sports Medicine. Dr.Ghattas believes in treating all his patients as if they were his own family. He strives to build trust and to make his patients feel as comfortable as possible with their diagnosis and treatment plan.
Areas of Interest
Sports Medicine
ACL Reconstruction
Knee Injuries
Shoulder Injuries
Shoulder Arthroplasty and Arthroscopy
Ankle Arthroscopy
Sports Ankle Injuries
Total Joint Replacement
Fracture Care
General Orthopedics
Work Injuries
Board Certification
American Board of Orthopaedic Surgery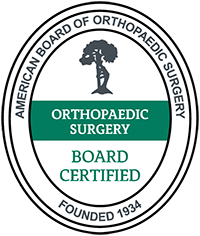 ---
Education
Fellowship: Emory University, Atlanta GA, 2013, Orthopaedic Sports Medicine Fellowship
Residency: University of Kansas School of Medicine, Wichita, KS, 2012, Orthopaedic Surgery
Residency
Medical Degree: Texas A&M Health Sciences, Center College of Medicine, College Station, TX,
2007, Doctor of Medicine
Undergraduate Degree: Texas A&M University, College Station, TX, 2001, Bachelor of
Science in Psychology
---
Memberships & Recognition
Professional Memberships
American Academy of Orthopaedic Surgeons
American College of Sports Medicine
American Medical Association
American Orthopaedic Society for Sports Medicine
Arthroscopy Association of North America
Georgia Orthopaedic Society
Medical Association of Georgia
Appointments
Piedmont Physician Governance Team – Piedmont Henry Hospital Representative
Piedmont Henry Hospital Peri-Operative Governance Committee
Piedmont Henry Hospital Orthopaedics Service Line Committee Member
Publications / Research
Results of Subpectoral Biceps Tenodesis for the Treatment of Type II and IV SLAP Lesions, 2014, accepted for publication in the American Journal of Sports Medicine, and presented at AANA Annual Meeting and AOA and AOSSM.
The Effects of Initial Post-Operative X-Rays on Treatment Plans and Costs, 2011, accepted for publication by the Journal of Bone and Joint Surgery in 2013, and presented at several medical society meetings.
Primitive Neuroectodermal Tumor of the Chest Wall in a Neonate: A Case Report, 2010, accepted for publication by the Journal of Bone and Joint Surgery in 2013.
---
Community Involvement
Dr. Ghattas is currently the team physician for Clayton State University and for Eagles Landing, Ola and Woodland High Schools in Georgia. Dr. Ghattas serves as an Adjunct Clinical Assistant Professor of Surgery at Morehouse School of Medicine.
Dr. Ghattas has served as an assistant team physician for the Atlanta Falcons and the Georgia Tech Yellow Jackets, and has provided team coverage assistance to Wichita Thunder Minor League Hockey, Wichita Wild Indoor Football and Wichita State University Athletics teams. Dr. Ghattas served as a sideline physician during the 2015 Chick-fil-A Kickoff Game, and was the physician for the Final Four in Atlanta, Georgia in 2013. In 2003, Dr. Ghattas participated in a medical mission trip in Belize, seeing patients via mobile health clinics.
Dr. Ghattas has made numerous presentations to area college and high school students and coaching staff on topics including Anatomy and Related Orthopaedic Injuries, Shoulder and Sports-related Orthopaedic Injuries, Upper Extremity Sports Injuries and the like.
Related Links
Visit Dr. Ghattas' Facebook Page
Follow Dr. Ghattas on Twitter
Team Physician for Clayton State University
---
---
---
dr ghattas, dr. ghattas, dr timothy ghattas, dr. timothy ghattas, timothy ghattas, timothy ghattas md, shoulder arthroscopy