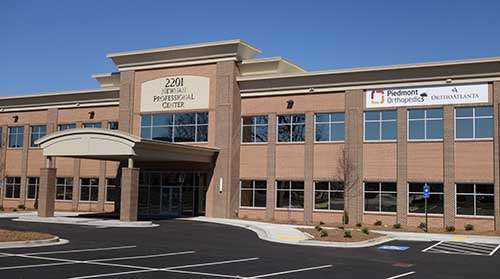 « Back to Locations
OrthoAtlanta Newnan
2201 Newnan Crossing Blvd East, Suite 100
Newnan, GA 30265
Located in the Newnan Professional Center just off Poplar Road, near Piedmont Newnan Hospital.

Telehealth Virtual Visits Available (Learn More)
Get Directions with Google Maps
Using the Waze App? Get Directions
hours
Office Visit Hours:
Mon - Fri, 8 a.m.–5 p.m.
Phone Hours:
Mon - Fri, 8 a.m.–5 p.m.
Telemedicine Hours:
Mon - Fri, 8 a.m.–5 p.m.
Practice Administrator
Heather Mitchell
Physical Therapy
hours
Monday - Thursday, 7:00 a.m. - 6:00 p.m., Friday, 7:00 a.m. - 4:00 p.m.
Clinical Director: Ford Cooper, DPT
We've moved! Piedmont Orthopedics | OrthoAtlanta Newnan has moved to serve you with expanded orthopedic and sports medicine care. Our new address is 2201 Newnan Crossing Blvd East, Suite 100, Newnan, GA 30265. Located in the Newnan Professional Center just off Poplar Road, we're not far from the Piedmont Newnan Hospital. Appointments may be scheduled now via our Patient Portal, or call our office at 770-460-4747.
Home
/
Locations
/
Newnan