Home
/
Media
/
Piedmont Orthopedics | OrthoAtlanta Opens New Location In Newnan
Piedmont Orthopedics | OrthoAtlanta Opens New Location in Newnan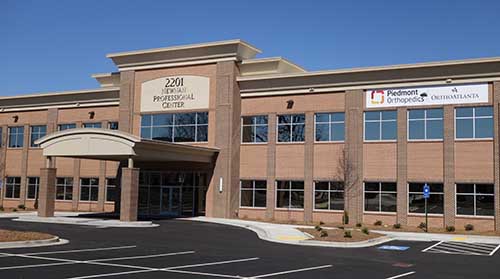 Atlanta, Ga. (March 10, 2020) – Piedmont Orthopedics | OrthoAtlanta has opened a new location, Piedmont Orthopedics | OrthoAtlanta Newnan, at 2201 Newnan Crossing Blvd East, Suite 100, Newnan, GA 30265.
The new location, located in the Newnan Professional Center just off Poplar Road, is part of a rapidly developing medical corridor on the southeast side of Newnan near Piedmont Newnan Hospital. The practice moved from its previously established location in the Ashley Park Shopping Mall to accommodate its ever-growing orthopedic and sports medicine service line that is currently served by six orthopedic surgeons and physiatrists, plus physician assistants, nurse practitioners, and onsite physical therapists.
One of 13 locations across the greater Atlanta area, Piedmont Orthopedics | OrthoAtlanta Newnan provides expert orthopedic and sports medicine care to those who work and live in the greater Newnan-Coweta area, including East Newnan, Whitesburg, Sharpsburg, Senoia, Grantville, Hogansville and LaGrange.
"Our new Newnan office is designed with patient convenience, comfort and access in mind. The expansive first-floor facility includes 26 exam rooms, a procedure room, onsite X-ray, diagnosis, treatment and onsite Physical Therapy," said Michael J. Behr, M.D., OrthoAtlanta Medical Director. "OrthoAtlanta MRI Imaging is easily accessible at seven locations, including Peachtree City."
"It is our goal at Piedmont Newnan to provide high-quality, patient-centered care and that means offering a full spectrum of services – of which orthopedics are an important and essential part," said Mike Robertson, CEO of Piedmont Newnan Hospital. "We are excited to work with our partners at OrthoAtlanta to be able to provide care close to home for those requiring orthopedic services."
OrthoAtlanta physicians serving the Newnan location include David A. Brcka, M.D., Sports Medicine, including shoulder and hip arthroscopy and replacement; Virginia M. Jones, M.D., Hand and Upper Extremity; Susan S. Jordan, M.D., Sports Medicine; Michael A. McHenry, M.D., Physical Medicine and Rehabilitation; Kevin U. Park, M.D., Spine Surgery; and Domenic Scalamogna, M.D., shoulder, elbow, knee and hip surgery, including direct anterior approach total hip replacement.
Piedmont Orthopedics | OrthoAtlanta Newnan serves existing patients and is accepting new patients with orthopedic and sports medicine needs ranging from sprains, strains and fractures, workers' compensation injuries, to the most complex total joint preservation, reconstruction or replacement and both non-surgical and surgical spine care needs.

To schedule an appointment, call 770-460-4747, or go to www.OrthoAtlanta.com.
View the full press release for Piedmont Orthopedics | OrthoAtlanta Newnan New Location.
« Back to News