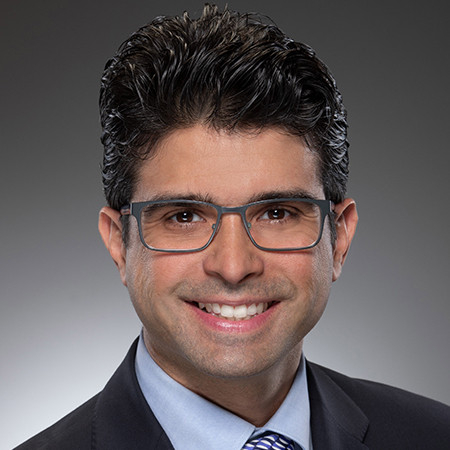 « Back
Domenic Scalamogna, M.D.
Locations
Physician Extenders
Print
Domenic Scalamogna, M.D.
Biography
Domenic Scalamogna, M.D., is board certified by the American Board of Orthopaedic Surgery with fellowship training in shoulder and elbow surgery. His practice encompasses a wide variety of orthopedic conditions to include general orthopedics, sports medicine, fracture care, and joint arthroplasty of the hip, knee and shoulder. Specific arthroplasty interests include custom total knee replacement as well as anterior total hip arthroplasty, also known as front hip replacement.

Joint replacement of the hip through the direct anterior approach offers patients several advantages as compared to other traditional surgical approaches. Apart from a more cosmetic skin incision, total hip replacement through the front of the joint preserves important hip muscles essential for ambulation while also eliminating post-operative restrictions resulting in a more expeditious post-operative recovery.
Following completion of his general surgery internship at the National Naval Medical Center in 2002, Dr. Scalamogna completed a course in Aviation Medicine in Pensacola, FL and subsequently served as a Naval Flight Surgeon for Carrier Air Wing ONE. He participated in Operation Enduring Freedom/Operation Iraqi Freedom during a six-month deployment aboard the USS Enterprise (CNV-65). Following his tour as a Naval Flight Surgeon, Dr. Scalamogna entered his orthopedic residency in 2005 at the National Naval Medical Center in Bethesda, MD. While at Bethesda, his unique training encompassed the evaluation and treatment of complex extremity war wound reconstruction. After 12 years of active duty service, he completed his final tour in the United States Navy as a staff orthopedic surgeon at the Naval Hospital in Naples, Italy.
Dr. Scalamogna is fluent in Italian and welcomes Italian-speaking patients.

Areas of Interest

Sports Medicine
Total Joint Replacement Surgery
Direct Anterior Approach Total Hip Arthroplasty / Front Hip Replacement
Custom Total Knee Arthroplasty
Knee Arthroscopy
Shoulder Arthroscopy
Shoulder Joint Replacement
Reverse Shoulder Replacement
General Hand and Wrist
General Orthopedics
Pediatric Orthopedics
General Fracture Care
Work Injuries
Board Certification
American Board of Orthopaedic Surgery
---
Education
Fellowship: St. Francis Orthopedic Institute, Columbus, Georgia, 2014, Shoulder and Elbow Surgery
Residency: National Naval Medical Center, Bethesda, Maryland, 2009, Orthopaedic Surgery
Aviation Medicine: Naval Aerospace Medical Institute, Pensacola, Florida, 2003, Flight Surgeon Training
Internship: National Naval Medical Center, Bethesda, Maryland, 2002, General Surgery
Medical Degree: University of Pittsburgh, Pittsburgh, Pennsylvania, 2001, Doctor of Medicine
Undergraduate Degree: Duquesne University, Pittsburgh, Pennsylvania, 1997, magna cum laude, Bachelor of Science
---
---
Community Involvement
Dr. Scalamogna enjoys gardening, landscaping, general fitness and nutrition. He takes a particular interest in counseling his patients on optimizing their nutritional status in order to expedite their healing process.
Actively serving the military population, Dr. Scalamogna volunteers for the Wounded Warrior Project, as well as caring for pilots and members of the aviation industry with orthopedic conditions.
Dr. Scalamogna has served as a North American Lourdes volunteer (2013), and at the Hospitalite Notre-Dame de Lourdes (2001, 2012). While serving at the Naval Hospital in Naples, Italy, Dr. Scalamogna filled various capacities to include Chair, Department of Orthopedic Surgery; Committee Chair, Preferred Provider Network; and Partnership for Patients VTE Prophylaxis Champion (2010 – 2013).
Dr. Scalamogna and his wife live in the Peachtree City area.
---
---
---
dr scalamogna, dr. scalamogna, dr domenic scalamogna, dr. domenic scalamogna, domenic scalamogna, domenic scalamogna md, dominick scalamogna, anterior hip replacement, front hip replacement, direct anterior approach, shoulder arthroscopy, shoulder joint replacement, reverse shoulder replacement