Home
/
Specialties
/
Hip
/
Conditions & Treatment
/
Total Hip Replacement, Anterior Approach
Total Hip Replacement, Anterior Approach
This surgery replaces diseased and damaged portions of the hip with implants designed to restore function to the hip joint. The surgeon uses an incision on the anterolateral part of the hip, instead of a more traditional incision on the side or back of the joint.
---
---
Piedmont Orthopedics | OrthoAtlanta Physicians
OrthoAtlanta physicians near you who commonly perform Anterior Hip Replacement.
---
Media

Read about the benefits of hip replacement surgery.
Read More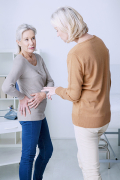 Here is what you need to know about the new direct anterior approach for total hip replacement.
Read More