Home
/
Health News
/
Experiment Shows Many Seniors Falling Prey To 'Impostor Scams'
Experiment Shows Many Seniors Falling Prey to 'Impostor Scams'
By Amy Norton HealthDay Reporter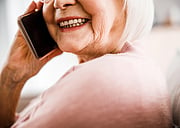 MONDAY, Sept. 25, 2023 (HealthDay News) -- Many older adults are savvy about telephone scams, but a sizable minority remain vulnerable, a new study suggests.
Researchers found that when they simulated a "government impersonation" scam -- contacting seniors and pretending to be federal employees -- over two-thirds knew how to handle the situation: They ignored it.
The rest, however, "engaged" with the "scammer." They either called an 800 number sent to them by mail or email, or answered a call from the fictional government agency the researchers devised.
In some cases, those seniors still maintained a healthy dose of skepticism and did not give away personal information.
Some others, though, were not so guarded: Over 16% either did not question the legitimacy of the phony agency, confirmed personal information, or provided the last four digits of their social security number.
Experts said the findings, published Sept. 25 in the journal JAMA Network Open, are worrisome.
Scam artists are certainly not a new threat, but they are becoming more crafty.
"When it comes to being a scammer, it's a full-time job," said Genevieve Waterman, director of economic and financial security for the nonprofit National Council on Aging.
Government impersonation scams typically start with an email, text or phone call from someone saying they are with a government agency. Frequently, they target older adults, claiming to represent Medicare or the Social Security Administration. They may tell seniors that if they do not make a payment or won't give personal information, their benefits will end. Or they may say they need the victim's Medicare number -- with the purpose of stealing it and using it to claim benefits.
When the scammers call people, the caller ID may show a "spoofed" government agency phone number or say "Social Security Administration," for example -- making some victims believe they're the real deal.
Government impersonation scams are among the most common type of financial fraud, but they are only one example.
In 2022, older Americans filed nearly a half-million fraud reports, with a collective loss of over $1.5 billion, according to the U.S. Federal Trade Commission. Many more cases go unreported, though: The AARP estimates that fraudsters steal over $8 billion a year from older Americans.
Financial fraudsters go after seniors, in part, because of the "myth" that they hold most of the wealth, said Waterman, who was not involved in the new study.
In reality, she said, many older Americans are just getting by. And when they fall victim to a scam, they are often left "devastated" financially and emotionally, Waterman noted.
For the new study, researchers at Rush Alzheimer's Disease Center in Chicago staged a fake scam, involving 644 older adults who were part of an ongoing research project. They contacted the study participants through mail, email and phone calls, claiming to be with the non-existent "U.S. Retirement Protection Task Force."
The communications warned of a possible breach of their records related to their Social Security and Medicare benefits.
Overall, 68.5% of seniors did not engage with the scam. Another 15% did engage -- either calling the given 800 number or answering a call -- but expressed skepticism. Meanwhile, just over 16% engaged without questioning the validity of the situation.
While some people in that last group had dementia (14%), the large majority did not. And the dementia rate in the no-engagement group was identical.
"This study suggests that many more older adults than currently appreciated, including those without cognitive impairment, are vulnerable to scams and fraud," said senior researcher Patricia Boyle, a professor and neuropsychologist at Rush.
To Waterman, the finding "speaks to the fact that anyone can fall victim."
That's important, she noted, because older adults can feel ashamed when they are taken by fraudsters, and may even hide it from family.
There was, however, a distinguishing quality in the vulnerable study group, Boyle said: They were generally less knowledgeable about "scammer tactics."
Education on common scams, and general financial literacy, is "urgently needed," Boyle said.
Waterman said her group has online resources on those issues. She noted that everyone, not only older adults, should make sure they are scam-savvy.
"Public education is key," Waterman said. "We have to be one large village against these scammers."
More Information
The U.S. Federal Trade Commission has more on avoiding and reporting scams.
SOURCES: Patricia Boyle, PhD, professor, psychiatry and behavioral sciences, Rush Medical College, neuropsychologist, Rush Alzheimer's Disease Center, Chicago; Genevieve Waterman, DSW, director, economic and financial security, National Council on Aging, Arlington, Va.; JAMA Network Open, Sept. 22, 2023, online
« Back to News

The news stories provided in Health News and our Health-E News Newsletter are a service of the nationally syndicated HealthDay® news and information company. Stories refer to national trends and breaking health news, and are not necessarily indicative of or always supported by our facility and providers. This information is provided for informational and educational purposes only, and is not intended to be a substitute for medical advice, diagnosis, or treatment.