Home
/
Services
/
Surgery Centers
/
Surgery Center Fayetteville
Surgery Center Fayetteville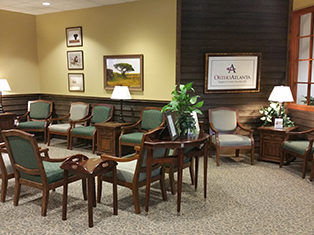 The OrthoAtlanta Surgery Center of Fayetteville is a state of the art facility that specializes in outpatient, same-day, surgical procedures. Patients are able to have outpatient surgery at the surgery center and be back in the comfort of their own home the same day. The center, which opened its doors in 2007, is physician-owned and is fully equipped with three operating room suites. The center is Medicare-certified and nationally accredited by the Accreditation Association for Ambulatory Health Care (AAAHC). This accreditation underscores the commitment of our Atlanta orthopaedic surgeons and staff to provide the highest possible levels of safe and effective care to our patients in a professional, compassionate and considerate manner specific to the individual needs of our patients.
Our mission is to provide excellent orthopaedic care to our patients in an environment dedicated to patient safety, comfort and respect. We continually strive to provide compassionate and skilled patient care that exceeds the expectations of those we serve.
The OrthoAtlanta Surgery Center of Fayetteville was established and is owned by physician members of Piedmont Orthopedics | OrthoAtlanta. Currently, the Piedmont Orthopedics | OrthoAtlanta physician owners include: Dr Orcutt, Dr Schmidt and Dr. Williams. This healthcare facility, including three operating room suites, is staffed by highly trained and experienced registered nurses and technicians as well as Business Office professionals. They help guide our patients through every step of their surgery, including pre-admission testing and pre-operative care, to post-operative care in the recovery room. Their job and ultimate priority is to ensure a positive experience for orthopaedic patients and their families who utilize our center.

OrthoAtlanta Surgery Center Fayetteville
State of Georgia Permit 056-367
1265 Hwy 54 West, Suite 103
Fayetteville, GA 30214-4537
Phone: 678-216-0771
Fax: 678-216-0772
Hours of Operation: Monday - Friday, 6:00 a.m. - 4:30 p.m.
The surgery center is located on the campus of Piedmont Fayette Hospital. The Piedmont Orthopedics | OrthoAtlanta physician office is located on the first floor, Suite 102, in the same Medical Office Building on the hospital campus. Piedmont Orthopedics | OrthoAtlanta Physical Therapy facilities for your post-operative rehabilitation are also available in this same building, providing you with one convenient location for your orthopaedic needs. Please feel free to contact us regarding any needs, concerns or questions about our orthopaedic services you may have.