Home
/
Media
/
OrthoAtlanta Sponsors 2018 Atlanta Jingle Bell Run For Arthritis And OrthoAtlanta Physicians Named Medical Honorees
OrthoAtlanta Sponsors 2018 Atlanta Jingle Bell Run for Arthritis and OrthoAtlanta Physicians Named Medical Honorees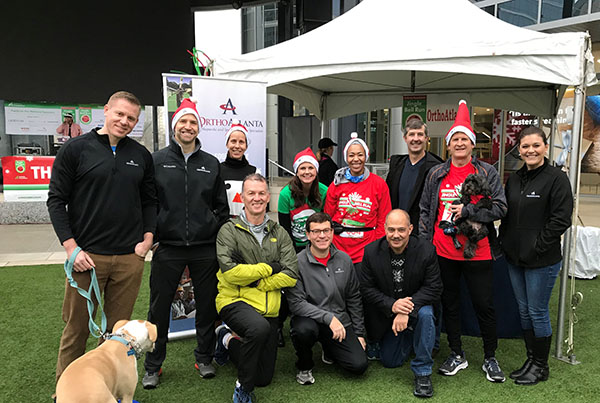 The OrthoAtlanta offices of Austell, Piedmont, Piedmont West and The Battery Atlanta proudly served as local sponsors of the 2018 Atlanta Jingle Bell Run hosted by the Arthritis Foundation of Georgia, and held on Saturday, December 15, 2018 at The Battery Atlanta (I-285 & Cobb Parkway) in Atlanta, Georgia. The physicians of OrthoAtlanta were named as the 2018 Medical Honorees of this year's race and walk fundraiser for arthritis.
OrthoAtlanta physicians representing the practice at the event included Dr. Mark Duffield (Austell, Douglasville), Dr. Donald Fowler (Paulding, The Battery Atlanta), Dr. Richard Johnston (Johns Creek, Piedmont), Dr. Douglas Kasow (Gwinnett, Piedmont West), Dr. Keith Lamberson (Austell, The Battery Atlanta), Dr. M. Jonathan Mathers (Piedmont, Piedmont West), and Dr. Feliz Rodriguez-del Rio (Piedmont, Stockbridge). The physicians were among those who provided opening comments to the hundreds of racers and walkers participating in this year's annual fundraising event. Dr. Yolanda Scott (Douglasville) and Dr. Richard Johnston and his dog Sammy ran in the 5K along with employees Melissa and Karen.
The Arthritis Foundation Jingle Bell Run is long-celebrated as one of the largest and most spirited holiday fun runs in the country with hundreds of races held across the nation each December. Funds raised benefit the Arthritis Foundation in its mission to educate, advocate and find better treatments and a cure for arthritis and related diseases. The Atlanta Jingle Bell Run is typically ranked in the Top 10 Jingle Bell Runs nationally. Runners adorn themselves, their children, and even family dogs in holiday attire, transforming the event route with hundreds of festive elves, Santas, and the melodic sounds of jingle bells as participants run, walk and pad their way to the finish line of this 5K race. As a bonus, the race ended on the Atlanta Braves field at SunTrust Park providing participants with a memorable photo memory of the day.
Serving as a spokesperson for the OrthoAtlanta physicians during the Jingle Bell Run kickoff event in early November, OrthoAtlanta orthopedic surgeon, Dr. M. Jonathan Mathers said, "The medical community is on the front line in the battle against arthritis. By raising funds and participating in the Atlanta Jingle Bell Run, we are helping the Arthritis Foundation chart a course for people with arthritis, helping to take another step toward a cure and achieve another victory for people living with arthritis through research, advocacy, and more." OrthoAtlanta physicians treat patients suffering the debilitating effects of arthritis every day.
Dr. M. Jonathan Mathers, Dr. Snehal Dalal, and Jenny Stone also serve on the board of the Arthritis Foundation of Georgia.
To learn more or to donate to the Arthritis Foundation, go to: jbr.org/atlanta or the OrthoAtlanta Santas page.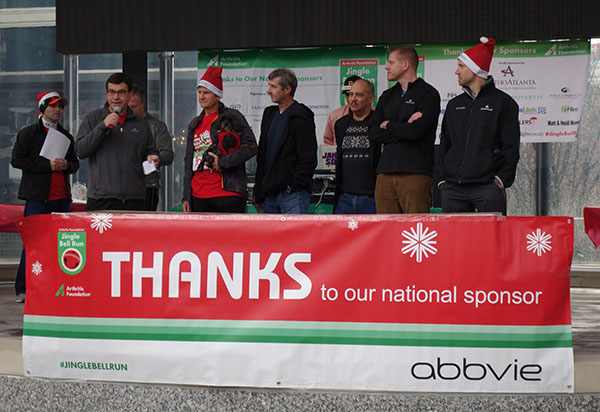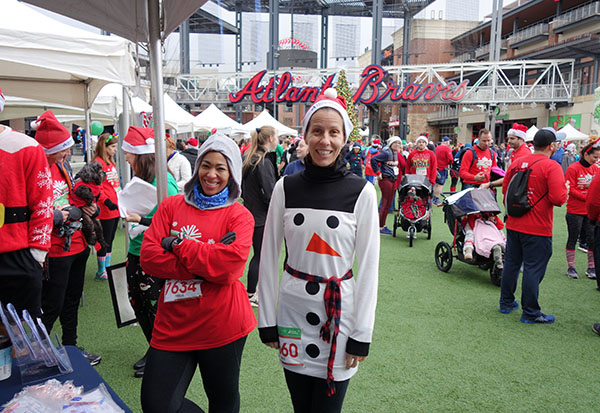 « Back to News