Home
/
Media
/
Clayton State Athletics Receives $60,000 Donation From OrthoAtlanta; Largest In Program History
Clayton State Athletics Receives $60,000 Donation From OrthoAtlanta; Largest in Program History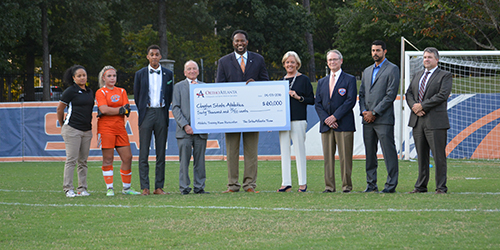 Pictured Above: OrthoAtlanta presents a check for $60,000 to Clayton State Athletics that will go towards renovating the current athletic training room. From left-to-right: Alicia Roane, Jessica Charman, Marcus Lafleur, Dr. Tim Hynes, Tim Duncan, Patty Brewster, Dr. Joseph S. Wilkes, Dr. Timothy N. Ghattas, Michael Ochal
MORROW, Ga. – Clayton State Athletics has received the single largest donation in the program's 27-year history as longtime partner OrthoAtlanta Orthopedics and Sports Medicine Specialists has agreed to contribute $60,000 towards the renovation of the athletic training room as announced by both organizations on Wednesday, September 7.
"The athletic training room impacts every single one of our student-athletes," said Tim Duncan, Director of Athletics. "We have had a long and successful partnership with OrthoAtlanta, which extends back over 25 years when Dr. Joseph S. Wilkes became the first team doctor. Their generous gift allows us to provide a larger space in which to provide better care for our student-athletes. This tremendous gift is a great way to take this partnership to the next level and will, most importantly, support our student-athletes."

The agreement, which will run for five years following the completion of the new facility, will further strengthen a partnership that has existed since 1990. One of the principle components will be the naming rights of the facility, set to be the OrthoAtlanta Sports Medicine Facility upon its completion.

"OrthoAtlanta focuses on helping athletes stay in their sport and return after injury safely and as soon as possible," stated OrthoAtlanta's Timothy N. Ghattas, M.D. and Clayton State Team Physician. "The new OrthoAtlanta Sports Medicine Facility at Clayton State University will greatly enhance these efforts to serve their students and student-athletes."
In 2015-16, Dr. Ghattas took over as Clayton State Team Physician from Dr. Joe Wilkes, who had served in that role since the program's inception and was inducted into the program's Athletics Hall of Fame in 2015.
"OrthoAtlanta has observed first-hand the tremendous growth of the Clayton State Athletics Department, currently serving 12 team sports, and its need for an athletic training room with more space and equipment," cited OrthoAtlanta's Joseph S. Wilkes, M.D. "We are pleased to assist Clayton State University Athletics achieve their goal to expand and improve the athletic training room."
Learn more by viewing the complete press release.
Learn About the OrthoAtlanta Sports Medicine Affiliation with Clayton State University Athletics Spanning over 25 Years

« Back to News