Home
/
Media
/
Chick Fil A Peach Bowl
Chick-fil-A Peach Bowl
01.15.2016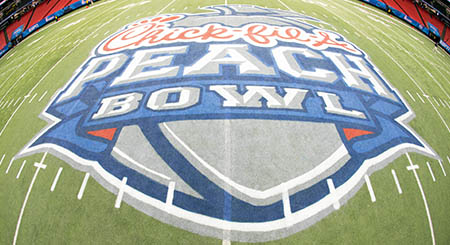 Enter the OrthoAtlanta Chick-fil-A Peach Bowl Ticket Giveaway for a chance to win one of 3 big prizes!
In December 2015, OrthoAtlanta was again honored to serve as the Official Sports Medicine Provider to this year's 2015 Chick-fil-A Peach Bowl at the Georgia Dome in Atlanta, Georgia. The Houston Cougars beat the Florida State Seminoles in this nationally-televised game played in front of tens of thousands of fans. An Atlanta institution since 1968, the Chick-fil-A Peach Bowl is the ninth-oldest college football game in the country and is one of the six elite bowls in the nation.
OrthoAtlanta has served in the role of official sports medicine provider to the game for over 20 years. Working largely behind-the-scenes, the medical staff at Atlanta-based OrthoAtlanta provides on-site orthopaedic medical services on game day and throughout game week to the players of both teams, their coaches, staff and officials.
OrthoAtlanta physicians serve as the key medical point of contact for the visiting teams while they are in town. They provide 24/7 availability from the time the teams arrive in Atlanta, staying with the teams, traveling to all practices, and working in the training rooms with the team medical staff. In conjunction with the Chick-fil-A Peach Bowl, OrthoAtlanta hosts a medical team dinner for both teams, allowing them to socialize in a casual setting, a service no other Bowl game provides.
To commemorate its twenty years of service to the Chick-fil-A Peach Bowl, OrthoAtlanta brought the excitement of the game to its patients, staff and the Atlanta community at-large with a series of marketing events. For the first year ever, over fifty OrthoAtlanta employees marched in the game day Chick-fil-A Peach Bowl Parade sponsored by Lions Club International. In the weeks leading up to game day, OrthoAtlanta held an online contest awarding two lucky winners tickets to attend the 2015 Chick-fil-A Peach Bowl, while others won tickets to noted area attractions including the Georgia Aquarium and the College Football Hall of Fame and Chick-fil-A Fan Experience.
To learn more about the Chick-fil-A Peach Bowl, visit their website.
In the Media
Behind the Scenes of a Bowl Game; OrthoAtlanta's role as the official orthopaedic and sports medicine provider to the Chick-fil-A Kickoff Game and Chick-fil-A Peach Bowl, Southern Journal Magazine, Sept/Oct 2016

OrthoAtlanta Sponsors 2015 Chick-fil-A Peach Bowl Serving as Official Sports Medicine Provider for Over 20 Years

OrthoAtlanta Sponsors Chick-fil-A Peach Bowl on December 31, 2016 Serving as the Official Sports Medicine Provider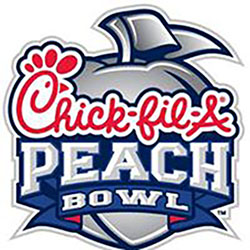 « Back to News