Home
/
Media
/
Chick Fil A Peach Bowl
Chick-fil-A Peach Bowl

OrthoAtlanta proudly serves as the Official Orthopedic and Sports Medicine Partner to the 2018 Chick-fil-A Peach Bowl. The game will be played on Saturday, December 29, 2018, with a scheduled NOON EST kickoff time in the state-of-the-industry Mercedes-Benz Stadium in Atlanta, Georgia. The nationally-televised game, played in front of tens of thousands of fans, is the ninth-oldest college football game in the country and is one of the New Year's Six Bowls selected to host the College Football Playoff.
An Atlanta tradition since 1968, last year, the Peach Bowl celebrated its 50th Anniversary Golden Season, including its 50-year history of traditions and successes as the nation's ninth-oldest bowl organization.
OrthoAtlanta has proudly served in the role of official sports medicine provider to the game for over 20 years. Working largely behind-the-scenes, the medical staff at Atlanta-based OrthoAtlanta provides on-site orthopedic medical services on game day and throughout game week to the players of both teams, their coaches, staff and officials.
OrthoAtlanta physicians serve as the key medical point of contact for the visiting teams while they are in town. They provide 24/7 availability from the time the teams arrive in Atlanta, staying with the teams, traveling to all practices, and working in the training rooms with the team medical staff. In conjunction with the Chick-fil-A Peach Bowl, OrthoAtlanta hosts a medical team dinner for both teams, allowing them to socialize in a casual setting, a service no other Bowl game provides.
OrthoAtlanta and the Chick-fil-A Peach Bowl are two proud Atlanta traditions. OrthoAtlanta brings the excitement of the game to its patients, staff and the Atlanta community with local events and activities. OrthoAtlanta pre-game and game-day activities are captured on the OrthoAtlanta Facebook page.
Updated as of November 6, 2018
To learn more about the Chick-fil-A Peach Bowl, visit their website.
In the Media
Behind the Scenes of a Bowl Game; OrthoAtlanta's role as the official orthopaedic and sports medicine provider to the Chick-fil-A Kickoff Game and Chick-fil-A Peach Bowl, Southern Journal Magazine, Sept/Oct 2016

OrthoAtlanta Sponsors 2015 Chick-fil-A Peach Bowl Serving as Official Sports Medicine Provider for Over 20 Years

OrthoAtlanta Sponsors Chick-fil-A Peach Bowl on December 31, 2016 Serving as the Official Sports Medicine Provider
OrthoAtlanta Sponsors 2017 Chick-fil-A Peach Bowl on January 1, 2018 Serving as the Official Sports Medicine Provider
OrthoAtlanta Sponsors 2018 Chick-fil-A Peach Bowl on December 29, 2018 Serving as the Official Sports Medicine Provider
Donald E. Fowler, MD, Interview with 680 The Fan 93.7 FM discusses 2018 Chick-fil-A Peach Bowl Sponsorship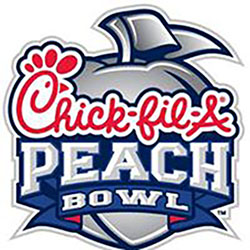 « Back to News