Home
/
Media
/
OrthoAtlanta Sponsors Chick Fil A Peach Bowl On December 31, 2016 Serving As The Official Sports Medicine Provider
OrthoAtlanta Sponsors Chick-fil-A Peach Bowl on December 31, 2016 Serving as the Official Sports Medicine Provider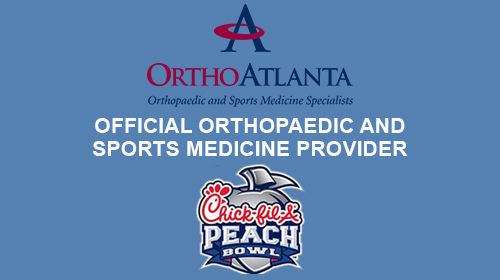 ATLANTA, GA, NOVEMBER 7, 2016 –
OrthoAtlanta is proud to serve as the official orthopedic and sports medicine provider to the 2016 Chick-fil-A Peach Bowl to be held on Saturday, December 31, 2016, in the Georgia Dome. This year, the road to the National Championship comes through Atlanta when the Chick-fil-A Peach Bowl hosts its first College Football Playoff Semifinal game. The sold-out Playoff Semifinal will pair either the #1 vs. #4 or #2 vs. #3 teams in the country. The Chick-fil-A Peach Bowl is the ninth-oldest college football bowl games in the country and is one of the elite New Year's Six bowls selected to host the College Football Playoff.
OrthoAtlanta will provide on-site orthopaedic medical services on game day and throughout bowl week to the players of both teams, their coaches, staff and officials. OrthoAtlanta has served as the official sports medicine provider to the Chick-fil-A Peach Bowl for more than 20 years, and was recently recognized by Peach Bowl, Inc., as its longest-running sponsor partner. OrthoAtlanta orthopedic surgeon, Todd Schmidt, MD, serves as medical director to this year's Chick-fil-A Peach Bowl, and Michael Behr, MD, OrthoAtlanta, serves as co-medical director.
As explained by Dr. Schmidt, "As the official sports medicine provider to the Chick-fil-A Peach Bowl, OrthoAtlanta physicians serve as the key medical point of contact for the visiting teams while they are in town. We provide 24/7 availability from the time the teams arrive in Atlanta, staying with the teams, traveling to all practices, and working in the training rooms with the team medical staff." In conjunction with the Chick-fil-A Peach Bowl, OrthoAtlanta also hosts a medical team dinner for both teams, allowing them to socialize in a casual setting, a service no other bowl game provides.
To share the excitement of the game with its patients and the greater Atlanta community, OrthoAtlanta is sponsoring the OrthoAtlanta Chick-fil-A Peach Bowl Ticket Giveaway, an online sweepstakes running from November 7 to December 18, 2016. Participants have a chance to win one of three prizes including two (2) tickets to the 2016 Chick-fil-A Peach Bowl! Secondary prizes from noted Georgia attractions include two general admission tickets to the Georgia Aquarium or two tickets to the College Football Hall of Fame and Chick-fil-A Fan Experience. Entry information and details are available on the OrthoAtlanta website, www.orthoatlanta.com, and via the OrthoAtlanta Facebook page, http://www.facebook.com/OrthoAtlanta.
OrthoAtlanta employees will participate in the 2016 Chick-fil-A Peach Bowl Parade presented by Lions Clubs International on December 31. Football Friday activities in the OrthoAtlanta offices during the month of December lead up to the game.
Learn more by viewing the complete press release

Learn more about OrthoAtlanta's Sports Medicine Affiliation with the Chick-fil-A Peach Bowl
« Back to News