Home
/
Media
/
Behind The Scenes Of A Bowl Game
Behind the Scenes of a Bowl Game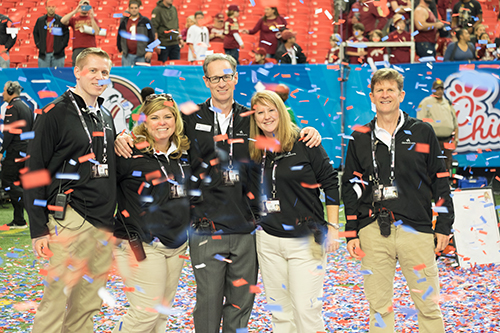 Southern Journal Magazine – September/October Sports Issue
College football is big in Georgia. Two premiere events, the Chick-fil-A Kickoff Game held on the opening weekend of the season and the Chick-fil-A Peach Bowl held on New Year's Eve, combined to bring more than 144,934 fans to Atlanta last year alone, and both serve as major economic engines in the state. Held in the Georgia Dome, and televised by ESPN to over 8.4 million viewers around the world, the games are ranked as Atlanta's fifth and sixth highest revenue generating events in 2015 with a combined economic impact last year of $70.6 million. Servicing the needs of the competing teams during the games -- their players, coaches, staff and families -- is year-long in planning, but short turn in the execution, including the need for top medical services. This is where OrthoAtlanta orthopaedic and sports medicine specialists has played a major role for over two decades.

OrthoAtlanta proudly serves as the official orthopaedic and sports medicine provider to the Chick-fil-A Kickoff Game, a role it has held since the inaugural 2008 game. Matching two top football teams in a neutral-site, the Chick-fil-A Kickoff Game is the nation's longest running kickoff game. This year's game, scheduled for Saturday, September 3, pairs No. 16 ranked Georgia Bulldogs against No. 20 University of North Carolina Tar Heels. "OrthoAtlanta physicians and medical staff will be there providing on-site orthopaedic medical services throughout the game day to the players of both teams, their coaches, staff and officials," cites Todd A. Schmidt, M.D., OrthoAtlanta orthopaedic surgeon and medical director for the 2016 Chick-fil-A Kickoff Game.
Learn more by viewing the complete press release.

« Back to News