Home
/
Media
/
OrthoAtlanta Welcomes Alabama Crimson Tide And Georgia Bulldogs To Atlanta For 2018 College Football Playoff National Championship At Mercedes Benz Stadium
OrthoAtlanta welcomes Alabama Crimson Tide and Georgia Bulldogs to Atlanta for 2018 College Football Playoff National Championship at Mercedes-Benz Stadium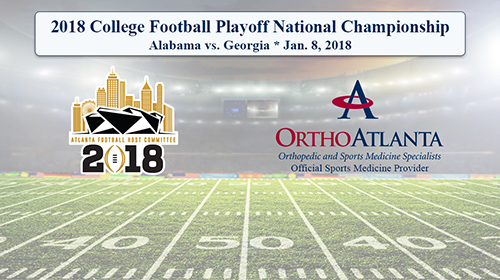 Atlanta, GA, January 2, 2018 (Newswire.com / PRNewswire.com) – The 2017 college football season comes to an exciting conclusion on January 8, in Atlanta, Georgia, when the College Football Playoff (CFP) National Championship pairs the University of Alabama Crimson Tide against the University of Georgia Bulldogs. The teams officially booked their ticket to Atlanta on New Year's Day, January 1, 2018, as each won their Playoff Semifinal, the Allstate Sugar Bowl and the Rose Bowl Game presented by Northwestern Mutual, respectively.
OrthoAtlanta, the orthopedic and sports medicine partner of the Atlanta Football Host Committee (AFHC), welcomes the two teams to Atlanta for the 2018 CFP National Championship to be held in Mercedes-Benz Stadium, in Atlanta, Georgia on Monday, January 8, 2018.
"As the official orthopedic and sports medicine provider of the Atlanta Football Host Committee, OrthoAtlanta physicians and medical staff will be present at the 2018 CFP National Championship providing one-stop medical services throughout the game to the players, coaches, staff and officials," said Todd A. Schmidt, MD, OrthoAtlanta orthopedic surgeon and medical director for the Atlanta Football Host Committee. Dr. Schmidt will be joined on the field by OrthoAtlanta Medical Director, Michael Behr, MD, and OrthoAtlanta orthopedic surgeons, Donald Fowler, MD, and Snehal Dalal, MD. OrthoAtlanta athletic trainers and administrative staff work together with the physicians to provide 24/7 medical support services during game week and on game day.
OrthoAtlanta and college football are two proud Atlanta traditions. OrthoAtlanta's 39 physicians and over 450 employees in 13 offices around Atlanta took part in the celebrated AFHC "I'm In" billboard and social media campaign running this year. Outdoor boards across the Atlanta metro area displayed the OrthoAtlanta logo and proclaimed the "We're In" message. As a kickoff to the 2017 college football season, OrthoAtlanta was a supporting sponsor of the Atlanta's "All In" Championship Luncheon on September 1, 2017, hosted by the AFHC. OrthoAtlanta posts news and behind-the-scenes insights on OrthoAtlanta.com and via Facebook, www.facebook.com/OrthoAtlanta.
Learn more about the role of OrthoAtlanta as official orthopedic and sports medicine provider to the Atlanta Football Host Committee for the 2018 College Football Playoff National Championship.
OrthoAtlanta's role with the AFHC was featured in the October issue of the Atlanta "All In" Magazine.
« Back to News