Home
/
Media
/
Atlanta United FC And ATL UTD 2
Atlanta United FC and ATL UTD 2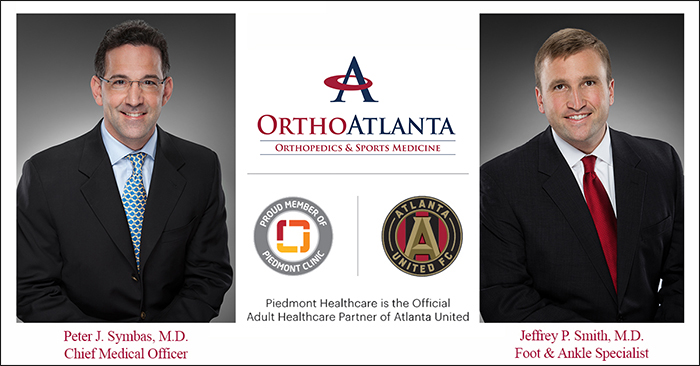 Professional soccer has taken Atlanta by storm, and OrthoAtlanta is proud to be part of the action. In March 2020, Atlanta United FC enters its fourth season, with accolades including the 2018 MLS Cup championship, quite an accomplishment for a team that formed in 2017. The Five Stripes home games are played in the state-of-the-art Mercedes-Benz Stadium in midtown, Atlanta, GA. ATL UTD 2 plays its home games at Fifth Third Bank Stadium in Kennesaw, GA.
OrthoAtlanta provides medical care, including orthopedic and sports medicine care, to Atlanta's Major League Soccer (MLS) team, Atlanta United FC, and Atlanta United 2 (ATL UTD 2). OrthoAtlanta orthopedic surgeon, Peter J. Symbas, M.D., serves as Chief Medical Officer for Atlanta United FC. Jeffrey P. Smith, M.D., OrthoAtlanta foot and ankle surgeon, provides orthopedic and sports medicine care to Atlanta United 2. OrthoAtlanta physicians serve Atlanta's professional soccer teams in collaboration with the Piedmont Healthcare role as the Official Adult Healthcare Partner of Atlanta United.
As Chief Medical Officer, Atlanta United FC, Dr. Symbas oversees a consortium of orthopedic and sports medicine physicians that provide medical services as needed to the Atlanta United players, coaches and staff during all home games. Soccer has been an important part of Dr. Symbas' life since childhood. In fact, he credits his love of the sport as driving his decision to pursue a career in sports medicine. He played competitive soccer at the collegiate level, serving as captain of the nationally ranked Emory University men's soccer team. He has previously served as the team physician for the Atlanta Silverbacks professional soccer team and Pace Academy, a preparatory school in Atlanta. Dr. Symbas sees patients at OrthoAtlanta offices including Piedmont West, Marietta and Kennesaw. He also serves as Chief of Orthopaedics for the Piedmont Clinic, and has previously served as Chairman of the Department of Orthopedics for Piedmont Atlanta Hospital.
"Orthopedics and sports medicine expertise is vital to the performance of our players," stated Atlanta United president Darren Eales. "We value the proven sports injury expertise and team leadership that OrthoAtlanta's Dr. Peter Symbas brings to our soccer club as Chief Medical Officer."
OrthoAtlanta orthopedic surgeon, Jeffrey P. Smith, M.D., serves on the Atlanta United 2 medical team. Fellowship-trained in foot and ankle surgery, Dr. Smith serves patients at OrthoAtlanta offices in Johns Creek and Gwinnett.
Last Updated: February 2020
In the Media
OrthoAtlanta Peter Symbas, M.D., Chief Medical officer of Atlanta United MLS Soccer Team
OrthoAtlanta's Peter J. Symbas, MD, is chief medical officer, Atlanta United FC and Jeffrey Smith, MD, Serves Atlanta United 2
« Back to News