Home
/
Media
/
OrthoAtlanta Sponsors Chick Fil A Kickoff Game On September 3, 2016 Serving As Official Sports Medicine Provider
OrthoAtlanta Sponsors Chick-Fil-A Kickoff Game on September 3, 2016 Serving as Official Sports Medicine Provider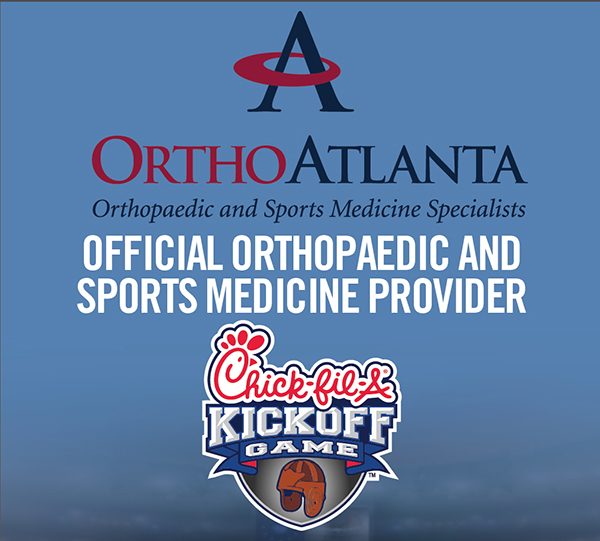 OrthoAtlanta sponsors the 2016 Chick-fil-A Kickoff Game on September 3 serving as the Official Sports Medicine Provider to the nationally-televised collegiate kickoff game. OrthoAtlanta ticket giveaway through August 28 offers the chance to win two tickets to the sold-out game pairing the Georgia Bulldogs against the University of North Carolina Tar Heels.

Atlanta, GA, August 19, 2016 (Newswire.com) - OrthoAtlanta is proud to serve as the official orthopaedic and sports medicine provider to the 2016 Chick-fil-A Kickoff Game, a role it has held since the inaugural 2008 game. Matching two top football teams in a neutral-site, the Chick-fil-A Kickoff Game is the nation's longest running kickoff game and has been nationally televised on the opening weekend of the college football season since its inception. The Chick-fil-A Kickoff Game boasts an average attendance of 66,869 and has been watched on television by 43.9 million viewers. This year's game, scheduled for Saturday, September 3, at the Georgia Dome in Atlanta, pairs the No. 16 ranked Georgia Bulldogs against the No. 20 University of North Carolina Tar Heels, in a sold-out game.
"OrthoAtlanta physicians and medical staff will be at the game, providing on-site orthopaedic medical services throughout the game day to the players of both teams, their coaches, staff and officials," cites Todd A. Schmidt, M.D., OrthoAtlanta orthopaedic surgeon and medical director for the 2016 Chick-fil-A Kickoff Game. The OrthoAtlanta medical staff and management personnel work together with Peach Bowl, Inc., management to insure the medical needs of both teams, coaches and staff are served.
Learn more by viewing the complete press release

Learn more about OrthoAtlanta's Sports Medicine Affiliation with the Chick-fil-A Kickoff

« Back to News