Home
/
Media
/
OrthoAtlanta 2019 Best Orthopedic Practice In North Atlanta
OrthoAtlanta 2019 Best Orthopedic Practice in North Atlanta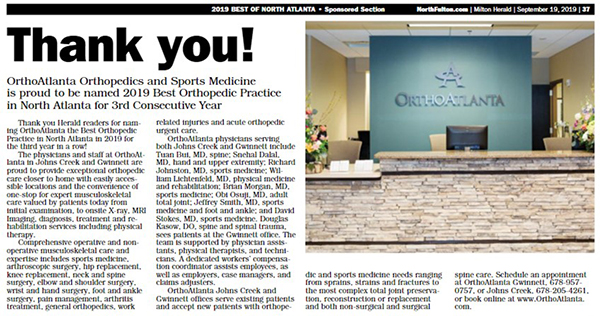 OrthoAtlanta is proud to be voted 2019 Best Orthopedic practice in North Atlanta by the readers of Herald publications for the third year in a row.
The physicians and staff at OrthoAtlanta in Johns Creek and Gwinnett are proud to provide exceptional orthopedic care closer to home with easily accessible locations and the convenience of one-stop for expert musculoskeletal care valued by patients today from initial examination, to onsite X-ray, MRI Imaging, diagnosis, treatment and rehabilitation services including physical therapy.
OrthoAtlanta physicians serving both Johns Creek and Gwinnett include Tuan Bui, MD, spine; Snehal Dalal, MD, hand and upper extremity; Richard Johnston, MD, sports medicine; William Lichtenfeld, MD, physical medicine and rehabilitation; Brian Morgan, MD, sports medicine; Obi Osuji, MD, adult total joint; Jeffrey Smith, MD, sports medicine and foot and ankle; and David Stokes, MD, sports medicine. Douglas Kasow, DO, spine and spinal trauma, sees patients at the Gwinnett office. The team is supported by physician assistants, physical therapists, and technicians. A dedicated workers' compensation coordinator assists employees, as well as employers, case managers, and claims adjusters.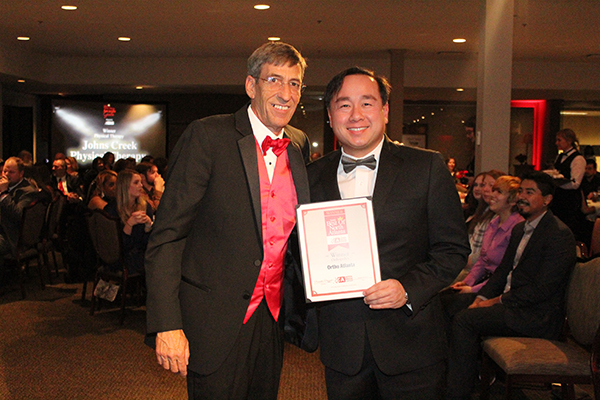 Also see OrthoAtlanta feature in the 2019 Best of North Atlanta Winners Guide.
« Back to News