Home
/
Media
/
Non Surgical Treatment Options For Carpal Tunnel Syndrome
Non-surgical treatment options for carpal tunnel syndrome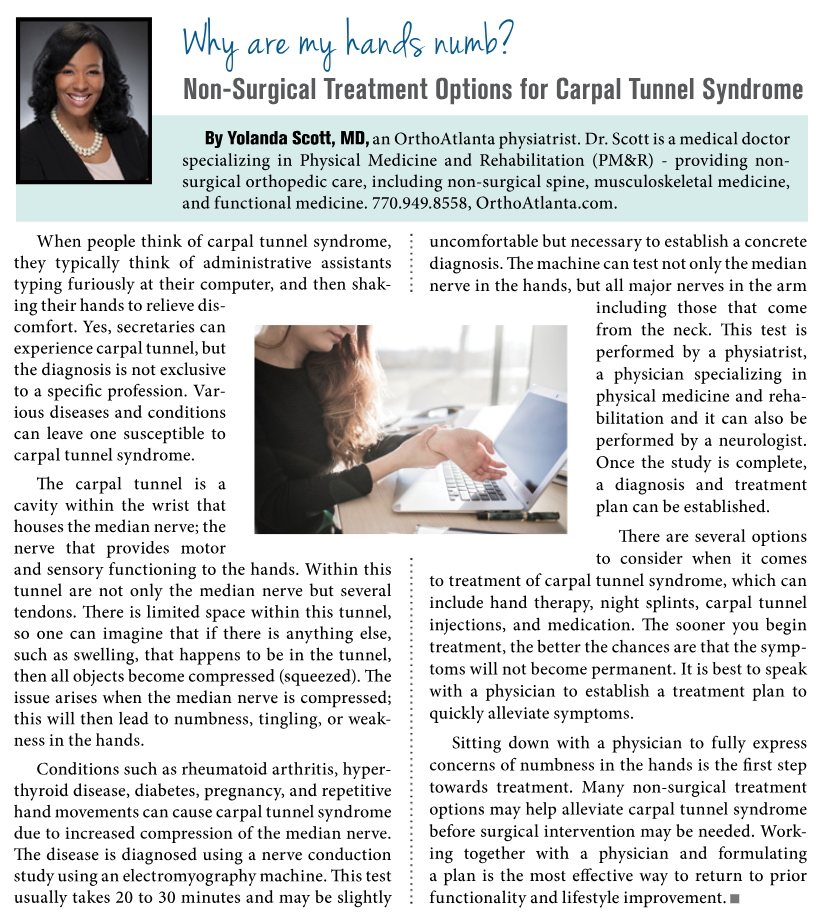 In addition to repetitive hand movements, various diseases and conditions such as rheumatoid arthritis, hyperthyroid disease, diabetes, and pregnancy can leave one susceptible to carpal tunnel syndrome.
OrthoAtlanta physiatrist, Yolanda Scott, MD, describes the carpal tunnel as an actual cavity within the wrist that houses the median nerve; the nerve that provides motor and sensory functioning to the hands. Within this tunnel are not only the median nerve but several tendons. There is limited space within this tunnel, so one can imagine that if there is anything else, such as swelling, that happens to be in the tunnel, then all objects become compressed (squeezed). The issue arises when the median nerve is compressed; this will then lead to numbness, tingling, or weakness in the hands.
Non-surgical treatment options that may be appropriate for carpal tunnel syndrome include hand therapy, night splints, carpal tunnel injections, and medication. The sooner you begin treatment, the better the chances are that the symptoms will not become permanent. It is best to speak with a physician to establish a treatment plan to quickly alleviate symptoms.
Learn more by viewing the complete article, Why are my Hands Numb? Non-Surgical Treatment Options for Carpal Tunnel Syndrome in the July 2018 issue of Chapel Hill News & Views, page 94.
Learn more about Dr. Yolanda C. Scott, physical medicine and rehabilitation, OrthoAtlanta Douglasville.
« Back to News