Home
/
Media
/
Medical Mission To Honduras Provides Knee Replacement Surgery To Those In Need
Medical Mission to Honduras Provides Knee Replacement Surgery to Those in Need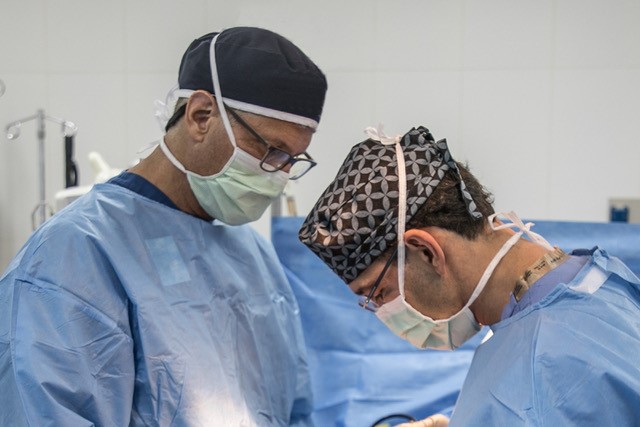 ATLANTA, GA, May 25, 2018 --
OrthoAtlanta orthopedic surgeons, Michael J. Behr, M.D., and Peter J. Symbas, M.D., are two sports medicine physicians who have dedicated their careers to serving others. Dr. Behr and Dr. Symbas treat Atlanta area patients with the most complex sports injuries, including those in need of total joint repair and joint replacement surgeries. Dr. Behr and Dr. Symbas are dedicated medical professionals who are also known for generous donation of their time and talents to those in need in some of the most impoverished parts of the world. Dr. Behr and Dr. Symbas participated in a week-long orthopedic medical mission trip in Honduras where their total joint replacement expertise contributed to a first-of-its kind orthopedic surgical effort at Holy Family Surgery Center in May 2018.
As part of a brigade of 37 volunteer medical professionals specially-trained in orthopedic surgery and surgical support, the Georgia-based team, including five orthopedic surgeons, surgical nurses and medical specialists, completed thirty-seven (37) total knee replacement surgeries in three days. This number was nearly one-third the total number of knee replacements performed the previous year throughout the entire country.
The remarkable Atlanta-based team traveled to Honduras as part of One World Surgery, a non-profit organization that founded and runs Holy Family Surgery Center in Honduras. Approximately one-hour northeast of Tegucigalpa, the capital of Honduras, the surgery center is located on the property of Nuestros Pequeños Hermanos (NPH) a 2,000-acre ranch that serves as a loving home for some 500 orphaned, abandoned and disadvantaged children in Honduras. Providing educational and technical training for the youth, it's a testament to the organization's mission of sustainability and giving back that nearly half of the surgery center staff were NPH residents at one time. Surgeries at the center are needs-based and provided to pre-qualified patients of all ages.
Supplementing the services of this surgery center, One World Surgery coordinates brigades of volunteer medical experts for week-long service. Prior brigades have included heart surgery, OB/GYN, and ophthalmology. Although orthopedic specialists have served the organization in the past, the Atlanta-based team, who have coined the name OneJoint, made possible the first-ever focused effort exclusively on total knee replacement surgeries.
Preparation for the Georgia-based orthopedics team endeavor was many months in the planning. Crosslink Orthopedics, a local medical equipment supply company based in Norcross, GA, donated all the medical hardware for the joint replacements. Thomas Fleetwood from Crosslink reached out to orthopedic surgeons from several of Georgia's leading orthopedic and sports medicine practices, including Dr. Symbas and Dr. Behr of OrthoAtlanta. Additional team members, including skilled pre-op, OR, post-op nurses, and medical technicians, brought the operating brigade to 37 people. The trip was entirely self-funded, from initial registration fees and flights, to extra baggage fees needed for some twenty crates of equipment and supplies.
A practicing orthopedic surgeon with OrthoAtlanta for over 25 years, Dr. Michael J. Behr has served on other medical mission trips in the past, including an Atlanta-based orthopedic group serving the country of Haiti. Dr. Behr's first trip to Haiti was in 2010, the year of the deadly earthquake that killed thousands of people and left so much of the island in ruins. Inspired by the people of Haiti and the medical needs that continue today, Dr. Behr recently completed his ninth trip to Haiti in February 2018.
Dr. Behr, who today serves as the OrthoAtlanta Medical Director, shared insights into his draw to Haiti, and now Honduras. Dr. Behr said, "Impoverishment in Latin America, Central and South America is real and there is an ongoing need for quality medical care.The ability to return an individual in Honduras to a highly functional level with a 'new knee' does more than improve one individual's quality of life, it affects the whole family and often an entire community."
Dr. Peter J. Symbas, an OrthoAtlanta orthopedic surgeon with subspecialty certification in sports medicine, has also served on other medical mission trips, including a trip to Haiti in 2017. When asked why he goes on mission trips, Dr. Symbas commented "I get so much more out of these trips than even the many people whose lives we touch. Nothing is more rewarding than the smiles we receive in return." Dr. Symbas who sees patients at OrthoAtlanta offices including Piedmont West, Kennesaw and Marietta, also serves as the Chief Medical Officer for Atlanta United FC, Atlanta's professional soccer team and is the Chief of Orthopedics for the Piedmont Clinic for Piedmont Healthcare.
The Atlanta-based team of orthopedics professionals who recently returned from a week's accomplishments in Honduras is committed to returning to the country in 2019 as part of a sustained, long-term effort to provide orthopedic service to the Honduran people. Watch for future information about their upcoming commitment to service.
View entire press release, OrthoAtlanta Surgeons Participate in Atlanta-based Orthopedic Medical Mission to Honduras Providing Total Knee Replacements.
« Back to News