Home
/
Media
/
Holiday Eating For Healthy Bones
Holiday Eating for Healthy Bones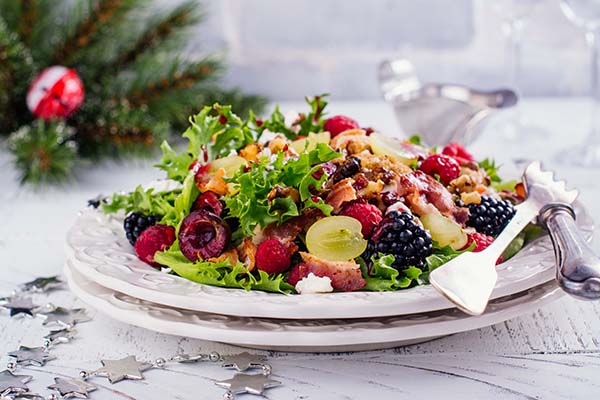 The holidays provide time for gathering with family and friends, but the temptation can be great to splurge with overstuffed buffet tables, multi-course meals, and bountiful desserts. Healthy eating, including a focus on bone health, shouldn't take a holiday. Consider these healthy holiday eating tips that can help support healthy bones.
Whole Foods
Whole foods, including lean roast chicken and turkey breast, fish and fresh vegetables, provide a lot of healthy properties that can boost your overall health, including bone health. Packed full of vitamins and minerals, two of the most important elements found in many tasty whole foods that can help your bone health are vitamin D and calcium. Dark, leafy green salads loaded with vegetables and sprinkled with a small handful of nuts and festive holiday fruits offer a great start to a formal sit-down meal or impromptu break during holiday shopping.
Protein
Protein can affect your bone structure. A high protein diet can aid your bones in growing properly and maintaining their structure. This is an excellent way to ensure that your bones stay healthy and have a strong structure to prevent breakage. Smart buffet table selections this holiday may include fresh shrimp or salmon, almonds or cheese. Some vegetables offer a surprise protein punch, such as edamame, hummus made with chickpeas, and roasted brussels sprouts.
Calcium
We all know that calcium is a great way to ensure that your bones grow properly, but it can also help you maintain quality bone density as an adult. Your bone density is important because it can help you avoid breaks and fight osteoporosis. To keep your bones stronger longer, select foods rich in calcium, such as low-fat cheeses, chia seeds, sardines or canned salmon, almonds, and dark leafy greens like collards, spinach and kale.
Vitamin D
Vitamin D helps your body absorb calcium, a benefit to maintaining bone density. A diet rich in both calcium and vitamin D work hand in hand supporting healthy bones. Choose salmon, herring, shrimp and whole egg options like tasty deviled eggs, to boost vitamin D and calcium. Getting out for a brisk mid-day walk to enjoy some sunshine is an added plus.
Foods to Avoid
If you're worried about your bones, stay away from soft drinks that are high in caffeine and phosphoric acid that can affect your bone density. Also, do your best to avoid salt, or lower your salt intake. Salt can affect how much calcium your body expels. Losing calcium can affect your bone density quite a bit.
When it comes to your bone health, pay attention to your diet even during the holidays. If you have questions about how you can maintain bone health, contact the orthopedic specialists at OrthoAtlanta for a consultation.
This article, Holiday Eating for Healthy Bones, by OrthoAtlanta physiatrist, Dr. Yolanda C. Scott, appears in the November 2019 issue of Chapel Hill News & Views, page 95.

« Back to News