Home
/
Media
/
Don't Suffer In Silence From Chronic Pelvic Pain
Don't Suffer in Silence from Chronic Pelvic Pain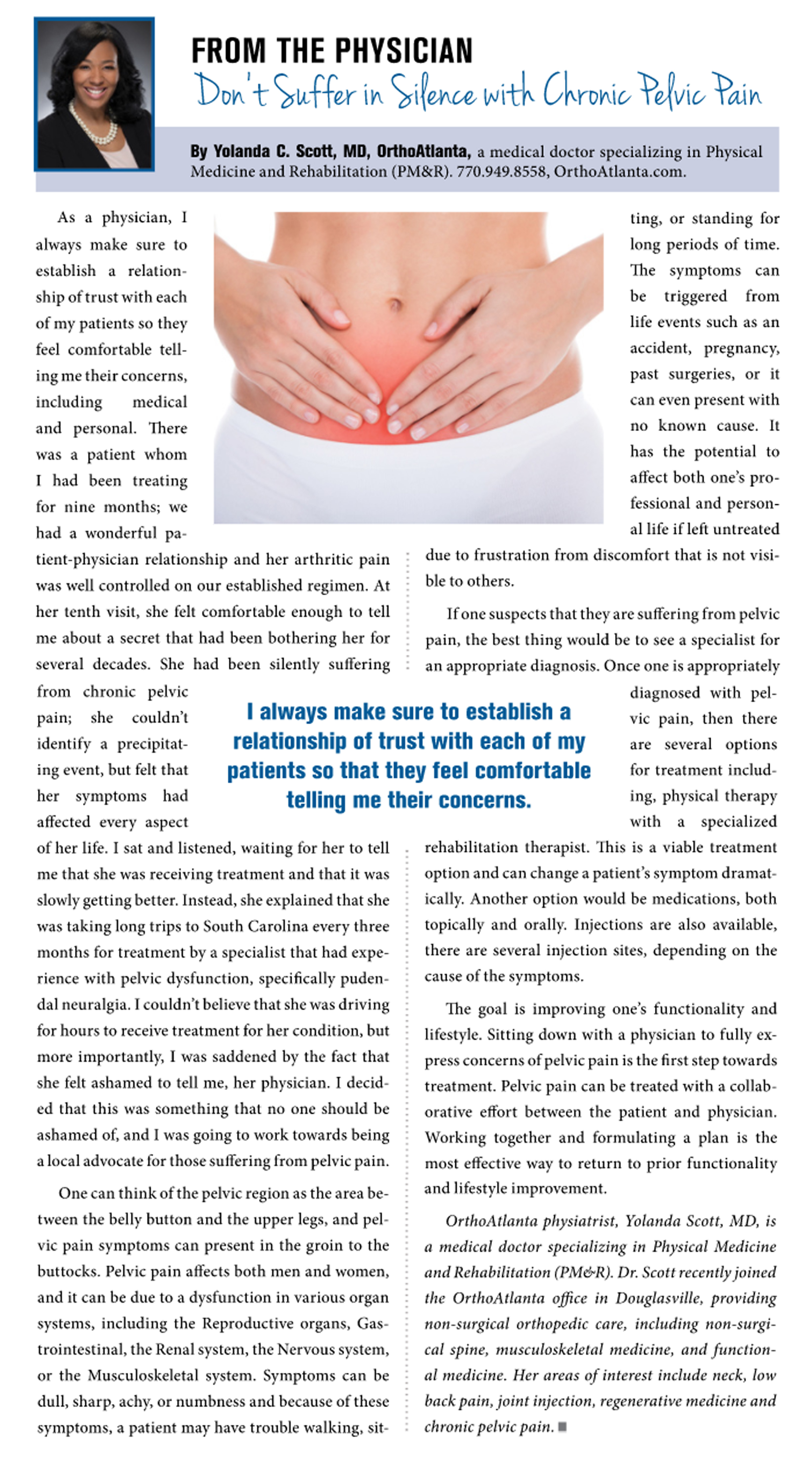 No one should suffer in silence from chronic pelvic pain.
One can think of the pelvic region as the area between the belly button and the upper legs. Pelvic pain symptoms can present in the groin to the buttocks. Pelvic pain affects both men and women, and it can be due to a dysfunction in various organ systems, including the Reproductive organs, Gastrointestinal, the Renal system, the Nervous system, or the Musculoskeletal system. Symptoms can be dull, sharp, achy, or numbness and because of these symptoms, a patient may have trouble with walking, sitting, or standing for long periods of time. The symptoms can be triggered from life events such as an accident, pregnancy, past surgeries, or it can even present with no known cause. It has the potential to affect both one's professional and personal life if left untreated due to frustration from discomfort that is not visible to those around them. One type of pelvic dysfunction is pudendal neuralgia, a chronic and painful condition that occurs in both men and women, with immense discomfort that is usually worse when sitting.
If one suspects that they are suffering from pelvic pain, the best thing would be to see a specialist for an appropriate diagnosis. Once one is appropriately diagnosed with pelvic pain, then there are several options with regards to treatment, which includes physical therapy with a specialized rehabilitation therapist. This is a viable treatment option and can change a patient's symptom dramatically. Another option would be medications, both topically and orally. An additional option would be injections; there are several injection sites, depending on the cause of the symptoms.
The goal is improving one's functionality and lifestyle. Sitting down with a physician to fully express concerns of pelvic pain is the first step towards treatment. Pelvic pain can be treated with a collaborative effort between the patient and physician. Working together and formulating a plan is the most effective way to return to prior functionality and lifestyle improvement.
Learn more by viewing the complete article, Don't Suffer In Silence with Chronic Pelvic Pain in the March 2018 issue of Chapel Hill News & Views, page 97.
Learn more about Dr. Yolanda C. Scott, physical medicine and rehabilitation, OrthoAtlanta Douglasville.
« Back to News