Home
/
Media
/
Christopher A. Jarrett, M.D., OrthoAtlanta, Receives Prestigious Arthritis Foundation 2015 Hugh C. McLeod Award Of Excellence
Christopher A. Jarrett, M.D., OrthoAtlanta, Receives Prestigious Arthritis Foundation 2015 Hugh C. McLeod Award of Excellence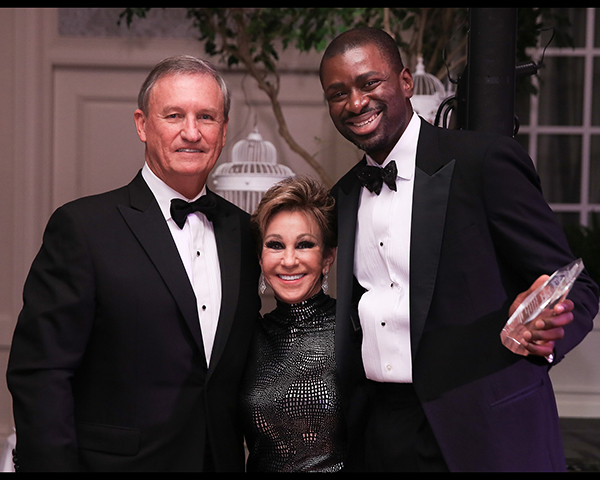 OrthoAtlanta orthopaedic surgeon Christopher Jarrett, M.D is
named the 2015 Arthritis Foundation Hugh McLeod Award of Excellence recipient.
Dr. Jarrett (right) is congratulated by Arthritis Foundation Georgia Leadership
Council Chair, Allen Wright and Mrs. Hugh (Leslie) McLeod. Photo credit: Chris
Berry.
[Update November 20, 2017: After many years with OrthoAtlanta, Dr. Christopher Jarrett has decided to move his practice out-of-state. For continued quality orthopedic care in the greater Atlanta area, please contact your local OrthoAtlanta office to discuss your diagnosis and obtain recommendations for a new physician, or refer to the OrthoAtlanta physicians page to view OrthoAtlanta physicians by Specialty.]

Atlanta, GA, October 22, 2015 (Newswire.com) -OrthoAtlanta physician, Christopher A. Jarrett, M.D., was honored to receive the 2015 Hugh C. McLeod Award of Excellence by the Arthritis Foundation on Saturday, October 17, 2015 in Atlanta, Georgia. This award is presented annually by the Arthritis Foundation Southeast Region to a physician practicing in the state of Georgia who best exemplifies the life and legacy of Dr. Hugh C. McLeod, III, a champion for arthritis awareness and treatment and an arthritis sufferer himself.
Nominations are reviewed by a panel of medical professionals across the state. The award is bestowed upon a physician exhibiting Dr. McLeod's spirit and qualities and who will continue to influence others to follow in his footsteps in the recognition and treatment of arthritis. Dr. Jarrett is the fourth recipient of this prestigious award since its inception in 2012.
"I am deeply honored to receive the Hugh McLeod Award of Excellence," cited Dr. Jarrett. "I will always consider myself as a foot soldier in the fight against arthritis." Acknowledging what he sees as a special privilege to serve patients with arthritis and speak to groups about the disease, Dr. Jarrett accepted the award "on behalf of all doctors, nurses, x-ray technicians, occupational therapists and physical therapists who work together to make arthritis patients as comfortable as possible during treatment and seek to make their lives a little bit better."
"There is no doubt that Dr. Christopher Jarrett embodies the qualities that we look for annually as a recipient of the Hugh C. McLeod, III, M.D. Award of Excellence, established by the Arthritis Foundation in 2012. Dr. Jarrett's passion for patient care, selflessness in caring for others, contributions to the community and the Arthritis Foundation make him an incredible choice for this year's award," noted Georgia Leadership Council Chair, Allen Wright.
"On behalf of the 35 physicians and over 400 employees of OrthoAtlanta, we could not be more honored for Dr. Jarrett in being named the 2015 Hugh McLeod award recipient," exclaimed Patricia L. Brewster, Chief Executive Officer, IntraHealth Group, the management services company for OrthoAtlanta. "Dr. Jarrett exemplifies patient service, and what it means to take care of patients." She and many OrthoAtlanta physicians and staff were present at the Arthritis Foundation gala event.
Christopher A. Jarrett, M.D. practices at the OrthoAtlanta Piedmont office and is affiliated with Piedmont Atlanta Hospital. His area of expertise includes adult reconstruction and complex joint replacement of the hip, knee and shoulder. Dr. Jarrett is fellowship trained and board certified by the American Board of Orthopaedic Surgery. Born in Freetown, Sierra Leone, Western Africa and raised in Mississippi, Dr. Jarrett obtained his undergraduate degree from Georgia Institute of Technology, and his Doctorate of Medicine from the University of Mississippi. He completed his residency in Orthopaedic Surgery at the University of South Alabama Medical Center in Mobile and a fellowship in Adult Reconstruction at Lenox Hill Hospital in New York City. Dr. Jarrett, his wife, Dr. LeKeisha Jarrett, and their three sons live in Atlanta, Georgia.

View the complete press release in the OrthoAtlanta Newsroom.

Watch video clip here.

« Back to News