Home
/
Media
/
Ask A Doctor With Dr. Donald Fowler On 3 Point Conversion Radio
Ask a Doctor with Dr. Donald Fowler on 3 Point Conversion Radio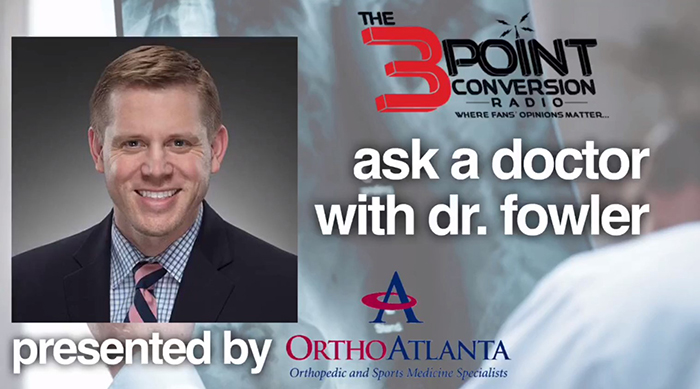 Catch the latest interviews by OrthoAtlanta orthopedic surgeon, Dr. Donald Fowler on 3 Point Conversion Radio.
Fellowship trained in sports medicine and shoulder surgery, Dr. Fowler is a regular guest on The 3 Point Conversion Sports Lounge video radio show on Saturday morning with station host Raphael, also known as Mr. Controversy.
---
Saturday, October 6, 2018
Answering the question, Are Injuries Part of the Game, Dr. Donald E. Fowler, III, discusses sports injuries, including ACL tears, Tommy John Surgery, and more.
---
Saturday, January 26, 2019
Topics include why you typically don't see quad tears in professional athletes, and implications for treatment and recovery time when a professional athlete faces such an injury.
---
Saturday, February 9, 2019
Topics include Achilles tendinitis, hand injuries and more.
---
You can also listen live on most Saturdays by tuning into www.1100atlanta.com, 3 Point Conversion Facebook Live, Station App – WWWE AM 1100, iHEART Radio app – WWWE AM 1100, Tune In App – WWWE AM 1100, lradionow App, WWWE AM 1000 5.
« Back to News