Home
/
Services
/
ORTHOQuick Urgent Care
= Office Location
= OrthoQuick Available
ORTHOQuick Urgent Care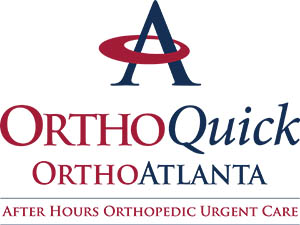 Orthopedic Urgent Care Center now open six days a week.

The Staff at ORTHOQuick provides expert orthopaedic treatment for your unexpected aches, breaks, strains, and sprains – when you need it most! No appointment necessary. After school, after work, after hours. Because we know injuries can't wait.
Call ahead or walk in……No Appointment Necessary!
After-hours orthopedic care is now available in the comfortable environment of your doctor's office. Just as convenient as the ER, but a lower cost.
Patients visiting ORTHOQuick will be seen by a qualified physician assistant. OrthoAtlanta physicians supervise our qualified physician assistants and are readily available to the ORTHOQuick physician assistants.
ORTHOQuick Treats urgent conditions like:
Acute Pain
Suspected Fractures or Dislocations
Strains and Sprains
Sports Related Injuries
Tendonitis and Bursitis
Work Related Injuries
Most insurances accepted (Referral may be required).

ORTHOQuick Fayetteville
1265 Highway 54 West, Suite 102
Fayetteville, GA 30214



(770) 460-OUCH (6824), ask for Fayetteville


Hours:
Friday 5:00 p.m. – 9:00 p.m.
Saturday 9:00 a.m. – 1:00 p.m.