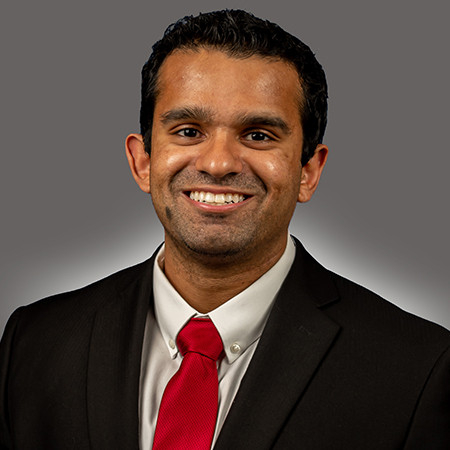 « Back
Matt Jejo Mathew, M.D.
Locations
Print
Matt Jejo Mathew, M.D.
Adult Reconstruction Fellowship
Biography
Matt "Jejo" Mathew, M.D. is a fellowship trained orthopedic surgeon and sees patients in our Covington location. In addition to treating patients with general orthopedic conditions and fractures, Dr. Mathew has a subspecialty focus and training in total joint replacement and reconstruction surgery, including primary and revision hip and knee replacement. He is particularly interested in total hip replacement utilizing the direct anterior approach, robot assisted joint replacement surgery, and computer navigated surgery. He has experience with revision joint replacement surgery for complications after surgery or failed total joints, as well as infection and periprosthetic fracture care.
Dr. Mathew received his Bachelors degree as well as his Doctor of Medicine degree from the University of Kansas. He went on to complete his orthopedic surgery residency at The University of Tennessee Campbell Clinic in Memphis, Tennessee and completed his Adult Reconstruction Fellowship in Chicago, Illinois at Northshore Orthopedic Institute.
Areas of Interest
Primary Hip Replacement
Revision Hip Replacement
Primary Knee Replacement
Revision Knee Replacement
Direct Anterior Approach Hip Replacement
Robot Assisted Joint Replacement Surgery
Computer Navigated Surgery
General Orthopedics

Fracture Care
Board Eligible
American Board of Orthopedic Surgery
---
Education
Fellowship: Northshore Orthopedic Institute, Chicago, Illinois, 2022, Adult Reconstruction Fellowship
Residency: University of Tennessee Campbell Clinic, Memphis, Tennessee, 2021, Orthopedic Surgery
Medical Degree: University of Kansas School of Medicine, Kansas City, Kansas, 2016, Doctor of Medicine
Undergraduate Degree: University of Kansas, Lawrence, Kansas, 2012, Bachelor of Science - Neurobiology
---
Memberships & Recognition
Professional Memberships

American Academy of Orthopedic Surgeons- Candidate Member
American Association of Hip and Knee Surgeons
Mid-America Orthopedic Association
Publications/Research
Bashyal RK, Mathew M, Bowen E, James GA, Stulberg SD. A Novel Irrigant to Eliminate Planktonic Bacteria and Eradicate Biofilm Superstructure with Persistent Effect During Total Hip Arthroplasty. Accepted to Journal of Arthroplasty. Manuscript Number: JOAD-21-02118R1. January 2022
Mathew M, Ragsdale TD, Pharr ZK, Rider CM, Mihalko WM, Toy PC. Risk Factors for Prolonged Time to Discharge in Total Hip Patients Performed in an Ambulatory Surgery Center due to Complaints of the Inability to Void. J Arthroplasty. 2021 Jun 24:S0883-5403(21)00550-7. doi: 10.1016/j.arth.2021.06.010. Epub ahead of print. PMID: 34215461.
Mosher ZA, Calkins TE, Mathew M, Cline JT, Mihalko WM. Prevention and Treatment of Orthopaedic Infections: Present and Future. ASTM Symposium on Antimicrobial Combination Devices. November 2019
---
Community Involvement
In his spare time, Dr. Mathew enjoys playing basketball and golf, weighlifting, and watching the Kansas City Chiefs and University of Kansas Jayhawks. He also enjoys graphic design, technology, and cooking.
---
dr mathew, dr. mathew, dr matt mathew, dr. matt mathew, matt mathew, matt mathew md, matt mathew, jejo mathew, jejo mathew md, dr jejo, dr jejo mathew