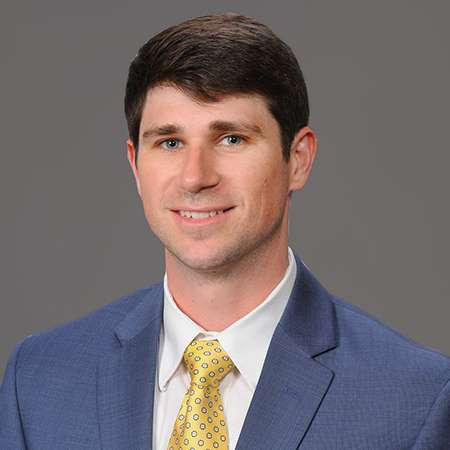 « Back
Physician Extenders
Sports Medicine and Shoulder Reconstruction Fellowship
Biography
Jared Hudspeth, MD specializes in Orthopedic Sports Medicine with a focus on minimally invasive shoulder, elbow, hip, knee, and ankle surgery. He has a special interest in the shoulder and knee joints and helping patients return to their desired activity. He is trained in the most up to date and cutting edge procedures that maximize results and minimize downtime for patients while focusing on the best patient outcome. Dr. Hudspeth believes in a team-based approach and works with his partners to provide the highest quality care.
A native of Greene County, Dr. Hudspeth received his undergraduate degree from the University of Georgia. He later completed medical school in Macon at Mercer University School of Medicine. Subsequently, he completed his Orthopedic Surgery residency at the University of Florida, Jacksonville where he received training in total joint replacement surgery at the Mayo Clinic.
In order to further specialize and pursue his interest in shoulder surgery, he completed a Sports Medicine and Shoulder Reconstruction Fellowship at the Steadman Hawkins Clinic of the Carolinas in Greenville, South Carolina. Dr. Hudspeth operates at both Piedmont Hospitals in Macon.
Dr. Hudspeth has vast sports coverage experience at all levels. Dr. Hudspeth has spent time on the sidelines assisting the University of Georgia Football team, several small colleges, and numerous high school teams in a variety of sports. He has covered professional baseball to include the Colorado Rockies. He has also worked with athletes in hockey, football, baseball, soccer, wrestling, tennis, and lacrosse.

Areas of Interest

Minimally Invasive Shoulder Surgery
Minimally Invasive Knee Surgery
Sports Injuries
General Orthopedics
Fracture Care
Workers Comp

Board Certification
American Board of Orthopaedic Surgery
---
Education
Fellowship: Steadman Hawkins Clinic, Greenville, South Carolina | Sports Medicine and Shoulder Reconstruction Fellowship, 2018-19
Residency: Mayo Clinic, Jacksonville, Florida | Orthopaedic Surgery Residency, 2017-18
Residency: University of Florida, Jacksonville | Orthopaedic Surgery Residency, 2013-18
Medical Degree: Mercer University School of Medicine, Macon, Georgia, Doctor of Medicine, 2013
Undergraduate Degree: University of Georgia, Athens, Georgia, Bachelor of Science in Biological Sciences & Agriculture, 2009

---
Memberships & Recognition
Professional Memberships
Perioperative Governance Committee, Piedmont Macon
Professional Practice Committee, Piedmont Macon
Hip Fracture Committee, Piedmont Macon
Publications/Research
Shirley, E., Hudspeth, L. J., & Maynard, J. R. (2018). Managing sports-related concussions from time of injury through return to
play. JAAOS-Journal of the American Academy of Orthopaedic Surgeons, 26(13), e279-e286.
Chapman, C. G., Hudspeth, J., Floyd, S. B., Carnahan, R., Thigpen, C. A., & Kissenberth, M. J. (2020). Increased opioid use following
rotator cuff repair associated with prior opioid use and surgeon prescription patterns. Journal of Shoulder and Elbow Surgery, 29(7),
S115-S125.
Beicker, C. R., Hudspeth, L. J., Shanley, E., Tokish, J. M., & Folk, J. (2022). The Intergluteal Fat Stripe in Patients With Hip Abductor
Tears. Orthopaedic Journal of Sports Medicine, 10(2), 23259671211068030.
Harris, A. M., Hudspeth, L. J., Young, P., Dodson, J. T., & Wang, S. (2021). Humeral Diaphysis or Midshaft Fractures. Hoppenfeld's
Treatment and Rehabilitation of Fractures.
---
Community Involvement
Dr. Hudspeth enjoys building relationships with his patients and being active in the community.
---
Hospital Affiliations
Piedmont Macon Medical
Piedmont Macon North

dr hudspeth, dr. hudspeth, dr loren hudspeth, dr. loren hudspeth, dr. jared hudspeth, dr jared hudspeth, dr. l, jared hudspeth, dr l jared hudspeth, jared hudspeth, loren hudspeth, jared hudspeth md, loren hudspeth md