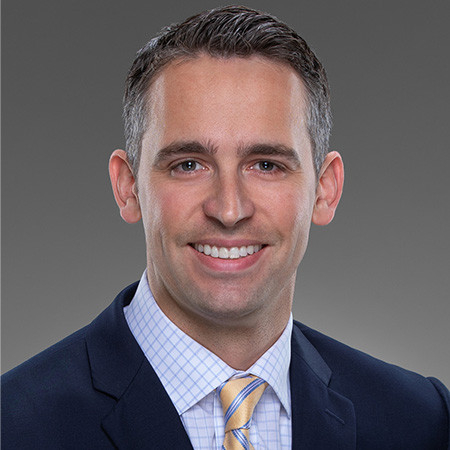 « Back
J. Ryan Mahoney, D.O.
Locations
Print
J. Ryan Mahoney, D.O.
Biography
J. Ryan Mahoney, D.O. is a board-eligible, fellowship-trained Orthopaedic surgeon specializing in shoulder and elbow surgery as well as sports medicine and general orthopaedics. Dr. Mahoney has special interests in shoulder replacement, instability and labral tears, rotator cuff pathology, tendon transfers, and advanced arthroscopic surgical techniques for sports related injuries.
Dr. Mahoney earned his bachelors degree at the University of Delaware, and his medical degree at the Philadelphia College of Osteopathic Medicine. He completed his residency in Columbus, Georgia at the Hughston Clinic and completed his fellowship at the Cincinnati Shoulder and Elbow Fellowship where he co-authored multiple textbook chapters on shoulder arthroplasty and has ongoing research.

Areas of Interest
Shoulder
Elbow
Tendon transfers
General Hand conditions- trigger finger, radius fractures, carpal tunnel

Fracture Care
Sports Medicine
Board Eligible
American Osteopathic Board of Orthopaedic Surgery
---
Education
Fellowship: Cincinnati Shoulder and Elbow Fellowship, Cincinnati, Ohio, 2021, Fellowship
Residency: Jack Hughston Memorial Hospital/Hughston Clinic, Phenix City, Alabama, 2020, Orthopedic Surgery
Medical Degree: Philadelphia College of Osteopathic Medicine, Philadelphia, Pennsylvania, 2015, Doctor of Osteopathy
Undergraduate Degree: University of Delaware, Newark, Delaware,2011, Bachelor of Arts in Chemistry
---
Memberships & Recognition
Professional Memberships

American Academy of Orthopedic Surgeons
American Osteopathic Academy of Orthopedics
American Osteopathic Association
American Shoulder and Elbow Surgeons
Publications/Research
Baker, C. L., & Mahoney, J. R. (2020). Ultrasound-Guided Percutaneous Tenotomy for Gluteal Tendinopathy. Orthopaedic Journal of Sports Medicine.
Mahoney JR, Barnes D, Pahl D. Perforated ileus after L5-S1 anterior lumbar interbody fusion: a case report presentation. AME Case Rep. 2019;3:21. Published 2019 Jul 16. Doi:10.21037/acr.2019.07.06
Prater MC, Mahoney JR. Percutaneous Ultrasound Tenotomy: A New Technique to Treat Tendinopathy. Hughston Health Alert. Fall 2017;29(4):1-2. (Winner of Apex Award for Publication Excellence, 2018 competition.)
Mahoney JR, Pendleton A. Tibial Tuberosity Fracture Combined with Entrapped Meniscus. -Accepted for publication, Orthopedic Blue Journal
Mahoney JR, Hasan S. Surgical Treatment of Glenohumeral Osteoarthritis in Young Patients; Book Chapter – presubmission
Mahoney JR, Hasan S. Treatment of Acute Periprosthetic Infection in Shoulder Arthroplasty; Book Chapter – submitted for publication
Mahoney JR, Greiwe RM. Reverse Total Shoulder Arthroplasty for Fracture in Patients with Axillary Nerve Neuropraxia - presubmission
Mahoney JR, Baker III. CL, Radiographic Notch Predictive of Full Thickness Rotator Cuff Tear - presubmission.
Research rotation under Michael Mont, Orthopaedic Adult Reconstruction Research on Press Ganey. Sinai Hospital. Baltimore, Maryland; May 2015

---
Community Involvement
Dr. Mahoney enjoys traveling and playing golf in his free time. He lives in the Metro Atlanta area with his wife and daughter.
---
dr mahoney, dr. mahoney, dr ryan mahoney, dr. ryan mahoney, ryan mahoney, ryan mahoney md