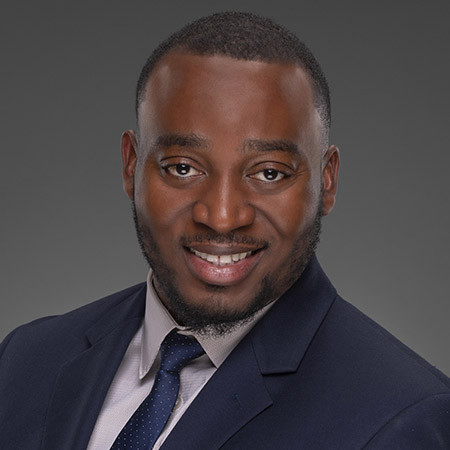 « Back
Ifeanyi N. Nzegwu, M.D.
Locations
Print
Ifeanyi N. Nzegwu, M.D.
Orthopedic Spine Surgery Fellowship
Biography
Ifeanyi N. Nzegwu, MD, MPH provides orthopaedic spine care to patients in our Newnan location. As a fellowship-trained spine surgeon, Dr. Nzegwu specializes in adult degenerative cervical and lumbar spinal pathology, traumatic spinal injuries, motion preservation technology (total disc arthroplasty) and minimally invasive spinal surgery.
Dr. Nzegwu attended the university of Iowa where he obtained a Bachelor of Science degree in Health Science. He received a Masters in Public Health from Drexel University and obtained a Masters of Science in Biomedical Sciences degree from Tufts University School of Medicine before completing his medical degree at the University of Cincinnati College of Medicine. Dr. Nzegwu completed his orthopaedic surgery residency at the University of Kentucky Medical Center and furthered his training with a fellowship in orthopedic spinal surgery in New York, New York at Mount Sinai Medical Center.
Dr. Nzegwu chose orthopedic spine as a specialty because it allows him to care for patients and provide almost instant but sustained benefits that improve their quality of life and engagement with their family and community.
Areas of Interest
Minimally invasive spine surgery
Lateral interbody fusion- OLIF
Anterior interbody fusion
Cervical disc replacement
Tubular discectomy
Robotic spine surgery and will offer in the future
Navigation
Board Eligible
American Board of Orthopaedic Surgery
AO Spine
Global Spine Certification
---
Education
Fellowship: Mount Sinai Medical Center, New York, New York, 2022, Orthopedic Spine Surgery
Residency: University of Kentucky Medical Center, Lexington, Kentucky, 2021, Orthopedic Surgery
Medical Degree: University of Cincinnati College of Medicine, Cincinnati, Ohio, 2015, Doctor of Medicine
Graduate Degree: Tufts University College of Medicine, Boston, Massachusetts, 2011, Master of Science, Biomedical Sciences
Graduate Degree: Drexel University, Philadelphia, Pennsylvania, 2009, Masters of Public Health
Undergraduate Degree: University of Iowa, Iowa City, Iowa, 2007, Bachelor of Science, Health Science

---
---
Community Involvement
In his spare time, he enjoys watching soccer, trying new restaurants, traveling and exploring and learning about new cultures.
---
dr nzegwu, dr. nzegwu, dr ifeanyi nzegwu, dr. ifeanyi nzegwu, ifeanyi nzegwu, ifeanyi nzegwu md