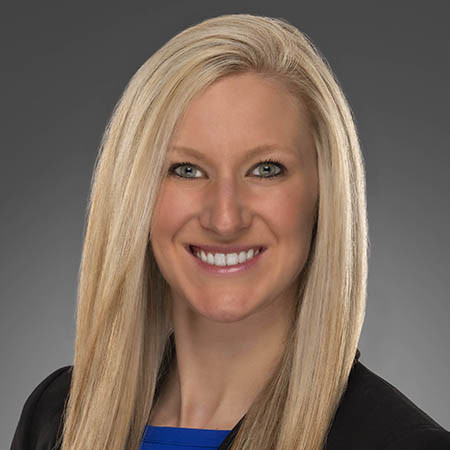 « Back
Devon R. Tobey, M.D.
Locations
Print
Devon R. Tobey, M.D.
Orthopaedic Musculoskeletal Oncology Fellowship
Biography
Devon R. Tobey is a fellowship-trained orthopaedic oncologist providing care to her patients out of our Cartersville and The Battery locations. She specializes in diagnosing and treating musculoskeletal cancers, including bone and soft tissue tumors, joint replacements, fracture care, and other complex orthopedic conditions. Driven by her passion for helping patients overcome challenging medical obstacles, Dr. Tobey combines her technical proficiency with a compassionate approach to deliver personalized and comprehensive care to all her patients.
Dr. Tobey's musculoskeletal oncology practice includes the treatment of metastatic disease, primary bone and soft tissue sarcomas, multiple myeloma, and lymphoma. In addition to oncology, Dr. Tobey also specializes in non-oncological adult reconstruction for primary and revision knee and hip replacements, avascular necrosis, and periprosthetic fracture care.
Dr. Tobey attended the University of Georgia in Athens, Georgia, where she earned a Bachelor of Science degree in Biology. Her passion for medicine and patient care led her to pursue a Doctor of Medicine degree from the Mercer University School of Medicine in Macon, Georgia. Dr. Tobey completed her orthopedic residency at the Campbell Clinic in Memphis, Tennessee. Following her residency, Dr. Tobey sought further specialization in orthopedic musculoskeletal oncology and successfully completed a fellowship at Emory University in Atlanta, Georgia. This fellowship provided her with comprehensive training in the complex field of orthopedic oncology, equipping her with the expertise to manage musculoskeletal tumors and bone cancers with exceptional precision and care.
Areas of Interest:
Primary Bone Sarcoma
Soft Tissue Sarcoma
Benign Bone and Soft Tissue Tumors
Multiple Myeloma
Lymphoma
Metastatic Disease
Primary Joint Reconstruction
Complex Joint Reconstruction
General Orthopedics
Fracture Care
Board Eligible
American Board of Orthopedic Surgery
---
Education
Fellowship: Emory University, Atlanta, Georgia 2023, Orthopaedic Musculoskeletal Oncology Fellowship
Residency: Campbell Clinic Orthopaedics, Memphis, Tennessee, 2022, Orthopaedic Surgery Residency
Medical Degree: Mercer University School of Medicine, Macon, Georgia, Doctor of Medicine, 2017
Undergraduate Degree: University of Georgia, Athens, Georgia, Bachelor of Science, Biology 2012
---
Memberships & Recognition
Professional Memberships
AO North America
American Academy of Orthopaedic Surgeons
Musculoskeletal Tumor Society
Georgia Orthopaedic Society
Publications/Research
Tobey DR, Wing C, Calkins T, Heck RK. "The use of Proximal Femur Replacement for the management of oncologic lesions in the proximal femur: A Review." Orthopedic Clinics of North America. August 2022.
Tobey DR, Heck RK. "Current concepts in metastatic carcinoma: a review of the literature". Current Orthopaedic Practice. 2022; 33(2):113-119.
Montgomery T, Pearson J, Quade J, Tobey D, Beebe M, et. al. "Thrombin Hemostatic Matrix Reduces Heterotopic Ossication in Acetabular Fractures xed via the Kocher-Langenbeck Approach". Journal of Orthopaedic Trauma. 2020; 34(9):451-454.
Moorwood M, Streufert, B, Mir H, Beebe M, Tobey D, Olinger C, et. al. "Intramedullary Nailing Yields Superior Results Compared to Plating for the Masquelet Technique in the Femur and Tibia". Journal of Orthopaedic Trauma. 2019; 33(11):547-552.
---
Community Involvement
In her spare time, Dr. Tobey enjoys playing soccer, exercising, hiking, traveling, and adventuring with her husband and 3 dogs.
---
Hospital Affiliations
Piedmont Cartersville Hospital
Piedmont Atlanta Hospital
dr tobey, dr. tobey, dr devon tobey, dr. devon tobey, devon tobey, devon tobey md