Home
/
Media
/
Snehal Dalal, MD, OrthoAtlanta, Is Presenter At 2016 Southeastern Medical Legal Symposium Discussing Shoulder Injuries
Snehal Dalal, MD, OrthoAtlanta, is presenter at 2016 Southeastern Medical Legal Symposium discussing Shoulder Injuries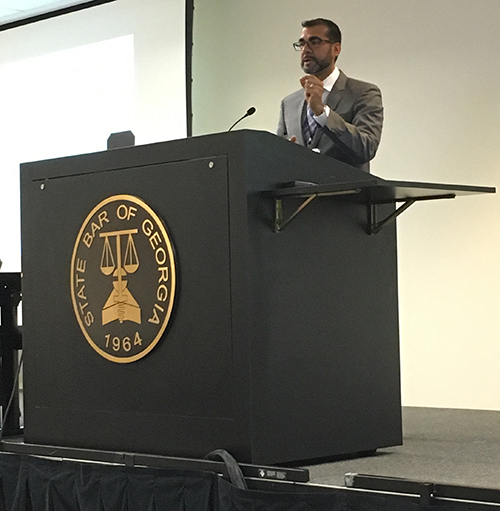 Workplace Injury and Motor Vehicle Crash module includes Dr. Dalal's insights into the shoulder as pre-existing condition, new injury or aggravation.
ATLANTA, GA, October 18, 2016 –
Snehal C. Dalal, MD, OrthoAtlanta, is an orthopedic surgeon specializing in hand and upper extremity. With extensive experience in workers' compensation cases, Dr. Dalal recently served as a presenter at the 2016 Southeastern Medical Legal Symposium held on October 18 and 19, 2016 in Atlanta, Georgia. Dr. Dalal's presentation, "The Shoulder: Pre-existing Condition, New Injury or Aggravation? What Does the Science Tell Us?" was part of an extensive three-part module entitled "Medical Causation in Litigation: Application of Evidence-Based Principles to Common Workplace and Motor Vehicle Crash Scenarios."
Held at the State Bar of Georgia, in Atlanta, and qualifying for CE/CLE/CCM continuing education credits, the 2016 Southeastern Medical Legal Symposium was the collaboration of The American College of Legal Medicine and The International Academy of Independent Medical Evaluators. Designed to enhance the medical and legal skill set of professionals who work in the claim environment where medicine and the law collide, the two-day training was attended by area physicians, attorneys, and workers' compensation claims professionals from across the southeast region. OrthoAtlanta orthopedic and sports medicine specialists was proud to sponsor this two-day event.
Board certified by the American Board of Orthopaedic Surgery, Dr. Snehal C. Dalal is fellowship trained in Surgery of the Hand and Upper Extremity, including elbow arthroscopy and reconstruction and shoulder arthroscopy and reconstruction. Dr. Dalal's interests include hand surgery, sports medicine, general orthopedics, fracture care and work injuries. Among his many professional memberships and affiliations, Dr. Dalal is an American Academy of Orthopedic Surgeons Fellow, a member of the American Society for Surgery of the Hand, and is the Secretary-Treasurer of the Georgia Orthopaedic Society. Locally, Dr. Dalal is on the board of the Johns Creek Healthcare Association. Dr. Dalal serves patients at OrthoAtlanta Johns Creek and OrthoAtlanta Gwinnett offices in greater Atlanta, Georgia, USA.
« Back to News