Home
/
Media
/
Simple Tips To Improve Your Orthopedic Health For Life
Simple Tips to Improve Your Orthopedic Health for Life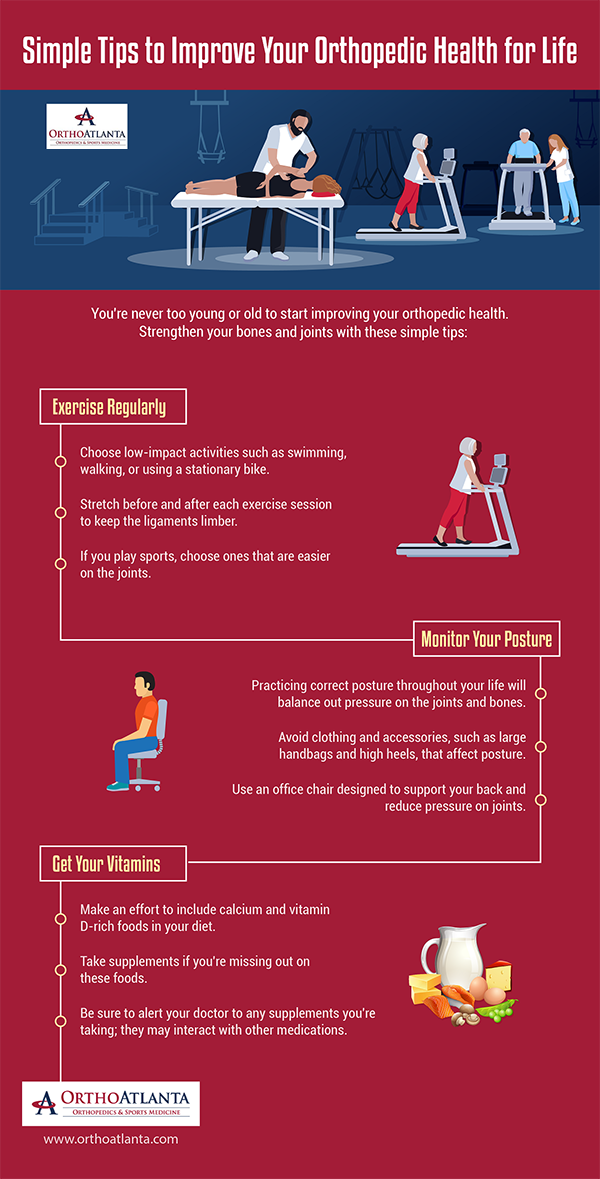 You're never too young or old to start improving your orthopedic health. Strengthen your bones and joints with these simple tips.
Be sure to stay active throughout your life. As you age, integrate more low-impact activities, such as swimming, walking, or riding on a stationary bike, into your workout. Preserve your ligaments and cartilage by stretching before and after each workout. If you enjoy sports, try to move away from high-impact games, such as basketball, as you age.
Posture is also key to lifelong orthopedic health. Correct posture balances the skeletal system, reducing unnecessary pressure on joints. Preserve your posture by avoiding trendy accessories such as heavy handbags and high heels and invest in an ergonomic desk chair that supports your posture during the workday.
Finally, pay attention to what you're eating. Vitamin D and calcium are vital for our orthopedic health throughout our entire lives. If you have a hard time integrating vitamin D and calcium-rich foods, such as spinach, milk, and fish into your diet, consider taking supplements. Check with your doctor first to be sure these vitamins don't interact with your current medicine regimen.
OrthoAtlanta orthopedics and sports medicine physicians and staff provide general orthopedic care, and specialty care for injury or illness to the musculoskeletal system including bones, joints, ligaments, muscles, tendons and nerves.
OrthoAtlanta is dedicated to helping people preserve their bone health from childhood through the mature years of adulthood. If you have questions about how you can improve your bone health today, contact our main office at 770-953-6929 to schedule an appointment at one of our 14 OrthoAtlanta offices across the greater Atlanta metro area. Our orthopedic specialists will be happy to consult with you and develop a plan to keep your bones healthy for years to come. OrthoAtlanta offers on-site physical therapy, pain management care, seven MRI centers, and two AAAHC surgical centers. We even have ORTHOQuick after-hours orthopedic urgent care services at our Fayetteville location from 5 p.m. to 9 p.m. Monday-Friday and 9 a.m. to 1 p.m. Saturday and Saturday morning extended hours at our Gwinnett and Piedmont offices. No matter your orthopedic needs, you can count on OrthoAtlanta.
« Back to News