Home
/
Media
/
OrthoAtlanta Staff Members Honored At The 2019 Annual Service Awards Banquet
OrthoAtlanta Staff Members Honored at the 2019 Annual Service Awards Banquet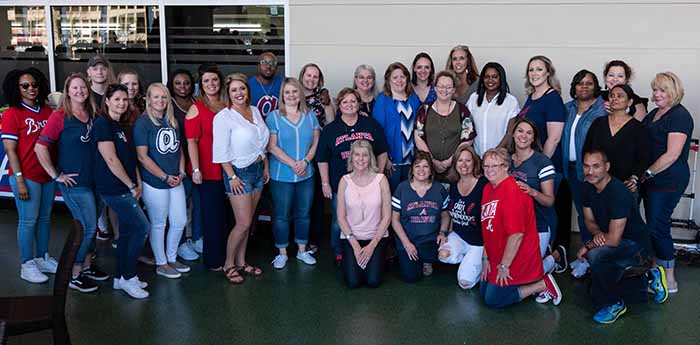 OrthoAtlanta recognizes employee 5, 10, 15, 20 and 25 Year Service Milestones

OrthoAtlanta held its annual Service Awards Banquet on Saturday, April 13, 2019, recognizing 37 staff members who have achieved the milestones of 5, 10, 15, 20 and 25 years of service. The baseball-themed, "A Celebration of All Stars" was held at SunTrust Park at The Battery Atlanta, Atlanta, Georgia. OrthoAtlanta physicians, honorees and guests were treated to a pre-game picnic dinner and awards ceremony followed by a MLB baseball game where the Atlanta Braves beat the New York Mets (11-7).
IntraHealthGroup CEO, Michael S. Ochal opened the ceremony by welcoming the employees being recognized, their guests, and OrthoAtlanta physicians. On behalf of the 38 physicians of OrthoAtlanta, Ochal expressed words of appreciation and a thank you to all employees who contribute to the growth and success of OrthoAtlanta, OrthoAtlanta Ambulatory Surgery Center of Austell, OrthoAtlanta Surgery Center of Fayetteville, and IntraHealthGroup.
OrthoAtlanta physicians from our 14 practice offices were represented and served as presenters as each staff honoree was called out by name and office location, followed by insights into the skill, dedication and commitment to compassionate service that they bring to patient care.
OrthoAtlanta Service Awards 2019 were presented to:
25 Years: Melissa Roughton
20 Years: Cynthia Race and April West
15 Years: Deborah Grimm, Kathryn Shelley, Jackie Stephens and Lori Stewart
10 Years: Heather Finley, Leah Friend, Terri Inghram, Joelyne Long, Scott Lontz, April Mullinax, Lisa Nyquist, Tanya Perrone, Celeste Risbergs, Rhonda Ryant-Haynes, Julia Smith, Deborah Snee and Gino Wolff
5 Years: Janice Boyce, Mary Boze, Ashley Carpenter, Rene Childers, Antonio Davis, Chetna Gupta, Amanda Harper, Lori Harrison, Colleen Hutton, Elaine Jones, Brynn Morris, Sanina Robinson, Sheila Slayton, Stephanie Twilley, Chelsea Votis, Sylvia Wilson and Jennifer Youngs

« Back to News