Home
/
Media
/
OrthoAtlanta Opens New Location In The Battery Atlanta
OrthoAtlanta Opens New Location in The Battery Atlanta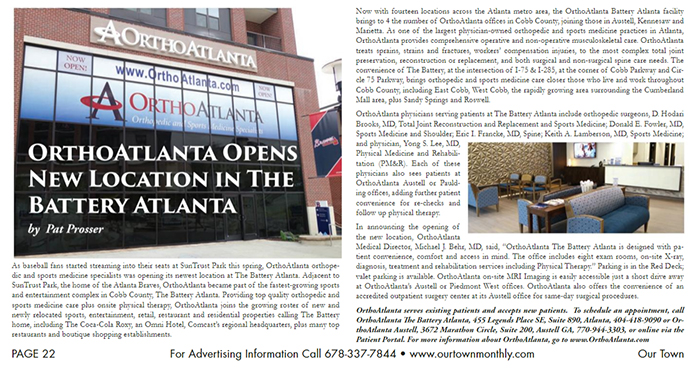 As baseball fans started streaming into their seats at SunTrust Park this spring, OrthoAtlanta orthopedic and sports medicine specialists was opening its newest location at The Battery Atlanta. Adjacent to SunTrust Park, the home of the Atlanta Braves, OrthoAtlanta became part of the fastest-growing sports and entertainment complex in Cobb County, The Battery Atlanta. Providing top quality orthopedic and sports medicine care plus onsite physical therapy, OrthoAtlanta joins the growing roster of new and newly relocated sports, entertainment, retail, restaurant and residential properties calling The Battery home, including The Coca-Cola Roxy, an Omni Hotel, Comcast's regional headquarters, plus many top restaurants and boutique shopping establishments.
Now with fourteen locations across the Atlanta metro area, the OrthoAtlanta Battery Atlanta facility brings to 4 the number of OrthoAtlanta offices in Cobb County, joining those in Austell, Kennesaw and Marietta. As one of the largest physician-owned orthopedic and sports medicine practices in Atlanta, OrthoAtlanta provides comprehensive operative and non-operative musculoskeletal care. OrthoAtlanta treats sprains, strains and fractures, workers' compensation injuries, to the most complex total joint preservation, reconstruction or replacement, and both surgical and non-surgical spine care needs. The convenience of The Battery, at the intersection of I-75 & I-285, at the corner of Cobb Parkway and Circle 75 Parkway, brings orthopedic and sports medicine care closer those who live and work throughout Cobb County, including East Cobb, West Cobb, the rapidly growing area surrounding the Cumberland Mall area, plus Sandy Springs and Roswell.
OrthoAtlanta physicians serving patients at The Battery Atlanta include orthopedic surgeons, D. Hodari Brooks, MD, Total Joint Reconstruction and Replacement and Sports Medicine; Donald E. Fowler, MD, Sports Medicine and Shoulder; Eric I. Francke, MD, Spine; Keith A. Lamberson, MD, Sports Medicine; and physician, Yong S. Lee, MD, Physical Medicine and Rehabilitation (PM&R). Each of these physicians also sees patients at OrthoAtlanta Austell or Paulding offices, adding further patient convenience for re-checks and follow up physical therapy.
In announcing the opening of the new location, OrthoAtlanta Medical Director, Michael J. Behr, MD, said, "OrthoAtlanta The Battery Atlanta is designed with patient convenience, comfort and access in mind. The office includes eight exam rooms, on-site X-ray, diagnosis, treatment and rehabilitation services including Physical Therapy." Parking is in the Red Deck; valet parking is available. OrthoAtlanta on-site MRI Imaging is easily accessible just a short drive away at OrthoAtlanta's Austell or Piedmont West offices. OrthoAtlanta also offers the convenience of an accredited outpatient surgery center at its Austell office for same-day surgical procedures.
OrthoAtlanta serves existing patients and accepts new patients.
View entire article on Our Town Monthly, Smyrna-Vinings, May 2018.
See OrthoAtlanta The Battery Atlanta to learn more or to schedule an appointment.
« Back to News