Home
/
Media
/
OrthoAtlanta Named 2017 Best Orthopedic Practice In North Atlanta
OrthoAtlanta Named 2017 Best Orthopedic Practice in North Atlanta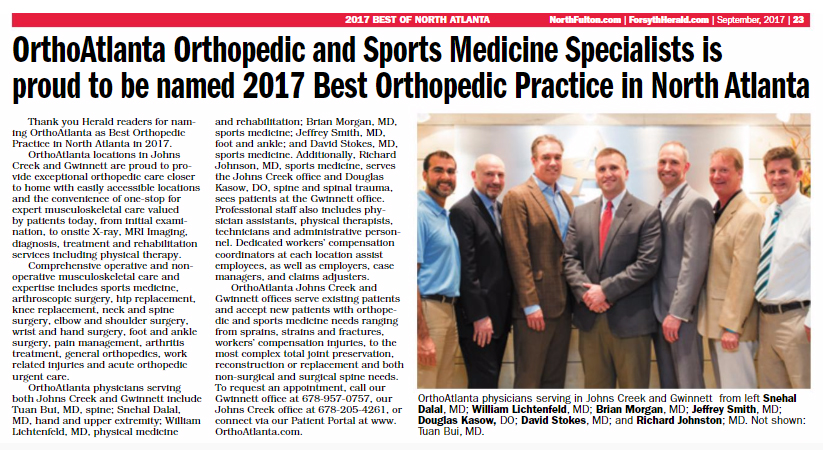 OrthoAtlanta is proud to be voted as 2017 Best Orthopedic practice in North Atlanta by the readers of Herald publications. OrthoAtlanta physicians and staff members recently attended a gala celebration sponsored by Appen Media Group where the orthopedic and sports medicine practice proudly accepted the 2017 award, including David Stokes, MD, Snehal Dalal, MD, Tuan Bui, MD, Brian Morgan, MD, practice managers Veronica Cowart, Gwinnett, and Andrew Fahey, Johns Creek, and marketing representative, Lea Anne Edwards.
With thirteen offices around the greater Atlanta metropolitan area, our OrthoAtlanta orthopedic and sports medicine specialists offices in Gwinnett and Johns Creek provide exceptional orthopedic care closer to home with easily accessible locations and the convenience of one-stop for expert musculoskeletal care valued by patients today, from initial examination, to onsite X-ray, MRI Imaging, diagnosis, treatment and rehabilitation services including physical therapy.

View initial announcement here.
Also see OrthoAtlanta featured in the 2017 Best of North Atlanta Winners Guide.
« Back to News