Home
/
Media
/
OrthoAtlanta Gwinnett Expansion Brings Added Orthopedic And Sports Medicine Services
OrthoAtlanta Gwinnett Expansion Brings Added Orthopedic and Sports Medicine Services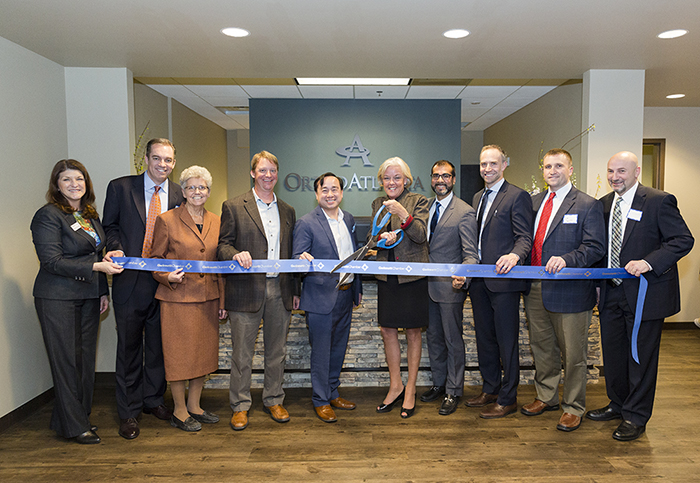 OrthoAtlanta Gwinnett Expansion Ribbon-Cutting Ceremony including (l to r) Gwinnett Chamber of Commerce, Sandy Richardson; Brian Morgan, MD; City of Lawrenceville, Georgia, Mayor, Judy Jordan Johnson; David Stokes, MD; Tuan Bui, MD; Intrahealth Group CEO Patty Brewster; Snehal Dalal, MD; Douglas Kasow, MD; Jeffrey Smith, MD; and William Lichtenfeld, MD.
ATLANTA, GA, March 2, 2017 –
OrthoAtlanta orthopaedic and sports medicine specialists has recently remodeled and expanded its Gwinnett office with additional exam rooms, convenient onsite magnetic resonance imaging (MRI), C-Arm imaging, and an expanded physical therapy facility. The OrthoAtlanta Gwinnett office is located in the Terrace Park Medical Center, at the intersection of Lawrenceville / Suwanee and Old Norcross Roads, and is just minutes from the Gwinnett Medical Center. The OrthoAtlanta Gwinnett office serves the orthopedic and sports medicine needs of patients in the greater Duluth, Lawrenceville, and Suwanee areas.
"OrthoAtlanta has served the Gwinnett area in this location since 2010," stated Dr. Brian E. Morgan, OrthoAtlanta orthopedic surgeon, and one of the OrthoAtlanta physician owners who serves patients at this location and in Johns Creek. "The OrthoAtlanta Gwinnett office expansion was designed with patient convenience, comfort and access in mind. The new facility provides patients with a single destination for all their orthopaedic and sports medicine needs, including an increased number of examination rooms, new MRI / Imaging equipment, and expanded onsite physical therapy. OrthoAtlanta Gwinnett provides a convenient, one-stop for expert musculoskeletal care so valued by patients today, from initial examination, onsite X-ray, MRI, diagnosis, treatment and rehabilitation services including physical therapy," explained Dr. Morgan.
Front desk reception, check-in, and an expanded waiting room welcome patients on the third floor, Suite 390. Twenty exam rooms, onsite X-ray, triage room, and checkout are also located on this level. The new MRI and remodeled Physical Therapy facilities are situated in a separate first floor suite of the building. The new Imaging Center features a new Siemens MAGNETOM Espree imaging unit. This state-of-the art open bore MRI system provides added comfort and convenience, particularly for claustrophobic patients. A C-Arm imaging unit offers flexibility and easy maneuverability for select types of orthopedic imaging. The new physical therapy area includes a spacious, open-design, the latest equipment, and two private treatment rooms.
The OrthoAtlanta Gwinnett office in Lawrenceville is staffed by OrthoAtlanta physicians Tuan Bui, MD, spine; Snehal Dalal, MD, hand and upper extremity; Timothy Gajewski, MD, adult total joint reconstruction; Douglas Kasow, DO, spine and spinal trauma; William Lichtenfeld, MD, physical medicine and rehabilitation; Brian Morgan, MD, sports medicine; Jeffrey Smith, MD, foot and ankle; and David Stokes, MD, sports medicine. The office is supported by a professional staff including seven physician assistants, plus physical therapists, technicians and administrative personnel.
OrthoAtlanta Gwinnett is located at 771 Old Norcross Road, Suite 390, in Lawrenceville, Georgia, and serves existing patients and accept new patients with orthopedic and sports medicine needs ranging from sprains, strains and fractures, workers' compensation injuries, to the most complex total joint preservation, reconstruction or replacement and both non-surgical and surgical spine needs. Appointments may be requested by calling 678-957-0757, or connecting via the Patient Portal on the OrthoAtlanta web site. For more information about OrthoAtlanta and the expanded Gwinnett office, please visit www.orthoatlanta.com.
Learn more by viewing the complete press release.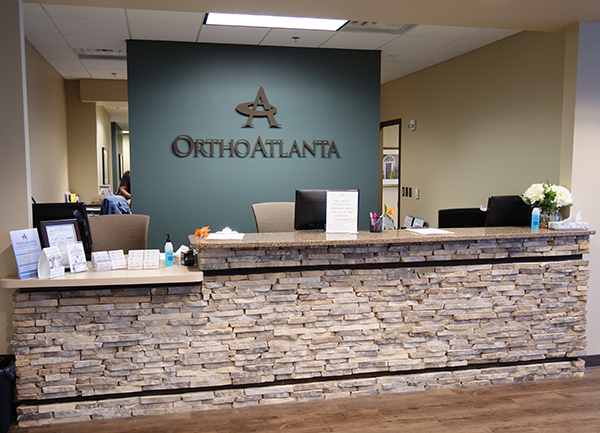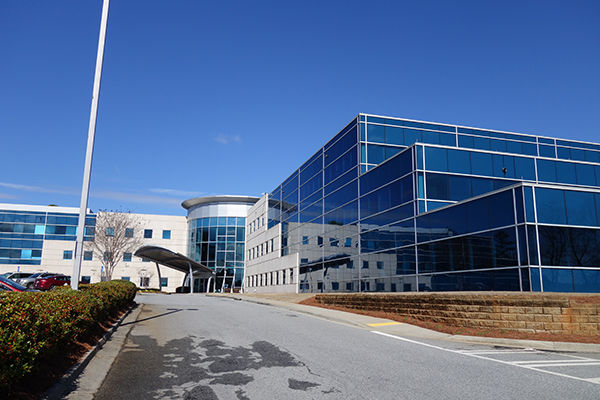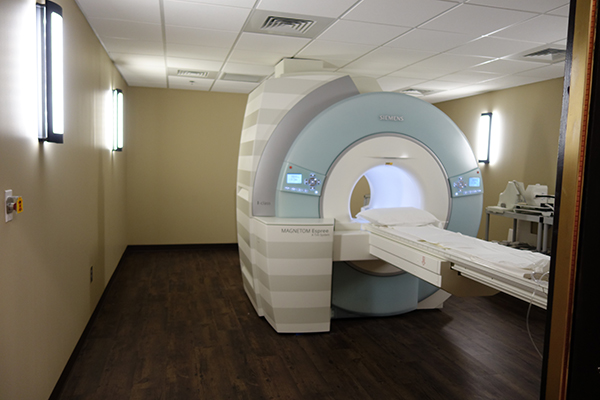 « Back to News