Home
/
Media
/
OrthoAtlanta Gwinnett And Johns Creek Voted Best Of Gwinnett Including Best Orthopedic Surgeon, Best Physical Therapy And Best Sports Medicine Practice
OrthoAtlanta Gwinnett and Johns Creek Voted Best of Gwinnett including Best Orthopedic Surgeon, Best Physical Therapy and Best Sports Medicine Practice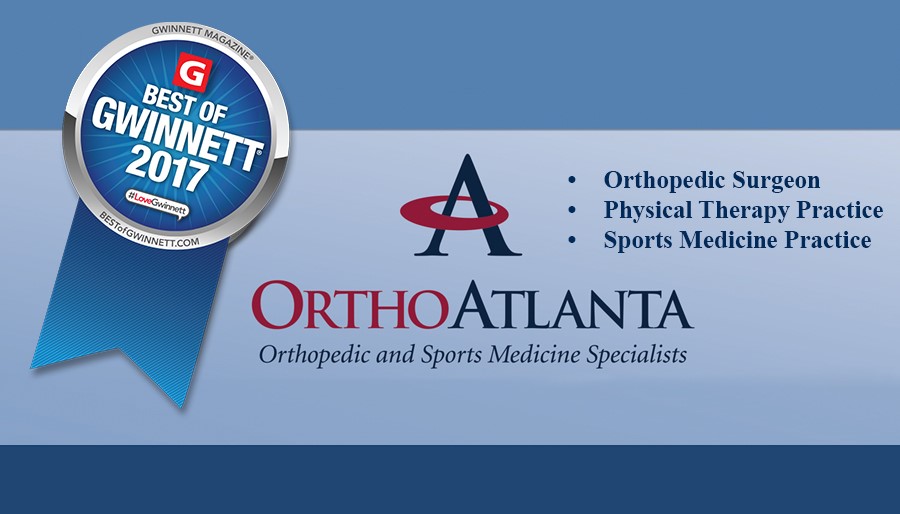 ATLANTA, GA, MARCH 1, 2018 –
OrthoAtlanta is Voted Best of Gwinnett Winner
The votes have been counted and the results are in! OrthoAtlanta orthopedic and sports medicine specialists is a 2017 Best of Gwinnett winner in Gwinnett Magazine's annual readers' poll. OrthoAtlanta physicians and staff in Gwinnett and Johns Creek are proud to be voted Best Orthopedic Surgeon, Best Sports Medicine Practice and Best Physical Therapy Practice by the local Gwinnett County community.
Each year, Gwinnett Magazine readers and editors weigh in on the best of everything in Gwinnett, honoring thousands of businesses and organizations in more than 20 business and community sectors. "It's everything you love about Gwinnett," state the publication editors.
"OrthoAtlanta dedicates its practice to providing patients with comprehensive surgical and non-surgical orthopedic and sports medicine care," stated Brian Morgan, MD, OrthoAtlanta. "We are extremely proud to be recognized by the local Gwinnett community for the services we provide including orthopedic surgery, sports medicine and rehabilitative physical therapy."
The Best of Gwinnett voting process starts with a nomination on the Best of Gwinnett website. Voting remains open throughout the year, with tens of thousands of votes ultimately received. The process culminates with the publishing of the annual Best of Gwinnett issue in early March of the following year. Best of Gwinnett winners and nominees are chosen by a combination of readers votes and editors input, and are vetted through several ranking sites and reports.
Best of Gwinnett winners across hundreds of individual categories provide Gwinnett Magazine readers with a go-to-guide for the best of everything in Gwinnett. Visit Guide to Gwinnett to see everything there is to love about the greater Gwinnett area.
About Gwinnett Magazine
Gwinnett Magazine has been sharing the good news of Gwinnett with readers for more than 20 years, as the publisher of Gwinnett Magazine, Best of Gwinnett and the Super Guide to Gwinnett.
Gwinnett Magazine is also the creator of the #LoveGwinnett initiative, encouraging the community to: Be Positive. Buy Local. Help Others. Learn more at LoveGwinnett.com.
View the complete OrthoAtlanta news release for 2017 results at OrthoAtlanta is Voted Best of Gwinnett Winner.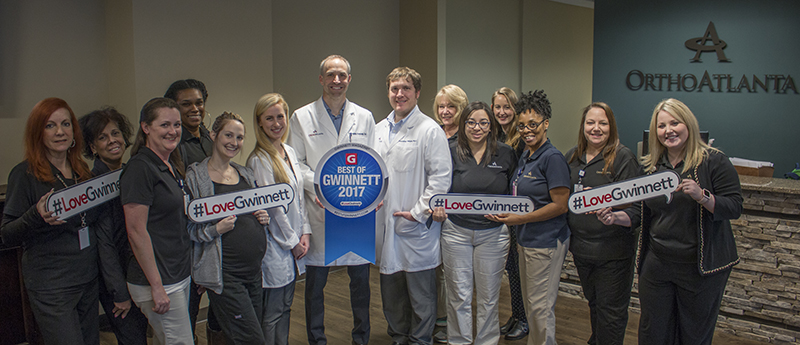 OrthoAtlanta physician, Douglas B. Kasow, D.O., together with physician assistant, Nicole Firsich, PA-C, Christopher Weigel, PA-C, and many OrthoAtlanta Gwinnett staff members celebrate the 2017 Best of Gwinnett recognition for OrthoAtlanta and support the #LoveGwinnett campaign.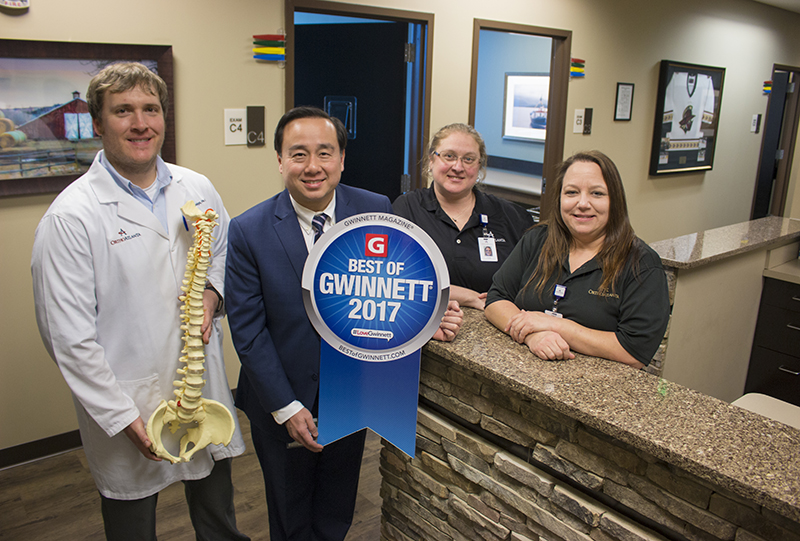 OrthoAtlanta orthopedic spine surgeon, Tuan L. Bui, M.D., his physician assistant, Christopher Weigel, PA-C, and other Gwinnett staff members celebrate the OrthoAtlanta Best of Gwinnett recognition.
OrthoAtlanta Gwinnett Physical Therapy and MRI teams celebrate the OrthoAtlanta Best of Gwinnett 2017 recognition, and #LoveGwinnett community campaign.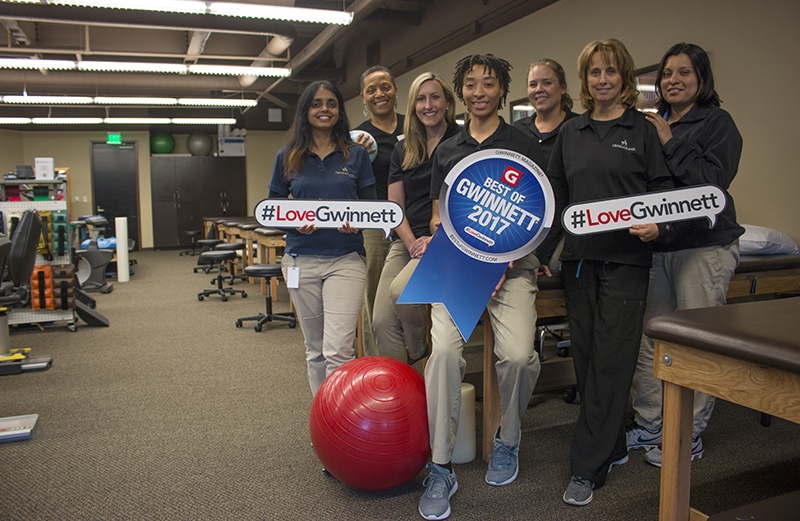 « Back to News