Home
/
Media
/
OrthoAtlanta And Southern Medical Linen Launch Sweetwater Mission Sock Donation Program
OrthoAtlanta and Southern Medical Linen Launch Sweetwater Mission Sock Donation Program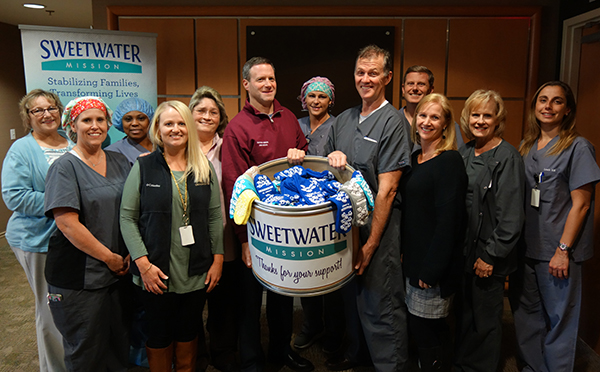 Soft, comfy, colorful socks are warming the toes of those in need across Cobb and Douglas Counties thanks to the collaborative efforts of two local Atlanta companies partnering with Sweetwater Mission to bring new life to gently used socks.

Socks are among the most requested but least donated item at homeless shelters and local needs organizations including Sweetwater Mission, a 501c(3) non-profit based in Austell, Georgia, serving families in Cobb and Douglas counties. Weaving together a bit of ingenuity and a spirit of collaboration, OrthoAtlanta Surgery Center in Austell and Southern Medical Linen Service in Atlanta launched a sock donation program providing Sweetwater Mission patrons with soft, comfy, cozy socks. An initial donation of nearly 2,000 pair of socks kicked off the program along with a commitment to make future sock donations for those in need in Austell, Douglasville, Mableton, Marietta, and beyond.
As a bit of background, same day outpatient surgery patients at the OrthoAtlanta Surgery Center Austell are offered a pair of socks to keep toes toasty during surgery. Typically, the socks are disposed of immediately after surgery.
Rather than dispose of the hundreds of pairs of socks utilized in the Surgery Center each month, OrthoAtlanta ASC Administrator, Lynda Krokoff, knew the socks, most of which had never touched the floor, could benefit those in need. Partnering with their linen supplier, locally-owned Southern Medical Linen Service, President, Ken Brandeis offered to clean the socks that are now donated to Sweetwater Mission.
Expressing appreciation for the sock donation program, Debbie Ginocchio, Sweetwater Mission Outreach Director said, "We're excited to partner with OrthoAtlanta and Southern Medical Linen and appreciate the commitment of these two companies to help serve those in need within our local community."
"It's a perfect match," expressed Dr. Mark Duffield, OrthoAtlanta orthopedic surgeon and member of the board of directors of Sweetwater Mission. "Sweetwater Mission does so much for the community. We're thrilled to know that cozy, warm socks, can now take away some of winter's chill for those in need."
To learn more about Sweetwater Mission, or to donate, go to www.SweetwaterMission.org.
View complete press release: The Perfect Match: OrthoAtlanta and Southern Medical Linen Service Team Up to Warm Up with Sweetwater Mission Sock Donation Program.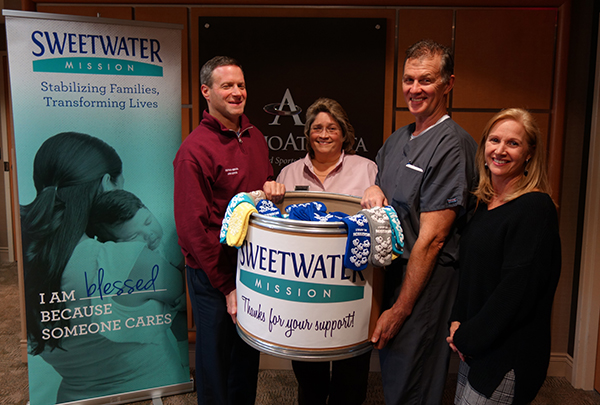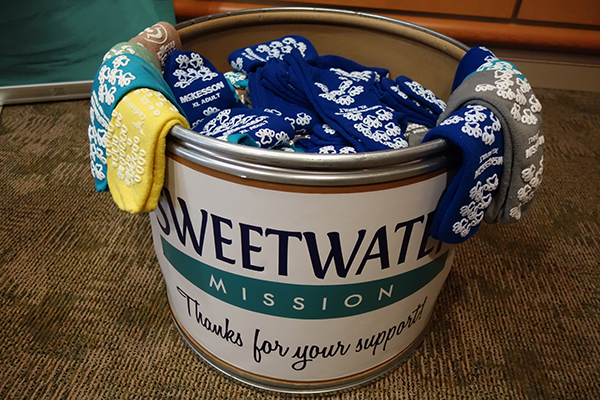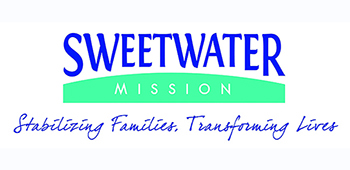 « Back to News