Home
/
Media
/
Halloween Safety Tips
Halloween Safety Tips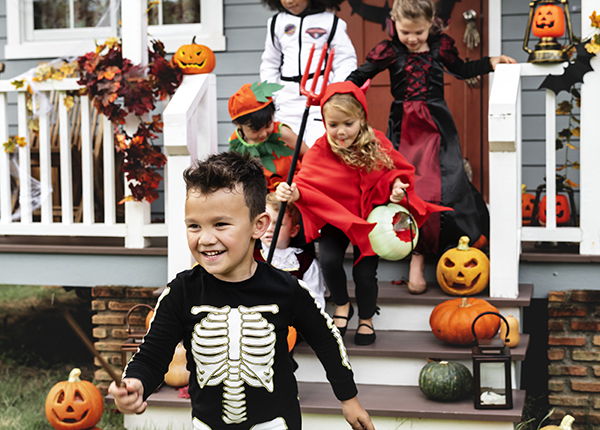 Halloween is a favorite time of the year for a lot of children. When you combine costumes, pumpkin-carving and trick-or-treating, there is a lot of fun to be had. Unfortunately, Halloween ranks in the top five holidays resulting in emergency room visits. Children under five, and those between the ages of 10 – 14 years sustain the greatest proportion of injuries. Accidents or serious injuries can happen including sprains, cuts and fractures. Here are some safety tips from OrthoAtlanta to keep your family's Halloween season fun and injury-free.

Costumes
Costumes including masks, capes and shoes should fit properly in order to prevent obstructed vision and falls. Capes should not drag on the ground.
Wear sturdy, comfortable and slip-resistant shoes to avoid falls.
Props such as swords and wands should be short, soft and flexible in case of a fall or other accident.
Choose flame-resistant costumes. Make sure there is a visible CE mark on the tag. Costumes made of only one thick material will often catch fire more slowly than costumes made of lots of different thinner materials.
Choose costumes with bright colors and add reflective tape to costumes and treat bags in order to increase visibility to motorists in the dark.
Trick-or-Treating
Young children should always be chaperoned by an adult or an older responsible sibling. Older children should never trick-or-treat alone and always travel in a group.
Trick-or-treaters should only visit well-lit houses and parents should plan a route with well-lit sidewalks for their children.
Children should only walk on sidewalks, use designated crosswalks, obey traffic signals and never cut across yards where lawn ornaments, holes in the lawn, etc. could cause falls.
In addition to wearing bright costumes and reflective tape, flashlights are a great tool to make sure you can see and be seen. Never point a flashlight above chest level in order to prevent obstruction of view for other trick-or-treaters or motorists.
Be aware of dogs or other pets that may become territorial and propose a threat when you approach their homes.
Carry a cell phone in case of an emergency or instruct older children to do so.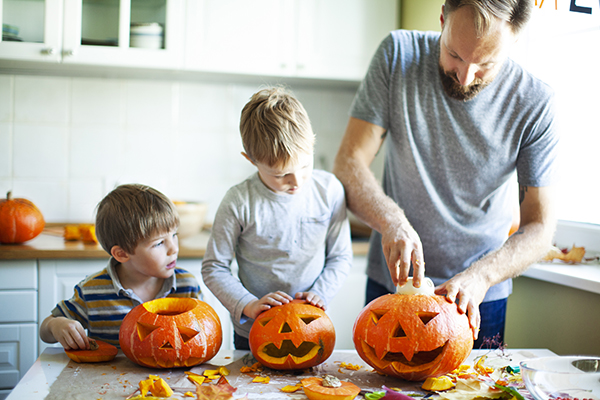 Pumpkin Carving
Carve pumpkins in a well-lit area on a dry, stable surface. Make sure your hands and carving tools are completely dry before beginning.
Children should always be supervised by an adult when carving. Younger children can safely participate by decorating with paint, markers or other non-carving pumpkin decoration kits.
Use knives designed for carving in order to avoid getting them stuck in the pumpkin skin. In the event of a cut, apply pressure to the area with a clean cloth and elevate it above the heart. When the bleeding stops, clean the cut and dress with a clean bandage. If the cut is deep or bleeding does not stop within 15 minutes, a physician evaluation may be required.
Non-flammable light sources such as flashlights or battery tea lights are safer alternatives to candles. If using candles, keep lit pumpkins away from curtains and other flammable objects.
In the event of a burn, apply a cool, wet compress or immerse the burn in cool water until the pain subsides. Burn ointment and over the counter pain medicine may provide additional relief.
If you or your child should experience a serious fall or injury requiring orthopedic care, contact the physicians at OrthoAtlanta.
Have a fun and safe Halloween from OrthoAtlanta!
« Back to News