Home
/
Media
/
Dr. Wilkes Named To 2015 Clayton State Athletics Hall Of Fame
Dr. Wilkes Named to 2015 Clayton State Athletics Hall of Fame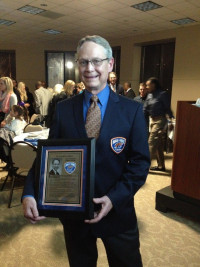 Dr. Joseph Wilkes was inducted into the Clayton State University Athletics Hall of Fame on January 30, 2015. The award recognized 20 years of service provided by Dr. Wilkes to the Clayton State athletics department and its student athletes. Dr. Wilkes is a fellowship-trained orthopaedic surgeon with special interests including orthopedic surgery, sports medicine, hand surgery, arthroscopy and joint replacement. Dr. Wilkes has served as Clayton State Athletics' team physician since the program's inception in 1990. He holds the distinction of being only one of two current individuals to be associated with the department since its beginning, the other being Mike Mead, head cross country and track coach.

While serving Clayton State athletics, Dr. Wilkes has provided primary medical care for individuals and teams that have made 57 NCAA Tournament appearances, produced 14 Peach Belt Tournament Champions, 11 PBC Regular Season Champions, 54 All-Americans and the 2011 NCAA Division II Women's Basketball National Champions.

A graduate of the University of Georgia and Medical College of Georgia, Dr. Wilkes is certified by the American Board of Orthopedic Surgery and is a member of the American Orthopedic Society for Sports Medicine. He is currently a practicing physician at OrthoAtlanta, orthopaedics and sports medicine specialists, in Atlanta, GA.

In addition to his commitment to making Clayton State Athletics and its student athletes the best that they can be, he also serves as an associate team physician for the National Football League's Atlanta Falcons, an orthopedic consultant for the U.S. Luge Association, the Chick-fil-A Bowl and was the Venue Medical Director for the 1996 Atlanta Olympics.
« Back to News