Home
/
Media
/
12 Days Of Holiday Health
12 Days of Holiday Health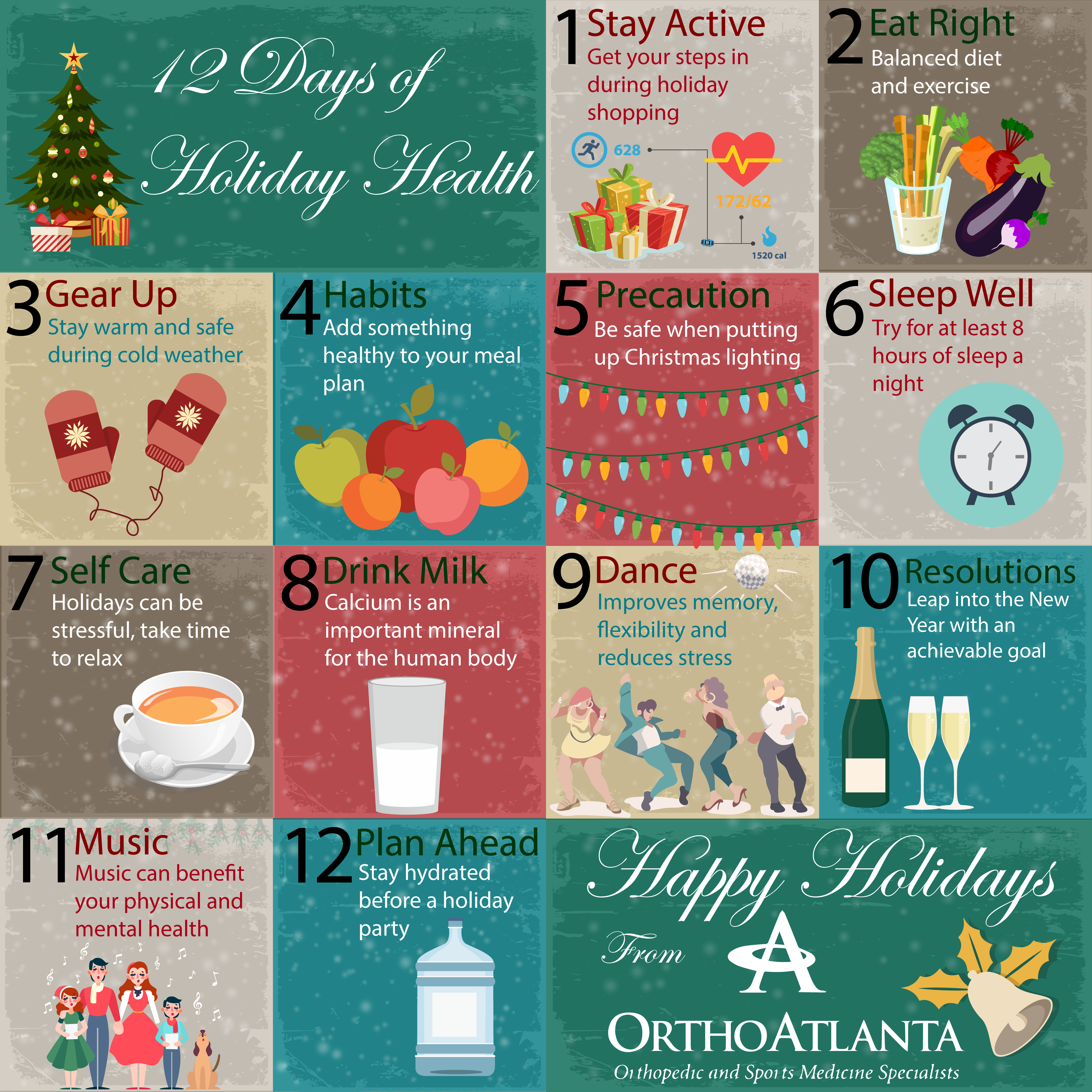 OrthoAtlanta orthopedic and sports medicine specialists in Atlanta wish you and your family a Happy Holiday. Follow our 12 Days of Holiday Health for long-term health benefits throughout the year.
Day 1: Stay Active – Get your steps in during Holiday Shopping. Take time for a mid-afternoon hike, a walk with friends or participate in a benefit 5K, 10K or Fun Run this season.
Day 2: Eat Right – Keep to a balanced diet and exercise program.
Day 3: Gear Up – Stay Warm and Safe during Cold Weather.
Day 4: Develop Healthy Habits – Add something healthy to your meal plan. Add a fitness program to your daily routine.
Day 5: Practice Precaution – Stay Safe When Putting Up Christmas Lights, This is not a one-person job.
Day 6: Sleep Well – Try to get at least 8 hours of sleep per day.
Day 7: Take Care of Yourself – Holidays can be stressful, but relax and have fun.
Day 8: Drink Milk – Leave a glass for Santa Claus and drink a glass yourself. Calcium is an important mineral for the human body.
Day 9: Dancing – Improve memory, flexibility, and reduce stress by dancing.
Day 10: Set New Year's Resolutions – Leap into the New Year with an achievable goal.
Day 11: Christmas music makes the heart sing – Music benefits our physical and mental health.
Day 12: Stay Hydrated and Eat Well – Before a party, do not starve yourself. Eat a light, balanced meal and drink lots of water to stay hydrated!
Learn more at OrthoAtlanta.com

« Back to News