Home
/
Health News
/
Weight Loss Surgery Can Keep Diabetes At Bay For Years: Study
Weight-Loss Surgery Can Keep Diabetes at Bay for Years: Study
By Dennis Thompson HealthDay Reporter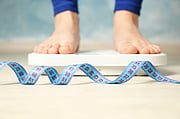 TUESDAY, June 27, 2023 (HealthDay News) -- Gastric bypass surgery is a potential long-term cure for type 2 diabetes, especially if the procedure is performed before the disease progresses, a new study argues.
Among a large group of obese people with type 2 diabetes, about half achieved remission for an average seven years after undergoing gastric bypass surgery -- the longest follow-up ever for such a group, researchers said.
"That's a very big deal," said senior researcher Dr. Omar Ghanem, a metabolic surgeon with the Mayo Clinic in Rochester, Minn. "After a one-time treatment, you're going to have a 51% chance that you won't have diabetes and you won't have to take any medications for seven years."
The chances of diabetes remission were even better if the disease wasn't advanced, researchers reported Tuesday at the American Society for Metabolic and Bariatric Surgery's annual meeting, in Las Vegas.
For instance, you stood a better chance of remission if you weren't taking insulin or multiple diabetes medications, had better blood sugar control, or hadn't had diabetes for long, researchers found.
Also, you didn't have to lose a lot of weight to stand a good chance of going into remission, researchers said.
About 41% of patients who lost the least -- less than 18% of their initial weight -- following gastric bypass surgery went into remission from their diabetes, results show.
By comparison, 56% of those who lost the most -- more than a third of their starting weight -- went into remission.
"The more weight patients lost, the more the chance of diabetes remission -- but it wasn't the only factor," Ghanem said. "Some of the patients did not lose as much and still had diabetes remission."
In gastric bypass, surgeons reduce the size of the upper stomach to a small pouch about the size of an egg, according to Johns Hopkins Medicine. They then connect this pouch directly to the small intestine.
The food you swallow thus bypasses most of the stomach as well as the first section of the small intestine. You digest less fat and calories from your food.
Prior studies had shown that gastric bypass can help folks with type 2 diabetics lose weight, and as a result cut back on or potentially even drop insulin and diabetes medications, Ghanem said.
More than 70% of patients with type 2 diabetes are eligible for weight-loss surgery, researchers said, but only about 1% of those eligible get the surgery in any given year.
But there haven't been many studies tracking patients long-term to see how long the surgery can keep diabetes at bay, Ghanem said.
To test the long-term effectiveness of weight-loss surgery, Ghanem and his colleagues recruited 815 diabetes patients between 2008 and 2017 at three U.S. medical centers.
The patients had an average BMI of 45. Obesity is defined as a BMI of 30 or greater.
All underwent gastric bypass surgery, and their progress was tracked for seven years on average.
Blood sugar control improved on average for all patients. For instance, the percentage of patients using insulin fell from 44% to 19%, results show.
And about 51% of patients went into full diabetes remission and were able to stop taking insulin and other medications, researchers said.
Ghanem said the fact that remission can be achieved with even less weight loss shows that "the surgery changes hormones and has a metabolic effect.
"There is a strong hormonal effect because of bypassing the first part of the intestine, which is the duodenum," Ghanem said. "Most insulin regulation happens there."
The restructuring of the digestive tract limits the amount that people can eat, but it also has a profound impact on gut hormones that influence hunger, satiation and cravings, said ASMBS President Dr. Teresa LaMasters, who was not involved in the study.
"There are really about 20 different hormones that are altered, and these have a direct connection to the brain," LaMasters said. "These hormones affect how the body burns calories, but it also affects even the reward centers and cravings, and it affects being satisfied with smaller amounts."
"It's really not about forcing people to eat less. It's changing the way their body is driving them to look for food, and then when they eat, they're much more satisfied with their smaller portions," LaMasters continued.
These results also show that obese people who develop type 2 diabetes should consider gastric bypass sooner rather than later, LaMasters added.
"The earlier we treat it with surgery, the higher chance we have of long-term remission," LaMasters said. "Telling somebody to wait until their diabetes is very bad is actually kind of a death sentence for them, because they're going to have the best longevity and added years of life and the best response to surgical treatment of their disease if it's early, in the first eight years of their disease.
"They should not be waiting until they've tried three medicines and insulin and have had a heart attack before they come to surgery. If they came to surgery shortly after the diagnosis, they would never have had those complications," LaMasters said.
Still, weight-loss surgery isn't a magic bullet on its own. All surgery comes with risks, and Ghanem and LaMasters said people also need to exercise and follow a healthy diet.
However, the hormonal changes that come with the surgery can steer people to healthier choices, LaMasters said. "It actually does change some of the taste preferences and cravings that people have by altering these gut hormones, so sometimes things that are a little sweet can seem excessively sweet. It can take away cravings for soda," LaMasters said.
"And because of the way the bowel is rerouted, a lot of patients can experience bad consequences if they eat very sugary foods," LaMasters added. "They can have diarrhea and crampy abdominal pain and feel pretty terrible."
Findings presented at medical meetings are considered preliminary until published in a peer-reviewed journal.

More information
Johns Hopkins Medicine has more about gastric bypass surgery.
SOURCES: Omar Ghanem, MD, metabolic surgeon, Mayo Clinic, Rochester, Minn.; Teresa LaMasters, MD, president, American Society for Metabolic and Bariatric Surgery; presentation, American Society for Metabolic and Bariatric Surgery, annual meeting, June 27, 2023, Las Vegas
« Back to News

The news stories provided in Health News and our Health-E News Newsletter are a service of the nationally syndicated HealthDay® news and information company. Stories refer to national trends and breaking health news, and are not necessarily indicative of or always supported by our facility and providers. This information is provided for informational and educational purposes only, and is not intended to be a substitute for medical advice, diagnosis, or treatment.