Home
/
Health News
/
U.S. Rollout Of Pfizer COVID Vaccine Begins
U.S. Rollout of Pfizer COVID Vaccine Begins
By Ernie Mundell and Robin Foster HealthDay Reporters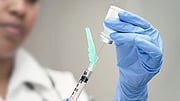 MONDAY, Dec. 14, 2020 (Healthday News) -- The first shipments of nearly 3 million doses of the Pfizer coronavirus vaccine were on their way to hospitals in all 50 U.S. states on Sunday, as the country began an unprecedented effort to inoculate enough Americans to stop the spread of COVID-19.
Gen. Gustave F. Perna, chief operating officer of the federal effort to develop a vaccine, told The New York Times Sunday that 145 sites are set to receive the vaccine on Monday, 425 on Tuesday and 66 on Wednesday.
Most of the first round of injections are to be given to high-risk health care workers, the newspaper reported. Because the vaccines can cause side effects including fevers and aches, hospitals have said they will stagger vaccinations among their workers.
Residents of nursing homes, who have suffered a disproportionate share of COVID-19 deaths, will begin to get shots next week, the Times reported. A vast majority of Americans will not be eligible for vaccinations until the spring or later.
Five of the first vaccinations will take place at what the U.S. Department of Health and Human Services (HHS) is calling a national "kickoff event," scheduled for Monday afternoon at George Washington University Hospital, the Times reported.
HHS Secretary Alex Azar said the plan is to have 20 million people vaccinated by the end of December, up to 50 million by the end of January and 100 million by the end of February, the Washington Post reported. That includes plans for the rollout of a second, similar vaccine, developed by Moderna, which is expected to gain emergency authorization later this week.
The United States becomes the sixth country -- in addition to Britain, Bahrain, Canada, Saudi Arabia and Mexico -- to authorize the Pfizer vaccine, the Times reported.
"The FDA's authorization for emergency use of the first COVID-19 vaccine is a significant milestone in battling this devastating pandemic that has affected so many families in the United States and around the world," FDA Commissioner Dr. Stephen Hahn said in a statement released Friday. "The tireless work to develop a new vaccine to prevent this novel, serious and life-threatening disease in an expedited timeframe after its emergence is a true testament to scientific innovation and public-private collaboration worldwide."
The nursing home industry applauded the approval.
"On behalf of the long-term [care] industry, we welcome the decision by the FDA to approve emergency use authorization to expedite the distribution of a COVID vaccine," said Mark Parkinson, president and CEO of the American Health Care Association and National Center for Assisted Living. The association represents 14,000 nursing homes and assisted living facilities.
"The delivery of a safe and effective vaccine can't come soon enough," he said in a statement. "More than 100,000 in long-term care have died from this virus in the U.S. and our nursing homes are now experiencing the worst outbreak of new cases since last spring, with more than 2,000 residents succumbing to this virus each week."
National vaccination campaign an unprecedented challenge
The logistics of a national COVID vaccination campaign are daunting: Every state, along with six major cities, has submitted to the federal government a list of locations -- mainly hospitals -- where the Pfizer vaccine is to ship initially. In Florida, hospitals in Jacksonville, Miami, Orlando, Tampa and Hollywood will get the initial doses of vaccine, the Times reported. In rural Vermont, only the University of Vermont Medical Center and a state warehouse will get supplies.
More than vaccine doses be shipped nationwide: Medical supplier McKesson Corp will send kits of syringes, alcohol pads, face shields and other supplies to the same locations, where they will meet up with the vaccines, the Times reported.
As for the vaccines, Pfizer will ship them in specially designed containers packed with dry ice, to keep the temperature inside at minus 94 degrees Fahrenheit. Each container will have a tracking device and a thermal probe, to make sure no vaccine doses are lost or degraded.
Eventually, the Pfizer vaccine, plus a similar one made by Moderna that will be eyed by the FDA advisory panel for approval on Thursday, should help tame the spread of coronavirus.
In some disappointing vaccine news, Sanofi and GlaxoSmithKline said last week that their experimental coronavirus vaccine did not work well in older adults, delaying the start of their late-stage clinical trial that had been set to begin in the United States in December, the Times reported.
Instead, a modified version of the vaccine will be tested in a smaller trial set to begin in February, the newspaper said. Rather than compare their candidate with a placebo, the companies noted it could be tested against an already approved vaccine, Still, they now expect their vaccine will not be available until the end of next year.
"We care greatly about public health, which is why we are disappointed by the delay announced today, but all our decisions are and will always be driven by science and data," Thomas Triomphe, executive vice president and head of Sanofi Pasteur, the company's vaccine division, told the Times.
The Sanofi vaccine is one of six that were selected by Operation Warp Speed. The companies have negotiated a $2.1 billion agreement with the United States to provide 100 million doses, the Times said.
A global scourge
By Monday, the U.S. coronavirus case count passed 16.3 million while the death toll passed 299,000, according to a Times tally. By Monday, the top five states for coronavirus infections were California with nearly 1.6 million, Texas with nearly 1.5 million cases, Florida with more than 1.1 million cases; Illinois with over 850,000 cases and New York with nearly 781,000 cases.
Curbing the spread of the coronavirus in the rest of the world remains challenging.
Many European countries are tightening restrictions, the Associated Press reported. France is in a nationwide lockdown, and Germany and Austria have started partial lockdowns as government officials across the continent scramble to slow a sharp rise in infections that threatens to overwhelm their health care systems.
England has followed suit, while Italy, Greece and Kosovo also announced new measures, the AP reported.
Things are no better in India, where the coronavirus case count passed 9.8 million on Monday, the Hopkins University tally showed. More than 143,000 coronavirus patients have died in India, according to the Hopkins tally, but when measured as a proportion of the population, the country has had far fewer deaths than many others. Doctors say this reflects India's younger and leaner population. Still, the country's public health system is severely strained, and some sick patients cannot find hospital beds, the Times said. Only the United States has more coronavirus cases.
Meanwhile, Brazil had over 6.9 million cases and over 181,000 deaths as of Monday, the Hopkins tally showed.
Worldwide, the number of reported infections passed 72.3 million on Monday, with over 1.6 million deaths recorded, according to the Hopkins tally.
More information
The U.S. Centers for Disease Control and Prevention has more on the new coronavirus.
SOURCES: Washington Post; The New York Times; Associated Press
« Back to News

The news stories provided in Health News and our Health-E News Newsletter are a service of the nationally syndicated HealthDay® news and information company. Stories refer to national trends and breaking health news, and are not necessarily indicative of or always supported by our facility and providers. This information is provided for informational and educational purposes only, and is not intended to be a substitute for medical advice, diagnosis, or treatment.