Home
/
Health News
/
United States Hits Record Breaking 100,000 New COVID Cases In One Day
United States Hits Record-Breaking 100,000 New COVID Cases in One Day
By Ernie Mundell and Robin Foster HealthDay Reporters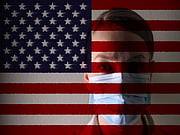 THURSDAY, Nov. 5, 2020 (HealthDay News) -- Crossing yet another bleak threshold during an unrelenting pandemic, America logged more than 100,000 new coronavirus cases on Wednesday.
The total count of new infections was at least 107,000, The New York Times reported, with 23 states recording more cases in the past week than in any other seven-day stretch.
Five states -- Colorado, Indiana, Maine, Minnesota and Nebraska -- set single-day case records on Wednesday. Cases were also spiking in the Mountain West and even in the Northeast, which over the summer had managed to get the virus under control, the Times reported.
Daily case reports in Minnesota have jumped roughly 102 percent, while those in Indiana have risen 73 percent, the newspaper said. For months, Maine had among the lowest levels of transmission anywhere in the country, but new cases there have more than tripled. In Wyoming, new cases are up 73 percent, while Iowa has watched cases more than double.
By Wednesday, the seven-day average of new daily cases was nearing 92,000, the highest since the pandemic began, the Times reported.
But case rates aren't the only statistics that are climbing: Deaths related to the coronavirus, which lag behind case reports, have increased 21 percent across the country in the last two weeks, the Times reported.
Not only that, more than 50,000 people are now hospitalized with Covid-19 across the country, an increase of roughly 64 percent since the beginning of October, the newspaper said.
Dr. Anthony Fauci had told the Washington Post last week that the country would most likely hit the 100,000 mark soon.
"We're in for a whole lot of hurt," he said at the time.
Fauci added that the country "could not possibly be positioned more poorly" as winter approaches and colder temperatures lead people to gather indoors.
Bill Hanage, an associate professor of epidemiology at Harvard's T.H. Chan School of Public Health in Boston, called Wednesday's milestone "the completely foreseeable consequence of not taking pandemic management seriously." And he said the country would see "hospitalizations and deaths increase in due course."
"This is desperately concerning," Hanage said, "because uncontrolled transmission will end up compromising health care, and in order to preserve it, we will almost certainly end up needing to take stronger action to prevent the worst outcomes."
"Look to Europe to see the consequences of leaving it too late," he said. "The longer you leave it, the harder it will be to control."
States say they don't have enough money to distribute a COVID vaccine
Meanwhile, state health officials say they are frustrated about a lack of financial support from the federal government as they face orders to prepare to receive and distribute the first doses of a coronavirus vaccine by the unlikely target date of Nov. 15, the Post reported. And these officials stress that they don't have enough money to pay for the massive undertaking.
State officials say they have been planning distribution efforts even though no one knows which vaccine will be authorized, what special storage and handling may be required, and how many doses each state will receive.
Even so, the U.S. Centers for Disease Control and Prevention sent a letter this week asking states to provide by Tuesday critical information, including a list of each jurisdiction's top five sites capable of receiving and administering a vaccine that must be stored at extremely cold temperatures of minus-94 Fahrenheit, the Post reported. The letter refers to the vaccine only as Vaccine A, but industry and health officials say it is the Pfizer vaccine.
"We acknowledge that you are being asked to do unprecedented work," wrote Nancy Messonnier, director of the CDC's National Center for Immunization and Respiratory Diseases, which is leading the CDC's role in vaccine distribution. She added: "This is a new planning ask," the Post reported.
State officials say they have been trying to raise the issue with federal officials but have received little response.
"It is absolutely ridiculous that the administration, after spending $10 billion for a Warp Speed effort to develop a vaccine, has no interest in a similar investment in a Warp Speed campaign to get the vaccine to every American as quickly as possible after it is approved," said Michael Fraser, executive director of the Association of State and Territorial Health Officials.
"The now accelerated timeline underscores the need to address the issue of funding for state and territorial health agencies to make this all work," Fraser said. "There are many other costs that have no clear way to be paid for at this point."
States and territories have received $200 million from the CDC to do planning, the Post reported.
Recruiting and training workers for coronavirus vaccination campaigns will cost at least $3 billion. Another $1.2 billion will be needed for cold supply chain management, $1 billion for arranging additional vaccination sites and $500 million for data information system upgrades, the Post reported.
COVID-19 continues to spread around the globe
By Thursday, the U.S. coronavirus case count passed 9.5 million while the death toll passed 234,000, according to a Times tally.
According to the same tally, the top five states in coronavirus cases as of Thursday were: Texas with over 984,000; California with over 954,600; Florida with over 821,000; New York with over 520,500; and Illinois with over 445,000.
Curbing the spread of the coronavirus in the rest of the world remains challenging.
Many European countries are tightening restrictions, the AP reported. France began a nationwide lockdown Friday, Germany began a partial lockdown on Monday and Austria started one Tuesday as government officials across the continent scramble to slow a sharp rise in infections that threatens to overwhelm their health care systems.
England will follow suit on Thursday, while Italy, Greece and Kosovo also announced new measures, the AP reported.
Things are no better in India, where the coronavirus case count has passed 8.3 million, a Johns Hopkins tally showed.
More than 124,000 coronavirus patients have died in India, according to the Hopkins tally, but when measured as a proportion of the population, the country has had far fewer deaths than many others. Doctors say this reflects India's younger and leaner population.
Still, the country's public health system is severely strained, and some sick patients cannot find hospital beds, the Times said. Only the United States has more coronavirus cases.
Meanwhile, Brazil neared 5.6 million cases and had over 161,000 deaths as of Thursday, the Hopkins tally showed.
Cases are also spiking in Russia: The country's coronavirus case count is nearing 1.7 million. As of Thursday, the reported death toll in Russia was over 29,000, the Hopkins tally showed.
Worldwide, the number of reported infections passed 48.1 million on Thursday, with over 1.2 million deaths, according to the Hopkins tally.
More information:
The U.S. Centers for Disease Control and Prevention has more on the new coronavirus.


SOURCES: The New York Times; Washington Post
« Back to News

The news stories provided in Health News and our Health-E News Newsletter are a service of the nationally syndicated HealthDay® news and information company. Stories refer to national trends and breaking health news, and are not necessarily indicative of or always supported by our facility and providers. This information is provided for informational and educational purposes only, and is not intended to be a substitute for medical advice, diagnosis, or treatment.