Home
/
Health News
/
Trump Suggests He Plans To Fire Fauci After Election
Trump Suggests He Plans to Fire Fauci After Election
By Ernie Mundell and Robin Foster HealthDay Reporters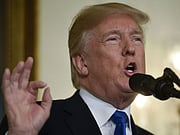 MONDAY, Nov. 2, 2020 (HealthDay News) -- During a rally in Florida late Sunday night, President Donald Trump suggested that he would fire the nation's top infectious disease expert, Dr. Anthony Fauci, as soon as the presidential election is over on Tuesday.
As he expressed frustration that the coronavirus remains prominent in the news — U.S. case counts are at their highest levels since the pandemic began — supporters in the crowd began chanting, "Fire Fauci," the Associated Press reported.
Trump replied with this: "Don't tell anybody, but let me wait until a little bit after the election." He has previously expressed that he was concerned about the political blowback of removing the popular and respected doctor before Election Day. He added he appreciated the "advice" of the crowd.
Fauci, who heads up the U.S. National Institute of Allergy and Infectious Diseases, has begun to challenge the president publicly, saying that Trump has ignored his advice for containing the virus and that he hasn't spoken with Trump in more than a month. He has also warned repeatedly that the nation is heading for a tough winter if more isn't done soon to slow the spread of the disease which has killed more than 230,000 Americans so far this year, the <i>AP</i> reported.
The latest case counts suggest Fauci is right: More than 9.2 million Americans have been diagnosed with COVID-19, and the seven-day average of new daily coronavirus infections in the United States hit a new high of 81,740 on Sunday, the Washington Post reported. Record-shattering numbers of hospitalizations were also recorded in nine states: Alaska, Iowa, Missouri, Montana, Nebraska, New Mexico, Ohio, South Dakota and Utah.
"There is no way to sugarcoat it: We are facing an urgent crisis, and there is an imminent risk to you, your family members, your friends, your neighbors," Gov. Tony Evers of Wisconsin said last week, The New York Times reported.
Evers' state has been hard by coronavirus: More than 200 coronavirus deaths were announced last week, and as case numbers have exploded, hospitals have been strained.
But Wisconsin is not alone. The surge that started in the Upper Midwest and rural West has now spread far beyond, sending infection levels soaring in places as disparate as El Paso, Chicago and Rexburg, Idaho, according to the New York Times.
Daily reports of deaths from the virus still remain far below their spring peaks, averaging around 800 a day, but those have also started to climb, the Times reported.
States say they don't have enough money to distribute a COVID vaccine
Meanwhile, state health officials say they are frustrated about a lack of financial support from the federal government as they face orders to prepare to receive and distribute the first doses of a coronavirus vaccine by the unlikely target date of Nov. 15, the Post reported. And these officials stress that they don't have enough money to pay for the massive undertaking.
State officials say they have been planning distribution efforts even though no one knows which vaccine will be authorized, what special storage and handling may be required, and how many doses each state will receive.
Even so, the U.S. Centers for Disease Control and Prevention sent a letter this week asking states to provide by Tuesday critical information, including a list of each jurisdiction's top five sites capable of receiving and administering a vaccine that must be stored at extremely cold temperatures of minus-94 Fahrenheit, the Post reported. The letter refers to the vaccine only as Vaccine A, but industry and health officials say it is the Pfizer vaccine.
"We acknowledge that you are being asked to do unprecedented work," wrote Nancy Messonnier, director of the CDC's National Center for Immunization and Respiratory Diseases, which is leading the CDC's role in vaccine distribution. She added: "This is a new planning ask," the Post reported.
State officials say they have been trying to raise the issue with federal officials but have received little response.
"It is absolutely ridiculous that the administration, after spending $10 billion for a Warp Speed effort to develop a vaccine, has no interest in a similar investment in a Warp Speed campaign to get the vaccine to every American as quickly as possible after it is approved," said Michael Fraser, executive director of the Association of State and Territorial Health Officials.
"The now accelerated timeline underscores the need to address the issue of funding for state and territorial health agencies to make this all work," Fraser said. "There are many other costs that have no clear way to be paid for at this point."
States and territories have received $200 million from the CDC to do planning, the Post reported.
Recruiting and training workers for coronavirus vaccination campaigns will cost at least $3 billion. Another $1.2 billion will be needed for cold supply chain management, $1 billion for arranging additional vaccination sites and $500 million for data information system upgrades, the Post reported.
COVID-19 continues to spread around the globe
By Monday, the U.S. coronavirus case count passed 9.2 million while the death toll neared 231,000, according to a Times tally.
According to the same tally, the top five states in coronavirus cases as of Monday were: Texas with over 957,000; California with nearly 939,000; Florida with over 807,000; New York with over 514,000; and Illinois with nearly 425,000.
Curbing the spread of the coronavirus in the rest of the world remains challenging.
Several European countries are experiencing case surges as they struggle with another wave of coronavirus infections and hospital beds begin to fill up, the Post reported. The European continent passed 10 million cases on Friday as several countries went into new lockdowns, the Times reported.
England will enter its second national lockdown on Thursday in a bid to slow a startling spike in coronavirus cases across the country. In recent weeks, new coronavirus cases have quadrupled and there are now more COVID-19 patients hospitalized than before the government imposed a lockdown back in March, the Post reported.
Things are no better in India, where the coronavirus case count has passed 8.2 million, a Johns Hopkins tally showed.
More than 122,600 coronavirus patients have died in India, according to the Hopkins tally, but when measured as a proportion of the population, the country has had far fewer deaths than many others. Doctors say this reflects India's younger and leaner population.
Still, the country's public health system is severely strained, and some sick patients cannot find hospital beds, the Times said. Only the United States has more coronavirus cases.
Meanwhile, Brazil passed 5.5 million cases and had over 160,000 deaths as of Monday, the Hopkins tally showed.
Cases are also spiking in Russia: The country's coronavirus case count has passed 1.6 million. As of Monday, the reported death toll in Russia was over 28,000, the Hopkins tally showed.
Worldwide, the number of reported infections passed 46.6 million on Monday, with over 1.2 million deaths, according to the Hopkins tally.
More information:
The U.S. Centers for Disease Control and Prevention has more on the new coronavirus.
SOURCES: Washington Post; The New York Times; Associated Press; CNN
« Back to News

The news stories provided in Health News and our Health-E News Newsletter are a service of the nationally syndicated HealthDay® news and information company. Stories refer to national trends and breaking health news, and are not necessarily indicative of or always supported by our facility and providers. This information is provided for informational and educational purposes only, and is not intended to be a substitute for medical advice, diagnosis, or treatment.