Home
/
Health News
/
South African COVID Variant Spotted In South Carolina
South African COVID Variant Spotted in South Carolina
By Ernie Mundell and Robin Foster HealthDay Reporters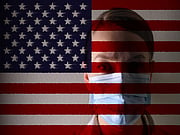 THURSDAY, Jan. 28, 2021 (HealthDay News) -- Two South Carolina residents who have not traveled have been infected with the highly contagious South African coronavirus variant, state health officials reported Thursday.
The variant is perhaps the most worrisome to public health experts, because it might have some ability to evade COVID-19 antibody treatments or vaccines.

These are the first cases in the United States involving the new B.1.351 variant, and the patients' lack of travel or a connection to one another suggests the variant is already spreading in the community, experts said.
"The arrival of the SARS-CoV-2 [South African] variant in our state is an important reminder to all South Carolinians that the fight against this deadly virus is far from over," Dr. Brannon Traxler, interim public health director of the state's Department of Health and Environmental Control, said in a statement. "While more COVID-19 vaccines are on the way, supplies are still limited. Every one of us must recommit to the fight by recognizing that we are all on the front lines now. We are all in this together."
State officials did not release the names of the people infected, saying only that one is from the Low Country, along the South Carolina coastline, and one is from the northeastern corner of the state.
The B.1.351 variant, first identified in South Africa in December, is considered by scientists to be even more worrisome than the more widely publicized British variant. And earlier this week, a more infectious Brazilian variant was diagnosed in a Minnesota resident who had recently traveled to Brazil.
Public health experts had feared that the variants were already in the United States, undetected until now because of limited surveillance. Efforts are being made to ramp up surveillance through partnerships among the U.S. Centers for Disease Control and Prevention, academic institutions and private companies.
"At this time, we have no evidence that infections by this [South African] variant cause more severe disease," the CDC said in a statement released Thursday. However, "like the UK and Brazilian variants, preliminary data suggests this variant may spread more easily and quickly than other variants."
The B.1.351 variant also contains a key mutation that appears to allow the virus to elude the full power of antibody treatments and vaccines. At least one antibody therapy will not work against the new variants, and lab studies recently found the mutation in the variant diminishes the ability of vaccine-induced antibodies to neutralize the virus. Whether that translates into decreased vaccine effectiveness remains to be seen, but vaccine makers are already racing to make new vaccines and "booster" shots to handle the new mutations.
Moderna announced Monday it was already working to develop and begin human tests of a vaccine specific to the South African variant, as a precaution. The company will also test a third booster shot of its current vaccine, to see if boosting immunity to the original virus could protect against the variant, the Washington Post reported.
The emergence of coronavirus variants has made the campaign to vaccinate all Americans even more urgent. As of Thursday, more than 24.6 million Americans have been vaccinated, while over 47.2 million doses have been distributed, according to the CDC. More than 3.8 million people have received their second shot.
Some states loosen restrictions as U.S. cases level off
Some states have started to ease tight social distancing restrictions as COVID-19 infections and hospitalizations begin to plateau across the United States.
Still, the emergence of more infectious coronavirus variants in this country has prompted many officials to proceed cautiously on reopening their economies, the Associated Press reported.
The recipe for the balancing act seems simple, but experts say it isn't.
"If the frequency [of hospitalizations] goes up, you tighten it up. If the frequency goes down, you loosen up. Getting it just right is almost impossible," Dr. Arnold Monto, a public health professor at the University of Michigan, told the AP. "There's no perfect way to do this."
As Michigan's coronavirus infection rate dropped to the nation's fifth-lowest over the last two weeks, Gov. Gretchen Whitmer announced bars and restaurants can serve customers inside next week for the first time in more than two months, but it will be at 25% of capacity and with a 10 p.m. curfew on service. The state has already resumed in-person classes at high schools and partially reopened movie theaters.
"We're in a stronger position because we've taken this pause," Whitmer said. "But we are also very mindful of the fact that this variant is now here in Michigan. It poses a real threat."
Meanwhile, Chicago and its surrounding suburbs allowed indoor dining over the weekend for the first time since October, the AP reported. Major cultural attractions including the Field Museum and Shedd Aquarium reopened with crowd limits.
Washington, D.C., also recently ended its month-long ban on indoor dining, and California Gov. Gavin Newsom this week lifted stay-at-home orders he imposed last month when hospitals were so overwhelmed with virus patients that they were on the verge of rationing lifesaving care, the AP reported. Restaurants and places of worship will be able to operate outdoors, and many stores will be able to have more shoppers inside.
In Oregon, Gov. Kate Brown announced that some indoor operations, such as gyms and movie theaters, can reopen Friday with limited capacity. Indoor dining is still banned in the hardest-hit counties.
After North Dakota dropped to the nation's second-lowest case rate, Gov. Doug Burgum has not only relaxed limits on the number of people who can gather at restaurants and bars but also allowed a statewide mask mandate to expire last week, the AP reported.
The reason for the relaxation of social distancing in some places? Newly confirmed U.S. cases have dropped over the past two weeks, from an average of about 248,000 per day to around 166,000, the AP reported. And the number of people in the hospital with COVID-19 has fallen by tens of thousands, to 109,000.
Antibody cocktails show more mettle against COVID than thought
Promising new data on two coronavirus antibody cocktails suggests these therapies can keep patients out of the hospital and even prevent illness altogether in some people.
Eli Lilly said Tuesday that its two-antibody combo reduced the risk of hospitalizations or death by 70% in newly diagnosed COVID-19 patients at high risk of serious illness and hospitalization because of their age or other health conditions, the AP reported. All 10 deaths seen in the study were among those receiving placebo, not the antibody cocktail.
At the same time, Regeneron Pharmaceuticals Inc. reported preliminary results from an ongoing study that indicated its antibody cocktail prevented symptomatic infections in housemates of someone with COVID-19. Instead of an IV drip, the drug was given as multiple shots, which will make the treatment easier to deliver, the AP said.
Neither report has been published or subjected to peer review, and the Regeneron data is based on only one quarter of the patients in its study, the AP reported.
U.S. regulators have allowed emergency use of some Lilly and Regeneron antibodies for mild or moderate COVID-19 cases that do not require hospitalization as research on the treatments continued. Now, both companies are asking regulators to expand authorization of their drugs based on the new findings, the AP said.
Regeneron's results were on the first 409 people in a study that has enrolled more than 2,000 so far. All tested negative for the virus but live with someone who has COVID-19.
There were roughly half as many infections among those given the antibody treatment versus a placebo, and none on the drug developed any symptoms, the AP reported. Infections also were shorter and the amount of virus lower among those given the antibodies.
Lilly's new results were from a study of 1,035 non-hospitalized patients recently diagnosed with COVID-19. About 2% on the drug were later hospitalized or died versus 7% of the placebo group, the AP reported.
A global scourge
By Thursday, the U.S. coronavirus case count passed 25.6 million while the death toll passed 429,000, according to a Times tally. On Thursday, the top five states for coronavirus infections were: California with over 3.2 million cases; Texas with more than 2.3 million cases; Florida with nearly 1.7 million cases; New York with more than 1.3 million cases; and Illinois with over 1.1 million cases.
Curbing the spread of the coronavirus in the rest of the world remains challenging.
In India, the coronavirus case count was over 10.7 million by Thursday, a Johns Hopkins University tally showed. Brazil had nearly 9 million cases and more than 220,000 deaths as of Thursday, the Hopkins tally showed.
Worldwide, the number of reported infections neared 101 million on Thursday, with nearly 2.2 million deaths recorded, according to the Hopkins tally.
More information
The U.S. Centers for Disease Control and Prevention has more on the new coronavirus.
SOURCES: The New York Times; CBS News; Associated Press
« Back to News

The news stories provided in Health News and our Health-E News Newsletter are a service of the nationally syndicated HealthDay® news and information company. Stories refer to national trends and breaking health news, and are not necessarily indicative of or always supported by our facility and providers. This information is provided for informational and educational purposes only, and is not intended to be a substitute for medical advice, diagnosis, or treatment.