Home
/
Health News
/
Quality Care For People With Parkinson's Is Lacking Across The U.S.
Quality Care for People With Parkinson's Is Lacking Across the U.S.
By Dennis Thompson HealthDay Reporter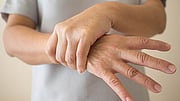 TUESDAY, July 11, 2023 (HealthDay News) -- People with Parkinson's disease often aren't getting the care they need for the debilitating movement disorder, a new study reports.
Three in 10 are relying on primary care doctors to treat their disorder, and 1 in 10 aren't seeing a doc at all, analysis of Medicare data reveals.
And fewer than 1 in 10 are seeing a neurologist specifically trained in treating Parkinson's, researchers said.
"That's a real concern because while I think every clinician wants to do the best for their patient, not every clinician really has that experience that they can bring to bear to help a person with Parkinson's, especially as their disease progresses," said senior researcher James Beck, chief scientific officer for the Parkinson's Foundation.
For this study, Beck and his colleagues analyzed 2019 claims data from Medicare.
About 90% of people with Parkinson's are covered by Medicare, the researchers noted.
An estimated 1 million Americans have been diagnosed with Parkinson's, which causes a progressive loss of motor control over the body. There is no cure, and nearly 90,000 new cases are diagnosed each year in the United States.
The Medicare data showed that about 11% of Parkinson's patients on Medicare received no medical care at all in 2019, either from a neurologist or a family doctor.
That means that fully 2 out of 5 Parkinson's patients covered by Medicare did not see a neurologist at all, after adding in the 29% who only received care from a primary care physician.
Only 9% of Parkinson's patients saw a movement disorder neurologist. These doctors have expert training that allows them to tailor treatment to the distinct nuances of each individual, Beck said.
Finally, about half of people with Parkinson's received treatment by a general neurologist.
"We were just really surprised to see that so few people are able to see a movement disorder neurologist, a neurologist who has specialized training for the care of a person with Parkinson's," Beck said.
The researchers also found that disparities in care access persist for women, people of color, and patients living in rural areas.
Parkinson's patients also were not regularly using other specialists that can help ease their difficulties, such as physical therapists, occupational therapists, speech therapists or mental health providers, the study says.
For example, only 20% of people with Parkinson's were seeing a physical therapist; 10% an occupational therapist; and 7.5% a speech therapist, researchers found.
And even though about one-third of people with Parkinson's have depression, only around 2% received treatment from a mental health professional, the study shows.
"Many people with Parkinson's can benefit from seeing those specialists," Beck said.
He couldn't say exactly why Parkinson's patients aren't getting the care they need, but he has a few theories.
First, the United States has a real shortage of movement disorder neurologists.
"There's maybe 650 to 700 in North America," Beck said. "When you have a population of a million people with Parkinson's, not everyone can receive this highly specialized care."
And in rural America, there's even less chance that a person will have access to even a general neurologist, let alone one specializing in Parkinson's, Beck added.
"We know already that there are neurology deserts," he said. "We may have a certain number of neurologists in the country, but they're not evenly distributed. They're usually in population clusters, as you would expect -- big cities where there's lots of people."
It's also possible that Parkinson's patients don't know the importance of seeking out a specialist, particularly as their disease progresses.
"If someone has been recently diagnosed with Parkinson's, seeing a general neurologist is perfectly fine," Beck said. "Early stages of Parkinson's are generally well managed. However, as the disease progresses, it can be more difficult to manage from a medical standpoint. There's often many medications that may need to be brought to bear to help control symptoms."
The patient also might be reluctant to see someone other than their personal doctor, particularly if they have a strong relationship, Beck said.
People who can't find a movement disorder neurologist should seek out a general neurologist who treats many Parkinson's patients, he advised.
"General neurologists who see a fair number of people with Parkinson's within their practice I think will probably do a very good job of taking care of their patients," Beck said. "But in a situation where a clinician just doesn't see a lot of people with Parkinson's, it becomes more difficult to really develop the expertise in order to care for these individuals."
The study found that the number of Parkinson's patients covered by traditional Medicare (60%) and Medicare Advantage (40%) mirror the breakdown of all beneficiaries.
But it didn't delve deeper into differences between enrollees of the two programs and the care they received, noted Gretchen Jacobson, vice president of the Medicare program at the Commonwealth Fund.
"It would be really helpful to see if there's any differences in the use of specialists across traditional Medicare and Medicare Advantage, simply because we don't know if people are confronting more barriers or fewer barriers depending upon their coverage," she said. "We don't know if they're confronting more barriers or not in Medicare Advantage plans with provider networks, or if the plans are able to facilitate care more."
The findings were published July 10 in the journal npj Parkinson's Disease.
More information
The Parkinson's Foundation has more about treatment for Parkinson's.
SOURCES: James Beck, PhD, chief scientific officer, Parkinson's Foundation, New York City; Gretchen Jacobson, PhD, vice president, Medicare program, Commonwealth Fund, Washington, D.C.; npj Parkinson's Disease, July 10, 2023
« Back to News

The news stories provided in Health News and our Health-E News Newsletter are a service of the nationally syndicated HealthDay® news and information company. Stories refer to national trends and breaking health news, and are not necessarily indicative of or always supported by our facility and providers. This information is provided for informational and educational purposes only, and is not intended to be a substitute for medical advice, diagnosis, or treatment.