Home
/
Health News
/
New Antibody Treatment Approved For Emergency Use Against Early COVID
New Antibody Treatment Approved for Emergency Use Against Early COVID
By Ernie Mundell and Robin Foster HealthDay Reporters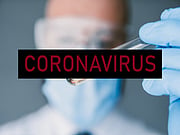 TUESDAY, Nov. 10, 2020 (HealthDay News) -- Eli Lilly's experimental antibody treatment for COVID-19 was given emergency approval by the U.S. and Food Administration on Monday.
The promising news came the same day that President-elect Joseph Biden called for all Americans to wear masks and appointed a 12-member task force of experts to craft a national response to the continued spread of COVID-19.
In a statement, the FDA said its approval of the antibody treatment, called bamlanivimib, is solely for people newly infected with coronavirus "who are at high risk for progressing to severe COVID-19 and/or hospitalization." The agency warned that it should not be used in patients who are already hospitalized with the illness.
Instead, the treatment should be given as soon as possible after a positive test, and within 10 days of developing symptoms. It is geared toward people who are at risk for developing severe COVID-19. That includes people who are over 65 and those who are obese, the FDA said. In early studies, researchers discovered those groups seemed to benefit the most from the treatment.
In October, the company announced that it had reached a $375 million deal to sell 300,000 doses of the treatment to the U.S. government. According to The New York Times, Eli Lilly said Monday that it will begin shipping the treatment immediately to AmerisourceBergen, a national distributor, which will then distribute it on behalf of the federal government.
Employing a single powerful antibody that is believed to keep the infection in check, the treatment is similar to one that President Trump received when he was diagnosed with COVID-19. That drug, made by the biotech company Regeneron, is a cocktail of two antibodies. Regeneron has also applied for emergency authorization, the Times reported.
Eli Lilly has said it expects to have enough to treat 1 million people by the end of the year, not nearly enough to curb a virus that is now infecting an average of over 111,000 Americans a day, the Times reported.
"It's kind of the best times for these therapies to enter, because they can have an impact," said Dr. Walid Gellad, who leads the University of Pittsburgh's Center for Pharmaceutical Policy and Prescribing. "It's also the worst time because we don't have enough doses, and it's going to add to the backlog of testing."
By Monday evening, over 100,000 new U.S. cases had been recorded for the sixth consecutive day and more than 59,000 Covid-19 patients were hospitalized, nearing a record, the Times reported. Seven states set daily records for new cases on Monday.
Pfizer vaccine 90 percent effective, early data shows.
A coronavirus vaccine developed by Pfizer and the German biotechnology firm BioNTech was more than 90 percent effective at protecting people from COVID-19, a new interim analysis shows.
The early look, from an independent data monitoring committee, gives a first glimpse of the real-world performance of one of four coronavirus vaccines in the last stages of testing in the United States, the Washington Post reported. It is the strongest signal yet that a vaccine could help bring the pandemic to an end in record time.
"I would say it's a historical moment. Something like this has never happened before. First of all, the world was faced with such a terrible situation, the pandemic, and being able in such a short time to go through what usually takes many years," Kathrin Jansen, head of vaccine research and development at Pfizer, told the Post. "Hearing that at the interim analysis we are over 90 percent effective — it was almost stunning to hear."
In Pfizer's 44,000-person trial, there have so far been 94 cases of COVID-19 in people who were not previously infected. Fewer than nine of those cases were among people who received two shots of the vaccine. The data is not yet published or peer-reviewed, and the company news release could not be presented to outside experts under the terms of an embargo, the Post reported.
Ironically, the recent surge of COVID-19 cases has meant that the trial is moving along faster than company executives anticipated, the Post reported. With more people being exposed to the virus now, testing the vaccine becomes a speedier affair.
Importantly, the monitoring committee noted no serious safety concerns. Jansen said the side effect profile of the vaccine includes pain at the injection site and fatigue, chills and fever, which happened more frequently in younger volunteers than in adults over 65.
Pfizer and BioNTech said they plan to submit an application for emergency authorization from the U.S. Food and Drug Administration after the third week of November, when they will have two months of safety follow-up data on half of the participants in their trial, along with data on their manufacturing process. The trial will continue until it reaches its endpoint of 164 cases of COVID-19, a benchmark that Jansen said could take a few weeks to reach.
Federal regulators had set a far lower bar for the minimum performance of a vaccine, mandating that it be at least 50 percent effective, the Post reported.
The vaccine requires two doses, given three weeks apart. Pfizer and BioNTech hope to have 50 million doses ready by the end of the year, and 1.3 billion doses available in 2021.
The vaccine uses a technology never before used: Each injection contains lipid nanoparticles -- fat bubbles -- that surround a strip of genetic material called messenger RNA, the Post reported. The genetic material carries the blueprint for the distinctive spiky protein that protrudes from the virus' surface. After being injected, the fat capsule delivers its payload to the body's cells, and the messenger RNA effectively teaches the immune system how to recognize and block the coronavirus.
COVID-19 continues to spread around the globe
By Tuesday, the U.S. coronavirus case count neared 10.2 million while the death toll passed 238,700, according to a Times tally.
According to the same tally, the top five states in coronavirus cases as of Tuesday were: Texas with over 1 million; California with over 988,500; Florida with nearly 848,000; New York with nearly 537,000; and Illinois with more than 500,000.
Curbing the spread of the coronavirus in the rest of the world remains challenging.
Many European countries are tightening restrictions, the Associated Press reported. France began a nationwide lockdown last Friday, and Germany and Austria have started partial lockdowns as government officials across the continent scramble to slow a sharp rise in infections that threatens to overwhelm their health care systems.
England has followed suit, while Italy, Greece and Kosovo also announced new measures, the AP reported.
Things are no better in India, where the coronavirus case count has passed 8.5 million, a Johns Hopkins tally showed.
More than 126,600 coronavirus patients have died in India, according to the Hopkins tally, but when measured as a proportion of the population, the country has had far fewer deaths than many others. Doctors say this reflects India's younger and leaner population.
Still, the country's public health system is severely strained, and some sick patients cannot find hospital beds, the Times said. Only the United States has more coronavirus cases.
Meanwhile, Brazil passed 5.6 million cases and had over 162,300 deaths as of Tuesday, the Hopkins tally showed.
France has surpassed Russia with a case count of over 1.8 million on Tuesday, and more than 41,000 deaths. Russia's coronavirus case count has passed 1.7 million.
Worldwide, the number of reported infections passed 50.7 million on Monday, with over 1.2 million deaths, according to the Hopkins tally.
More information:
The U.S. Centers for Disease Control and Prevention has more on the new coronavirus.


SOURCES: The New York Times; Washington Post; Associated Press; U.S. Food and Drug Administration news release
« Back to News

The news stories provided in Health News and our Health-E News Newsletter are a service of the nationally syndicated HealthDay® news and information company. Stories refer to national trends and breaking health news, and are not necessarily indicative of or always supported by our facility and providers. This information is provided for informational and educational purposes only, and is not intended to be a substitute for medical advice, diagnosis, or treatment.