Home
/
Health News
/
Members Of Biden's Pandemic Response Team Optimistic About Vaccine Rollout
Members of Biden's Pandemic Response Team Optimistic About Vaccine Rollout
By Dennis Thompson HealthDay Reporter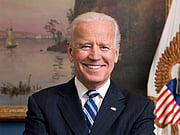 THURSDAY, Jan. 14, 2020 (HealthDay News) -- U.S. President-elect Joe Biden's target of 100 million COVID-19 vaccinations delivered within the first 100 days of his administration isn't just a lofty goal, two members of his pandemic advisory board said Thursday.
Rather, it's a hard-nosed response to the daily toll that the coronavirus takes on American lives.
"We understand the gravity of the situation," said board member Dr. Celine Gounder, a clinical assistant professor of infectious diseases at New York University's Grossman School of Medicine. "We are dealing with about 4,000 Americans dying from coronavirus every day. That is more than [the number who] died on 9/11 -- every day."
"It is unacceptable for Americans to be dying at that rate," Gounder said. "If we allow this same death toll to continue over the next 100 days, our overall death toll will more than double, and that simply is not acceptable."
Along with saving lives, a rapid and expanded vaccination program also will help life return more promptly to some level of normalcy, said Loyce Pace, president and executive director of the nonprofit Global Health Council.
"Critically important to the President-elect is how we reopen and reopen safely, and ensure that American economies and schools and businesses could still get up and running again...," Pace said.
Both are alumni of the Johns Hopkins Bloomberg School of Public Health, and spoke as part of a series of COVID-19 expert webcasts put on by the school.
Saving lives and reopening America are the factors behind Biden's recently announced plans to free up nearly all available vaccine doses for distribution, rather than holding some back to ensure second doses are available for people who've received their first, the experts said. The Trump administration swiftly adopted this strategy as well.
"We're not going to be holding back second doses of vaccine. We're going to be releasing nearly all, with a small buffer left over, because we want to accelerate the pace at which vaccination is going," Gounder said.
Discussions with vaccine manufacturers -- Pfizer, Moderna and Johnson & Johnson -- have led the experts to believe that enough vaccine will be produced to ensure everyone gets their second dose in a timely manner.
"We are confident based on the information that has been shared with us that we're not really going to have issues with supply to meet second doses. Barring some major manufacturing snafu, we're really not worried about doses being delivered on time," Gounder said. "If you look at the timeline for production, they're actually going to be releasing more and more doses over time, so that really does open things up significantly."
Helping states with rollout
The Biden administration is also considering ways to help the states improve distribution of the vaccines, Pace added.
"You've heard the president-elect talk about the importance of getting states funding so they can develop these plans but also develop the critical infrastructure they require to be much more regimented, orderly and clear with their own communities about how to receive the vaccine and when," Pace said. "It's more than simply saying that we need these shots in arms. They need to clear with people about where they fall in line in that priority and how that rollout will be executed."
Beyond funding, public health experts also will be asked to reevaluate the guidelines that have been developed so far to distribute the vaccines.
For example, the tiers under which vaccines were recommended -- first to health care workers and nursing homes, then to essential workers, then to seniors and folks with health problems that put them at high risk -- need to be simplified so they can be better understood and put into effect, Gounder said.
"While very well-intentioned in terms of trying to prevent disease and death and to do so equitably, the vaccine recommendations have just been very hard to operationalize on the ground, very complicated," Gounder said. "We essentially need to make things simpler, whether that is simplify the supply chain or simplifying the tiers of who is eligible for vaccination."
'Policing' the line not the focus
So-called "line jumpers" who get the vaccine before it's their turn are not going to be a cause of major concern, Pace and Gounder said -- not while officials are trying their hardest to rev up the vaccination program.
It's not fair to ask public health officials to police the line jumpers, Gounder said, noting that during the pandemic about 25% of public health officials in Kansas have either been fired, retired and not replaced, or quit.
"That's because they have been threatened. They have been harassed," Gounder said. "This is sort of similar to asking a Wal-Mart checkout clerk to police people wearing masks. It is simply not reasonable to expect public health officials on the ground to be doing this kind of policing of people, whether they should be getting the vaccine now or not."
"Once somebody who was maybe a lower priority has gotten a vaccination, there's no taking that vaccination back. So, while maybe there are those who should hold them accountable for that kind of behavior, jumping the line so to speak, that's not really what our focus is right now," Gounder continued. "Our focus is to get as many people vaccinated as soon as possible so that we can have a real public health impact."
Beyond vaccination efforts, the Biden administration also is being encouraged to promote better therapies for people sick with COVID-19, and do a better job of providing personal protective gear and medical equipment to hospitals, experts said.
The United States also needs to improve its surveillance of COVID-19 variants, to make sure that the virus doesn't evolve into a form that "escapes" the immunity afforded by the existing vaccines, Pace added.
"The good news is as far as we know, right now, the vaccines that are available can be defensive or effective against even these variants, so people should not fear lining up for the vaccine," Pace said.
More information
The U.S. Centers for Disease Control and Prevention has more on who gets the COVID-19 vaccine first.
SOURCES: Celine Gounder, MD, clinical assistant professor, infectious diseases, New York University's Grossman School of Medicine, New York City; Loyce Pace, MPH, president and executive director, Global Health Council
« Back to News

The news stories provided in Health News and our Health-E News Newsletter are a service of the nationally syndicated HealthDay® news and information company. Stories refer to national trends and breaking health news, and are not necessarily indicative of or always supported by our facility and providers. This information is provided for informational and educational purposes only, and is not intended to be a substitute for medical advice, diagnosis, or treatment.