Home
/
Health News
/
Ketamine Nasal Spray Could Be New Treatment For Migraines
Ketamine Nasal Spray Could Be New Treatment for Migraines
By Steven Reinberg HealthDay Reporter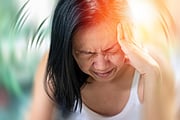 WEDNESDAY, May 31, 2023 (HealthDay News) -- A nasal spray containing ketamine might help relieve migraine headaches when other treatments fail, a new study suggests.

Ketamine is a synthetic anesthetic with hallucinogenic effects that is sometimes used intravenously for migraine headaches. It's being tried for treatment-resistant depression, too. But it's also a potentially addictive "party" drug so it is not for everyone.
In this trial, researchers report that 49% of migraine sufferers who used the nasal spray found it very effective in relieving pain. Forty percent said it was somewhat effective and nearly 36% said it improved their quality of life.
"It's for patients who've tried several other treatments that haven't been effective and for patients that are really disabled or significantly disabled by their pain," said senior researcher Dr. Michael Marmura. He is a headache specialist at Thomas Jefferson University in Philadelphia.
It's not for patients with a history of substance abuse, he said.
Ketamine is usually given intravenously, Marmura said, noting that a nasal spray is more convenient. However, this ease of use also ups the potential for misuse.

The drug is not approved by the U.S. Food and Drug Administration for the treatment of migraines and is not commercially available as a nasal spray, Marmura noted.
"This is not something that we suspect will be widely adopted, but I think that there may be a role for this for some of our most refractory patients," Marmura said, referring to the most difficult-to-treat cases. "It appears to have an acute effect and for some patients, it may help their quality of life or prevent migraine down the road."
People with migraines have recurring headaches of moderate to severe intensity often accompanied by nausea and light sensitivity. The condition can be disabling.
Dr. Salman Azhar is a neurologist at Lenox Hill Hospital in New York City, who had no part in the study. Because the study is retrospective, he said the results are inconclusive and "not strong enough to lead to a recommendation to use nasal ketamine as a treatment for acute refractory migraines."
For the study, Marmura's team reviewed the reports of 169 men and women who had used ketamine nasal spray to treat their migraine headaches. More than two-thirds had daily migraine, and 85% had tried three or more medications to prevent their headaches and were currently using two. Most patients had also tried other painkillers to treat migraine.
Participants reported using the nasal spray six times, over an average of 10 days a month. Compared with other pain relievers, 43% said the nasal spray was "much better" and 30% said it was "somewhat better." Nearly 75% said they used fewer pain relievers when using nasal ketamine spray.

Almost three-quarters reported at least one side effect, including fatigue and double/blurred vision and cognitive effects, such as confusion and dissociation, vivid dreams and hallucinations. These effects were mostly temporary, Marmura said.
He said addiction to the drug is the most worrisome side effect. Among these patients, 23 used ketamine daily and 37 used the spray more than 15 days a month.
The study also had limitations. Most participants used other medications alongside ketamine, making it hard to evaluate the benefit of the spray alone, the researchers said.
"Ketamine is used as an anesthetic but, at lower doses, it can be an effective pain reliever, including for difficult migraine headaches," said Dr. Rick Godley, an otolaryngologist in Rhode Island and president of the Association of Migraine Disorders.
Ketamine works by reducing the activity of glutamate, a neurotransmitter involved in pain, mood, thinking and memory, he explained.
"The role of ketamine in migraine management remains unclear but currently is an alternative medication for those who have acute refractory headaches," Godley said. "What is lacking are prospective research studies where clinicians do not know which medicine is being delivered and ones that can account for the high degrees of the placebo effect and set guidelines for the safe frequency and duration of use."
Godley is also concerned about potential misuse of ketamine. "With a delivery system that can be used independent of professional supervision, intranasal ketamine could be abused," he said. "This drug which has been used recreationally for its thought-bending and hallucinogenic qualities could be used in excess and combined with alcohol and other drugs."
Ketamine, even as an intravenous medication, is not a first-line drug for migraine headache relief, Godley said. "Nonetheless, it holds promise for some as a more convenient alternative rescue medicine when other rescue medicines fail," he noted.
The report was published online May 30 in the journal Regional Anesthesia & Pain Medicine.
More information
For more on migraine, head to the U.S. National Institute of Neurological Disorders and Stroke.
SOURCES: Michael Marmura, MD, department of neurology, Thomas Jefferson University, Philadelphia, Penn.; Rick Godley, MD, otolaryngologist and President and Co-Founder, Association of Migraine Disorders; Salman Azhar, MD, neurologist, Lenox Hill Hospital, New York City; Regional Anesthesia & Pain Medicine, online, May 30, 2023.
« Back to News

The news stories provided in Health News and our Health-E News Newsletter are a service of the nationally syndicated HealthDay® news and information company. Stories refer to national trends and breaking health news, and are not necessarily indicative of or always supported by our facility and providers. This information is provided for informational and educational purposes only, and is not intended to be a substitute for medical advice, diagnosis, or treatment.