Home
/
Health News
/
Hormone Replacement Therapy Might Raise Women's Risk For Dementia
Hormone Replacement Therapy Might Raise Women's Risk for Dementia
By Dennis Thompson HealthDay Reporter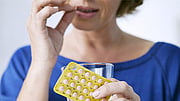 THURSDAY, June 29, 2023 (HealthDay News) -- Women taking hormone replacement therapy to ease symptoms of menopause might face an increased risk of dementia later in life, a new study indicates.
Women who received estrogen-progestin therapy had a 24% increased risk of developing dementia or Alzheimer's disease, compared to those who never took hormone therapy, researchers report.
This higher risk was present even in menopausal women taking hormone replacement therapy as currently recommended, at younger ages and for brief periods, said lead researcher Dr. Nelsan Pourhadi, an investigator with the Danish Dementia Research Center at Rigshospitalet in Copenhagen, Denmark.
"Further research is needed to clarify whether the consistently observed association between menopausal hormone therapy and dementia, even in short-term users around the age of menopause, can be expected to be causal," Pourhadi said.
However, the findings from this large-scale study of Danish women run counter to the results of several earlier clinical trials, said Dr. Kejal Kantarci, a neuroradiologist with the Mayo Clinic in Rochester, Minn.
"Younger women who are taking hormone therapy during menopausal transition who are less than age 55 can use it for five years without a risk of cognitive decline," said Kantarci, co-author of an editorial accompanying the new study. "This has been shown in at least three clinical trials demonstrating that menopausal transition hormone therapy does not have an increased risk of cognitive decline later on."
Alzheimer's disease is twice as common in women as men, and so anything that might potentially increase their dementia risk is of high interest to researchers, Kantarci noted in her editorial.
For this study, Pourhadi and his colleagues used national health registries to identify nearly 5,600 cases of dementia in Danish women 50 to 60 years old between 2000 and 2018.
They then compared those cases to nearly 56,000 healthy women of about the same age. None of the women had a prior history of dementia, and none had any medical reason why they couldn't use hormone replacement therapy.
Use of estrogen-progestin therapy was associated with a higher risk of dementia, even in women treated at age 55 and younger, results show.
In addition, the risk rose as women remained on hormone therapy for longer periods, the study says.
For example, women who used hormone therapy for one year or less had a 21% increased risk of dementia, those who took the therapy for 8 to 12 years had a 39% increased risk, and those on it for more than 12 years had a 74% increased risk.
The findings were published June 28 in the BMJ medical journal.
Both Pourhadi and Kantarci emphasized that the findings from this observational study cannot prove a cause-and-effect relationship between hormone therapy and dementia.
For example, the increased risk with longer use "could support a causal link between the exposure and outcome, but could also reflect confounding -- i.e. that women with increasing need for HRT have increasing underlying unmeasured predisposition for dementia," Pourhadi said.
On the other hand, "previous studies have reported both protective and damaging effects of estrogen on the brain. Thus, there is biological plausibility [that hormone therapy could cause dementia], although the concrete mechanism remains unknown," Pourhadi added.
Rather than hormone therapy directly causing dementia, it could be that women with severe menopausal symptoms who seek such therapy also are at increased risk for dementia, Kantarci said.
Kantarci noted that studies have found that women who have hot flashes "have more brain changes that relate to brain health."
"There was one study that I cite where women with vasomotor symptoms have these lesions in the brain that are not considered good for vascular health. They are a biomarker for poor vascular brain health," Kantarci said. "So I think these symptoms of menopause may have a relationship with dementia down the road, and this association with hormone therapies may have emerged from that."
Kantarci's editorial noted three clinical trials that found no relationship between dementia and hormone therapy started shortly after menopause or around ages 50 to 55.
However, one trial did find a twofold increase in the risk of dementia among women older than 65 who were on estrogen-progestin therapy.
"There is evidence from clinical trials that hormone therapies prescribed for older women or women with poor vascular health -- such as women with diabetes -- may have some impact on dementia risk," Kantarci said.
In the meantime, Kantarci said women struggling with menopause should follow the North American Menopause Society's guidelines for hormone therapy use.
The NAMS' 2022 position statement on hormone therapy says that "for healthy women with bothersome hot flashes aged younger than 60 years or within 10 years of menopause, the benefits of HT generally outweigh the risks."
Pourhadi said women interested in hormone therapy should discuss the pros and cons with their doctor.
"As with many other drugs, menopausal hormone therapy has side effects, and the individual advantages and potential disadvantages related to treatment should be evaluated with the consulting physician," Pourhadi said.
More information
The North American Menopause Society has more about hormone replacement therapy.
SOURCES: Nelsan Pourhadi, MD, an investigator with the Danish Dementia Research Center at Rigshospitalet in Copenhagen, Denmark; Kejal Kantarci, MD, a neuroradiologist with the Mayo Clinic in Rochester, MN; The BMJ, June 28, 2023
« Back to News

The news stories provided in Health News and our Health-E News Newsletter are a service of the nationally syndicated HealthDay® news and information company. Stories refer to national trends and breaking health news, and are not necessarily indicative of or always supported by our facility and providers. This information is provided for informational and educational purposes only, and is not intended to be a substitute for medical advice, diagnosis, or treatment.