Home
/
Health News
/
Health Highlights: June 7, 2021
Health Highlights: June 7, 2021
By Robert Preidt HealthDay Reporter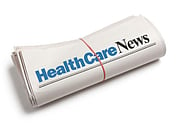 FDA Approves a Diabetes Drug for Use as Aid to Weight Loss
Wegovy -- a high-dose version of the diabetes drug semaglutide -- has been approved as a new aid to weight loss by the U.S. Food and Drug Administration.
Studies funded by drug maker Novo Nordisk showed that participants who received weekly injections of the drug had an average weight loss of 15% and lost weight steadily for 16 months before leveling off, the Associated Press reported.
In comparison, participants who received a placebo had average weight loss of about 2.5%.
"With existing drugs, you're going to get maybe 5% to 10% weight reduction, sometimes not even that," Dr. Harold Bays, chief science officer at the Obesity Medicine Association, told the AP. Bays has helped conduct studies of Wegovy and other obesity and diabetes drugs.
In the United States, more than 100 million adults -- about 1 in 3 -- are obese.
Dropping even 5% of one's weight can bring health benefits, such as improved energy, blood pressure, blood sugar and cholesterol levels, but it often doesn't satisfy patients who are focused on weight loss, Bays said.
Bays said Wegovy's most common side effects were nausea, diarrhea and vomiting. Those usually subsided, but led about 5% of study participants to stop taking it.
The drug also shouldn't be given to people at risk for some cancers, because of a potential risk for certain thyroid tumors, the FDA said.
Wegovy is a synthesized version of a gut hormone that curbs appetite. That's a new strategy in treating obesity, Dr. Robert Kushner, a member of Novo Nordisk's medical advisory board who heads Northwestern Medicine's Center for Lifestyle Medicine, told the AP.
Novo Nordisk said it also is developing a pill version that should start final patient studies later this year.
Researchers Refute 'Spermageddon' Claim
A so-called "Spermageddon" isn't imminent after all, researchers say.
The team from Harvard and the Massachusetts Institute of Technology re-evaluated a 2017 review that warned of a growing global sperm-count crisis and associated decline in male fertility and concluded the review vastly overstated the situation, The New York Times reported.
The 2017 analysis was "methodologically rigorous," but even the data that passed muster was geographically sparse and uneven and often lacked basic criteria like the age of the men. Moreover, its authors assumed that a single metric -- sperm count -- was an accurate predictor of male fertility and overall health, the authors of the new study said.
However, no one knows what an "optimal" sperm count is. The World Health Organization sets a range of "normal" sperm count as from 15 to 250 million sperm per milliliter, but it isn't clear that more is better. Above a certain threshold -- 40 million per milliliter, according to the WHO -- a higher sperm count does not mean a man is more fertile.
The review also didn't consider alternate explanations for the apparent decline of sperm, according to the study recently published in the journal Human Fertility.
"Doubling your sperm count from 25 to 50 million doesn't double your chances [of conceiving]," explained Allan Pacey, an andrologist at the University of Sheffield and the editor of Human Fertility. "Doubling it from 100 to 200 million doesn't double your chances — in fact it flattens off, if anything. So this relationship between sperm count and fertility is weak."
The 2017 review made "an astonishing and terrifying claim that, were it to be true, would justify the apocalyptic tenor of some of the writing," Sarah Richardson, a Harvard scholar on gender and science and senior author on the new study, told the Times.
However, she and her colleagues determined there is little evidence to support that conclusion.
CDC Director Warns of Recent Rise in Teens Hospitalized With COVID-19
After a sharp spike in the number hospitalized adolescent COVID-19 patients, U.S. Centers for Disease Control and Prevention Director Rochelle Walenksy is urging parents to get their teens vaccinated.
She is "deeply concerned by the numbers of hospitalized adolescents," but added that much of this suffering can be prevented" through the use of COVID-19 vaccines and other safety measures, CBS News reported.
About 24% of U.S. youth aged 12 to 17 have received at least one vaccine dose. Before most teens were given the green light to get vaccinated, about one-third of those hospitalized for COVID-19 were admitted to intensive care, according to the CDC. Nearly 5% of those patients ended up on respirators. None of the patients died.
A major obstacle in vaccinating children is convincing parents that it's safe, according to Dr. Paul Offit, of Children's Hospital of Philadelphia.
"Unfortunately, misinformation plays a big role in this," Offit told CBS News. "For example, the notion that vaccines cause infertility, there are many women of childbearing age who are saying, 'Look, not this vaccine is not for me. I don't want it to affect my ability to have babies.' It's a false notion. Once you've raised that question, once you've scared people, it's hard to unscare them."
In May, the U.S. Food and Drug Administration granted emergency use authorization for the Pfizer COVID-19 vaccine in youth aged 12 to 15. Moderna has said that its COVID-19 vaccine is safe and effective in recipients as young as 12, and plans to seek FDA approval for use in teens early this month, CBS News reported.
« Back to News

The news stories provided in Health News and our Health-E News Newsletter are a service of the nationally syndicated HealthDay® news and information company. Stories refer to national trends and breaking health news, and are not necessarily indicative of or always supported by our facility and providers. This information is provided for informational and educational purposes only, and is not intended to be a substitute for medical advice, diagnosis, or treatment.